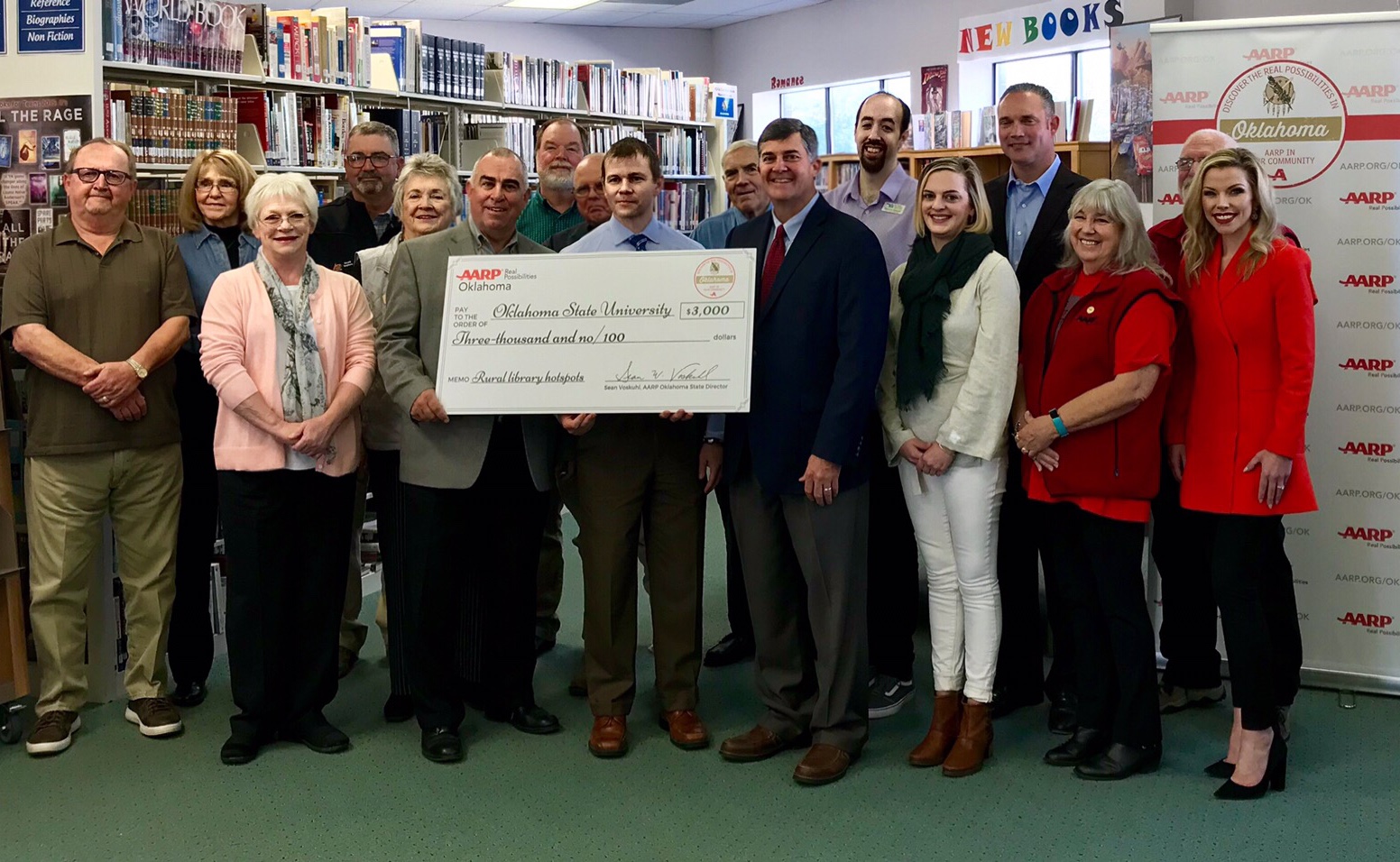 AARP Oklahoma presented a $3,000 honorary grant check today to Oklahoma State University's Division of Agricultural Sciences and Natural Resources and Oklahoma Cooperative Extension Service to support OSU's rural broadband outreach program.

The $3,000 grant from AARP Oklahoma will fund 12 internet hotspots that are available in public libraries in three rural Oklahoma communities: Davis, Atoka and Marietta. The grant will also fund data services for three devices that OSU previously placed in the Okemah Public Library.

The hotspots are available for check-out to library patrons similar to traditional books. Libraries will loan out the mobile hotspots which can connect up to 10 devices such as smartphones or tablets for one week at a time.

"In an increasingly digital world, many Oklahomans - especially in rural areas - do not have access to internet connectivity in their homes, and we want to help change that to create age-friendly, livable communities," said Sean Voskuhl, AARP State Director. "Access to the internet has become increasingly important for more than just surfing the web. AARP Oklahoma hopes to empower Oklahomans to be able to access digital services such as health care, entertainment, job and education resources, while also being able to be more socially connected and personally fulfilled."

According to OSU, its focus groups have uncovered that individuals that lack an Internet connection feel disadvantaged and less connected to their local communities than those who maintain a regular online presence. OSU's hotspot program and support from AARP will give those disconnected individuals an opportunity to more fully participate in the multiple areas that are now predominantly online.

OSU's mobile hotspot program is now implemented in 11 rural libraries across the state. Survey results from library patrons indicate that the program is extremely popular, with more than 90% ranking it as a 9 or higher (out of 10). Survey comments highlight children that are now able to work on homework in the comfort of their own homes, users' ability to stay connected to friends and family and use of the devices to apply for jobs or improve work skills.

"The Oklahoma Cooperative Extension Service has a long history of working to improve the quality of life for rural Oklahomans, and this program reflects their continuing commitment as technologies and lifestyles change," said Dr. Randy Taylor, Assistant Director, Oklahoma Cooperative Extension Service.

"In today's society, the Internet is increasingly a part of most people's day-to-day life. This grant will be a huge benefit to individuals in Davis, Marietta and Atoka without a home connection," said OSU Professor Brian Whitacre, who leads the rural library hotspot program across the state. "They will be able to access the Internet to do things many of us take for granted, like staying in touch with loved ones, pay bills or bank online and look for jobs. We greatly appreciate AARP's help in bringing this service to more of rural Oklahoma."



About AARP Oklahoma

With 400,000 members in Oklahoma and nearly 38 million members nationwide, AARP is dedicated to empowering Americans 50 and older to choose how they live as they age. As the nation's largest nonprofit, nonpartisan organization, AARP works to strengthen communities and advocate for what matters most to families with a focus on health security, financial stability and personal fulfillment. To learn more, visit us at on Facebook at facebook.com/aarpok, on Twitter at twitter.com/aarpoklahoma, or on our website at aarp.org/ok.