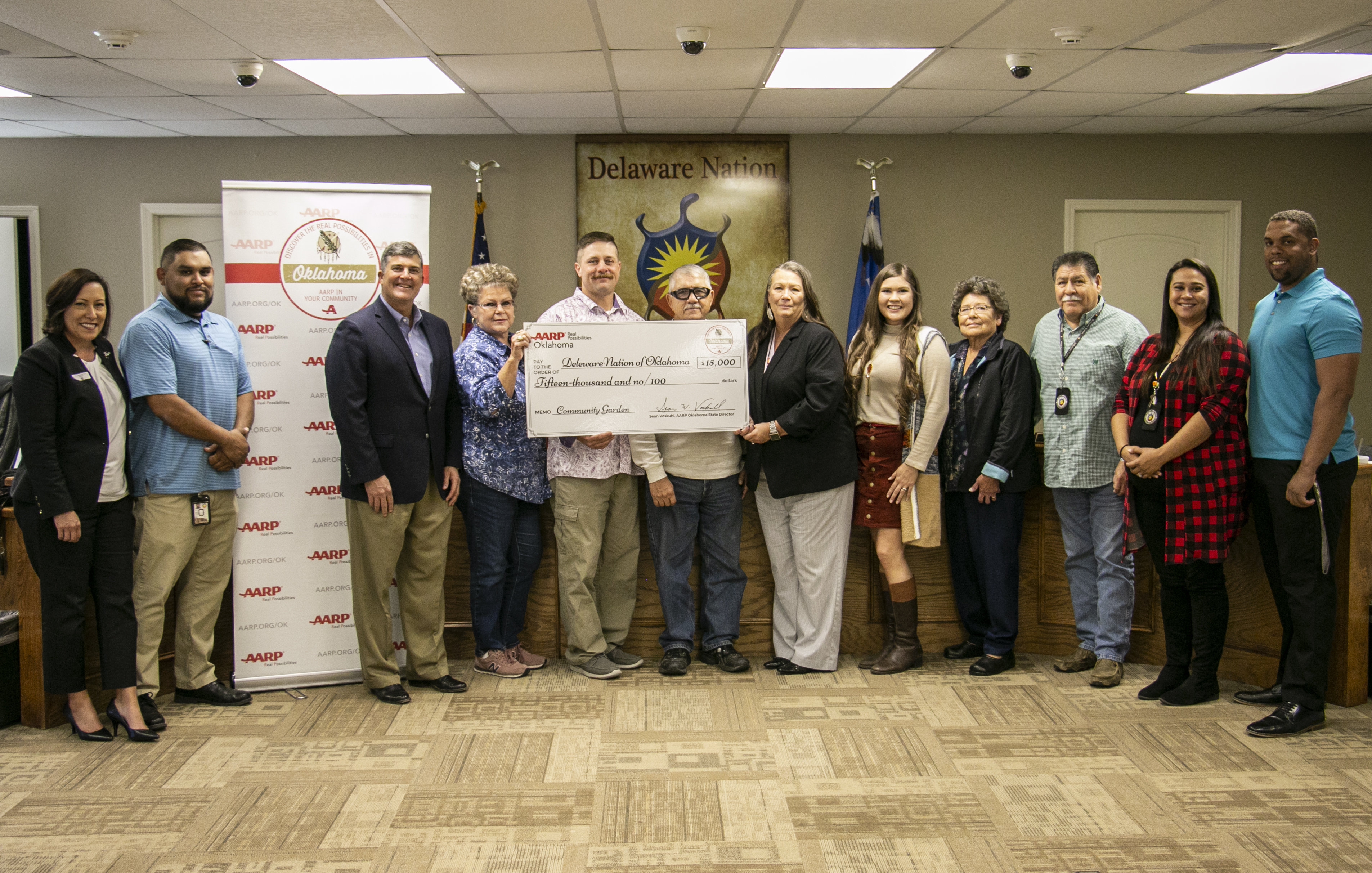 The Delaware Nation is taking steps to improve the health of local citizens by creating a community garden which will increase access to fresh fruits and vegetables through the AARP Community Challenge Grant. To help kick-start the community project, AARP Oklahoma presented Delaware Nation officials a $15,000 honorary check on October 22, 2019 during the Delaware Nation executive committee meeting.

AARP Community Challenge Grant will fund the creation of a community garden in an area deemed as a food desert. AARP funds will allow for 25 raised garden beds to be purchased, built and installed. The community garden will create a vibrant open space that features raised and in-ground beds to cater to all generations and all abilities. The Delaware Nation also has plans to implement cooking demonstrations utilizing the food grown from the community garden. The grant project is currently underway with a planned completion date of November 2019.

"Our goal is to make all neighborhoods, communities, cities and rural areas great places for people of all ages and life stages," said Sean Voskuhl, AARP Oklahoma state director.

The Delaware Nation grant is among nearly $1.6 million distributed to fund 159 "quick action" projects across the country, helping communities make immediate improvements and jumpstart long-term progress to support residents of all ages. Nearly 1,700 applications were received from non-profits and government entities for the program, now in its third year. Delaware Nation is the first tribal nation in the state of Oklahoma to receive the grant and second tribal nation in the United States.

Other Oklahoma communities receiving AARP Community Grant Challenge funding in 2019 include McAlester and Elk City. A full list of grantees may be found at www.aarp.org/communitychallenge.

"AARP has teams on the ground in communities across the country who hear from mayors, community leaders and local residents about the value of getting quick wins to create long-term change. We developed the Community Challenge grant program to answer that call and help build momentum for more livable communities nationwide," said Nancy LeaMond, AARP Executive Vice President, Community, State and National Affairs. "This year, we are proud to fund more projects in all 50 states, Washington, D.C., Puerto Rico and the Virgin Islands."

The Community Challenge grant program is part of AARP's nationwide Livable Communities initiative which helps communities become great places to live for residents of all ages. As part of this, AARP staff and volunteers are working across the country, engaging and mobilizing residents, delivering technical assistance and expertise to local leaders and organizations, and supporting the work of the 381 communities and four states that have enrolled in the AARP Network of Age-Friendly States and Communities.