AARP OK Vote November.mp4
En Espanol | Oklahoma is taking steps to safeguard against the coronavirus on Election Day, allowing certain voters to easily and safely cast ballots from home and all voters to cast ballots early;


Election Day is Tuesday, Nov. 3, and polls will be open from 7 a.m. to 7 p.m. The state's voter information portal has more information about where to cast your ballot. Your polling place may be different this year, so check before you leave.
Be prepared for potentially long lines, and remember to take your mask and to follow social distancing measures at the polls. You'll also need to bring an approved form of ID.
With Election Day only days away, consider dropping off your completed absentee ballot at your County Election Board.
Here's what else you need to know:

How do I register to vote?

You can download a registration application from the state's online OK Voter Portal, fill it out and send it to your County Election Board. You can also get the application from your county board and from post offices, tag agencies, libraries and many other government offices. And you can register when you get your driver's license or if you apply for assistance at some government agencies. The last day to register to vote in the November general election is Friday, Oct. 9.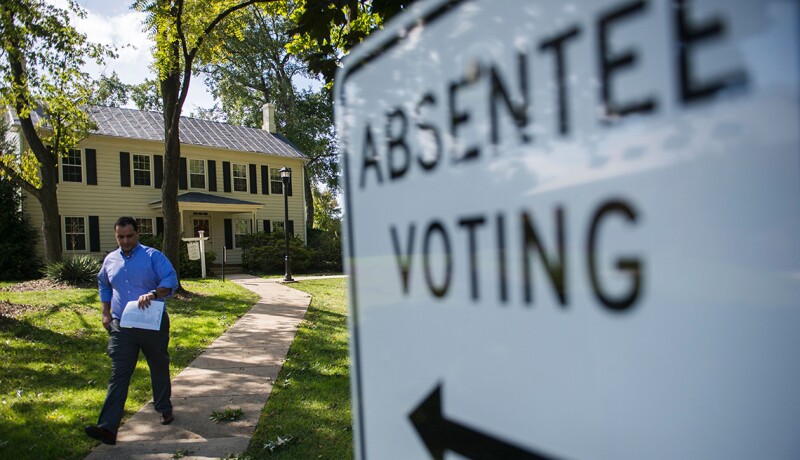 How can I get an absentee ballot?

You can download an absentee ballot application at the state's online voter portal. There are online tutorials showing how to complete the ballot request. You can email, mail, fax or hand deliver it to your County Election Board.

Any registered voter may vote absentee, without giving a particular reason. But your signature on the absentee ballot request must be notarized, though there are exceptions for certain circumstances. Many banks and credit unions offer drive-through notary services for these forms, and notaries can't charge for this service.

The State Election Board has added COVID-19-related conditions to the list of exceptions to the notary rule, under the category of voters who are "physically incapacitated" or who care for someone who is. These conditions include testing positive for the virus; being in quarantine or self-isolation; being in a group at higher risk of illness because of age or underlying health conditions that's subject to a government "stay at home" order; or receiving a doctor's written recommendation. Voters don't have to disclose which condition or situation applies to them. But they and their caregivers who qualify for this exception still must get their absentee ballots verified by two witnesses.

A new law allows those applying for absentee ballots to submit a copy of their valid ID rather than having the application notarized if the governor has declared a COVID-19-related emergency 45 days before the election.

How do I know my absentee ballot is secure?

Falsely casting an absentee ballot is a felony in Oklahoma. The state's "chain of ballot custody" safeguards against the practice known as absentee ballot harvesting. In most cases, this includes collecting and submitting an absentee ballot for another person, filling out an absentee ballot application without the person's permission or notarizing more than the 20 absentee ballots per election.

When is Election Day? When are polls open?

Tuesday, Nov. 3. Polls are open from 7 a.m. to 7 p.m.

Can I vote before Election Day?

Yes, you can vote from 8 a.m. to 6 p.m. on Thursday, Oct. 29, and Friday, Oct. 30, and from 9 a.m. to 2 p.m. on Saturday, Oct. 31, at your County Election Board.

What form of identification do I need to vote?

You'll need to show a valid photo ID issued by the federal, state or a tribal government, or the free ID card your County Election Board issues to every voter. If you don't have an acceptable ID, you can sign an affidavit of your identity and vote a provisional ballot. As long as the information you enter on the ballot matches your voter registration records, your ballot will be counted after Election Day.

What is being done to make polling places safe from the coronavirus?

The State Election Board's safety procedures for the primary elections are also expected to be used in the November election:


Six-foot distancing between voters, from voters to poll workers' tables and between voting booths (if possible).

Masks, eye protection and gloves for poll workers, along with frequent handwashing and sanitizing.

Face coverings "strongly recommended" for voters.
Will I be able to vote in the same place as I always have?

Most likely, yes. Check the state's online voter portal or with your County Election Board to find your polling place.

What are the key races in my state?

U.S. President
U.S. Senate: Incumbent Jim Inhofe (R) vs. Abby Broyles (D)
U.S. House: All 5 seats
State House of Representatives: All 101 seats
State Senate: 24 of 48 seats
This story was updated on Nov. 2 with more information about voting in person. Voting rules and procedures may change before Election Day. We'll update this story if they do, so bookmark this page and check back.

AARP is urging older Americans to ask the candidates 5 key questions:

Just over half of all older Social Security beneficiaries rely on the program for at least 50 percent of their income. If elected, how will you ensure that current and future Social Security benefits are not cut as part of deficit reduction?
Half of the people with traditional Medicare spend at least a sixth of their income on health care. If elected, how will you protect Medicare from benefit cuts, as well as lower health care costs and ensure seniors continue receiving the affordable health care they have earned?
COVID-19 has caused death and suffering for too many older Americans who require long-term care. If elected, how will you make sure seniors can access safe and affordable long-term care at home, as well as in facilities like nursing homes and assisted living?
Meet the Candidates
Meet the Candidates is another element of AARP's Protect Voters 50+ effort which is designed to educate voters on issues and how to vote safely, whether in-person, at home and absentee.

AARP Oklahoma invited the candidates for Congressional District 5 to deliver a virtual speech so Oklahomans can learn where they stand on key issues such as Social Security, health care, Medicare, the economy, long term care, and prescription drug costs. The candidates are Democrat incumbent Kendra Horn and the Republican challenger is Stephanie Bice.

Both candidates were given the same set of rules: Say what you want; focus on the issues; don't attack your opponent; and keep it to five minutes or less.


Stephanie Bice.mp4
Kendra Horn
AARP Oklahoma invited the candidates for Corporation Commission to deliver a virtual speech so Oklahomans can learn where they stand on key issues including the cost of residential utilities.

The candidates are Republican incumbent Todd Hiett and Libertarian challenger Todd Hagopian. Both candidates were given the same set of rules: Say what you want; focus on the issues; don't attack your opponent; and keep it to four minutes or less.

Also of Interest