En español | Eligible Oklahomans can register to vote by mail and in person, and will be automatically registered when you apply for or renew your driver's license in person unless you opt out. If you cast your ballot in person, you'll need to show an approved photo ID.

The state's Nov. 8 general election decided races for governor, seats in the U.S. Senate, U.S. House of Representatives, state legislature as well as district school boards and other municipal offices.

Essential info:
Upcoming elections: Information about upcoming elections is not yet available but will be published on the Oklahoma elections website.
Absentee voting: All registered voters can cast an absentee ballot and vote from home in November's general election, but most absentee ballots must be notarized.
Early in-person voting: You can cast your ballot ahead of scheduled elections. Check the state elections website for dates and locations.
Voting at the polls: Polls are open from 7 a.m. to 7 p.m. Find your polling place at the state's election website.
Have there been recent changes to voting in Oklahoma?
The state's recent redistricting plan has redrawn several U.S. congressional districts, which may change which candidates appear on your ballot and where your polling place is located. Starting in 2022,
the deadline to request an absentee ballotwas changed to 15 days before Election Day. Extra early in-person voting days were also added.

How do I register to vote?
In person: Register at your county election board to vote in the general. You can also register during an appointment for a driver's license or state ID.
Check your registration status through the Oklahoma voter portal or by calling the state election board at 405-521-2391.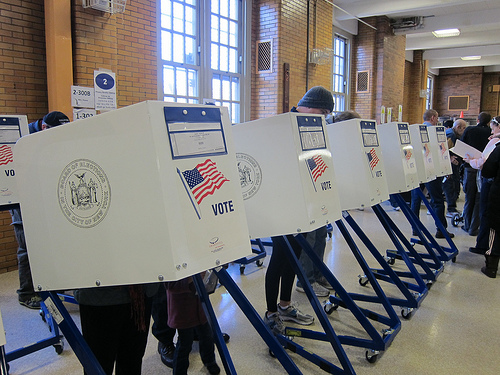 Does my party affiliation matter when I vote?

Yes. Only registered Republicans can vote in Oklahoma's Republican primaries, but both registered Democrats and unaffiliated voters can vote in Democratic primaries. You can update your party affiliation through the state's voter portal or by submitting a new registration form.

How can I get an absentee ballot?
Any registered voter can request a no-excuse absentee ballot and vote from home. Most people will need to get their ballot notarized. But there are different rules and carve-outs for voters who are residents of nursing homes or veterans centers or are incapacitated and can't make it to the polls, along with those who are caring for someone who is incapacitated, are serving in the military or are working as a first responder or emergency worker. The state board of elections website has more information.


Once you receive your ballot, it will need to be notarized (notaries can't charge a fee for doing so). Exceptions are made for physically incapacitated voters and their caregivers, whose signatures must be witnessed by two people. The state election board's website has a directory of notaries.


How do I return my absentee ballot?
Ballots must be returned by mail or in person. You can't have someone else return your ballot for you if you're submitting a standard absentee ballot — though there are exceptions for some people, including those who are incapacitated or a resident of a nursing home or veterans center.

Track the status of your ballot through the Oklahoma voter portal.

Can I vote in person before Election Day?

Yes. Check the state elections website for dates and locations.


What do I need to know about voting at the polls on Election Day?

Polls are open from 7 a.m. to 7 p.m. Search for your polling place online at the state's election website.


Do I need identification to vote?
Yes. You'll need to show a photo ID, like an Oklahoma driver's license, U.S. passport or military ID. Or you can show a voter identification card issued by your county election board. The state election board's website has more information about acceptable forms of ID.

If you don't have an acceptable form of ID, you can cast a provisional ballot. You'll need to sign an affidavit confirming your identity. Election officials will determine whether the provisional ballot is legitimate after Election Day.

Editor's note: This guide was updated on Nov. 28, 2022. The guide was first published on Aug. 4, 2020.


Also of Interest: