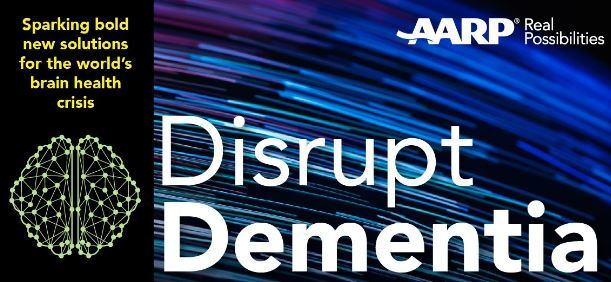 AARP was founded in 1958 on the principle of enhancing the quality of life for people as they age. With the goal of promoting independence, dignity and purpose for older persons, AARP has championed initiatives to protect Social Security, Medicare and Medicaid; provide resources for caregivers; make communities more livable for all ages; protect older workers; and ensure access to affordable health care. Now, AARP is taking on what could be considered the most challenging effort in our 60-year history, the fight against dementia.

On Monday, June 25, AARP CEO Jo Ann Jenkins revealed that AARP's Brain Health Fund is investing $60 million in the Dementia Discovery Fund (DDF), a London-based investment fund aimed at financing the research and development of breakthrough treatments for dementia, in the hopes of developing three to five treatments in the coming years.

Dementia, particularly Alzheimer's disease which accounts for roughly 60 to 80 percent of all cases, can be crippling to the patient as well as having devastating impacts on the loved ones of those diagnosed with it. More than 6 million Americans suffer from different forms of dementia, with over 270,000 individuals suffering from Alzheimer's disease in Pennsylvania alone. 1 in 10 Americans 65 and older suffer from different types of dementia and that figure is expected to skyrocket to 1 in 5 by 2050, or roughly 16 million people.

AARP, for decades, has been committed to supporting those who suffer from dementia and providing resources to their caregivers. In 2016, it was estimated that nearly 16 million caregivers provide approximately 18 billion hours of unpaid care to loved ones with Alzheimer's disease and other forms of dementia. The latest data shows that the cost of caring for a dementia patient is about $300,000, and the burden goes beyond the financial. The emotional toll of caring for a loved one with dementia can be taxing and AARP is hoping that this investment will help to kick-start a new approach to dementia research. An investment of this proportion is one made to highlight the urgent need to find better treatments that at the least can hold dementia in its place and at the best detect it before it develops in a patient.

In a little over a decade, we will see Millennials begin to enter their 50s, Gen X will start passing the 65-year-old milestone, and Boomers will be in their mid-80s, a prime age for dementia effects to become most prevalent. AARP's $60 million investment into dementia research is an investment in the future of Americans. In a hope to accelerate the global research efforts for dementia, the goal is to find a substantial method to stop dementia in its tracks, to be able to halt the progression of dementia and most optimistically to detect it before symptoms arise.

In order to ensure aging Americans can live independent, dignified lives or purpose, it is critical that we fight dementia before it reaches epidemic levels.

For more information about how AARP is working to help aging Americans maintain brain health visit AARP's Brain Health & Wellness page here .