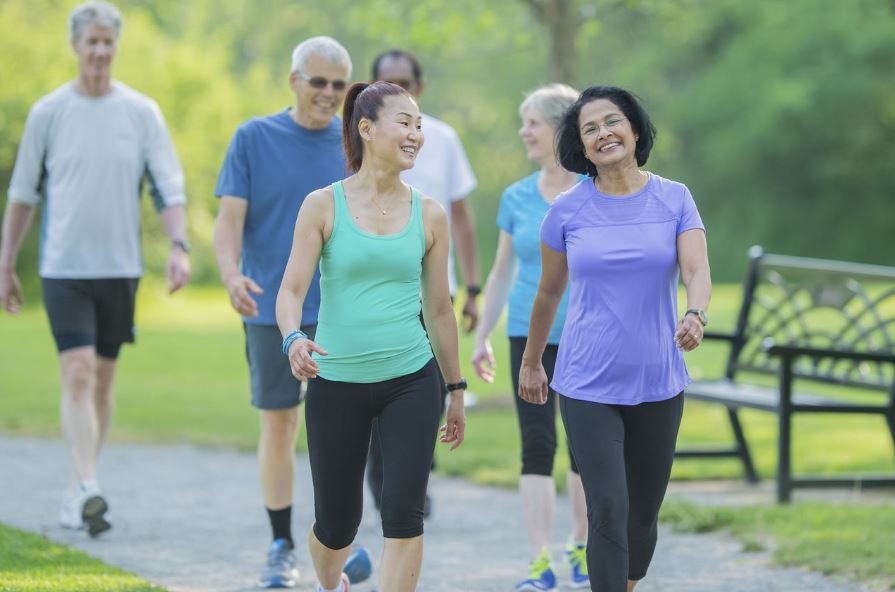 Harrisburg, PA - AARP Pennsylvania announced the names of 13 local advocates who have received Fellowships to participate in the 2023 Pennsylvania State Walking College.

The program is presented in partnership with America Walks, a national education and advocacy organization that works to advance safe, equitable, accessible, and enjoyable places to walk and move by giving people and communities the resources to effectively advocate for change.

"We are delighted to welcome this group of passionate local leaders, who are working to improve walkability and livability in communities throughout the state," said Colleen Cadman, Associate State Director with AARP Pennsylvania. "The Fellows represent a range of backgrounds and experiences, including community organizing, health and wellness, economic development, and planning."

The Pennsylvania State Walking College Fellows are:

Joan Betesh from Bala Cynwyd

Joan Betesh is a 40+ year resident of Bala Cynwyd, PA where she actively volunteers in many projects. She holds a B.A. from Brown University and a J.D. from the University of Pennsylvania and practiced immigration law until her retirement. She has special interests in seniors as the coordinator of an active seniors group for 12 years and in children as a former preschool teacher and grandmother of 10. She is a lifelong walker and volunteers with the Friends of the Cynwyd Heritage Trail. She loves meeting people from varied backgrounds and learning from different perspectives.

Seth Bush from Swissvale

Seth is the Advocacy Manager at Bike Pittsburgh, a non-profit dedicated to transforming streets in the Greater Pittsburgh area to make walking and biking accessible for all. He lives in the Borough of Swissvale just outside Pittsburgh where he works with neighbors on mutual aid and community care projects. Walkability and accessible mobility are major issues for Swissvale and the entire region, and Seth intends to use his fellowship to become a better leader of advocates towards equitable solutions.

Gus Fahey from Scranton

Gus Fahey believes in collaboration, that our power lies in our ability to "act in concert" with one another. Formerly a foreign affairs officer for the U.S. State Department, Gus also worked in senior positions at Oracle Corporation and United Neighborhood Centers of Northeastern PA before becoming president of Valley In Motion in 2019. Born in Scranton, Gus is raising his two daughters there with his wife Sydney.

Mandy Fitzpatrick from Schuylkill Haven

Mandy Fitzpatrick is the Executive Director of Schuylkill County's VISION and program lead of Healthy Schuylkill Communities, a project to increase access to/consumption of healthy foods and opportunities for physical activity in Schuylkill County, PA. Her interest in improving community health and wellness in her rural county stems from her public health experience at the state government level and the need for more rural resources and walking advocates. Mandy's interests include working with municipal leaders and making sustainable changes for walkability in Schuylkill County communities through policy, system, and environmental change approaches.

Renee Fritzinger from Allentown

Renée Fritzinger is a CTSP (Community Traffic Safety Project Coordinator) for the Highway Safety Network (HSN) in Lehigh and Monroe counties. HSN is a non-profit agency that promotes driver, passenger, and pedestrian safety through creative programs and community outreach. Prior to becoming a CTSP, she was a public-school teacher and uses her classroom experience to enrich the work she does for HSN.

Lisa Glover from Honesdale

Lisa Glover is a maker and a placemaker who lives in Honesdale PA. She is a Placemaking Fellow at the Center on Rural Innovation, bringing placemaking strategies to small-town innovation spaces. Her most notable creative works include leading the development of a 100-ft long community mural that won her the PA Route 6 Heritage Leadership Award and creating a 15ft long cardboard velociraptor costume that became a viral sensation on Kickstarter. Lisa is an active transportation advocate who loves to use placemaking techniques as a tool for infrastructure change.

Yvonne Hughes from Philadelphia

Yvonne has 25+ years of life-changing community service as an advocate, teacher, minister and coordinator. She is a firm believer in the 4 E's: Educate to Empower, Engage and learn to Embrace yourself. She is a skilled community outreach organizer who excels in creating vibrant community partnerships. Legally blind for 35 years, Yvonne is a dedicated counselor, instructor and advocate for the disabled.

Julia McAfee from Pittsburgh

Julia McAfee is a public health educator at the Allegheny County Health Department. She has recently been learning about active transportation, walking, biking, and pedestrian safety. Julia has been involved in some preliminary research regarding the municipal plans in her county. She was tasked to take a deep dive into the active transportation strategies of these larger municipal plans, and from there has found a new-found interest in the walkability and accessibility of the neighborhoods and spaces around her. Julia enjoys spending time outdoors and loves to go on walks herself. She is invested in ensuring many neighborhoods have access to safe walking environments!

Karen Mitchell from Secane

Karen is the Director of Special Projects at Temple University. In this capacity, she oversees all aspects of grants and contracts from foundations, state and federal sponsors of research activities. She directly oversees the Pre and Post award central administration office and guides institutional policies and procedures related to grant and contract submissions for federal and nonfederal sponsors. Karen has been a presenter of numerous research administration workshops with the National Council of University Administrators and the Society of Research Administrators International.

Richard Norford from Harrisburg

A retired sales and marketing executive living in the Harrisburg area since 2004. Dick and his wife Kay have four children scattered about the US, five wonderful grandkids and a great-grandson. He has been an avid bicycle club rider since 2002, starting in his home state of Virginia. After moving to Harrisburg and becoming an active part of The Harrisburg Bicycle Club, he saw a need for a local advocacy effort.

Caitlyn Strohmeyer from Erie

Caitlyn is the Founder and past President of TransFamily of NWPA, now serving as Board Advisor. She currently co-chairs the Erie County Department of Health's Health Equity Team, she sits on the board of Pennsylvania Equality Project, is an advisory committee member for the Greater Erie Alliance for Equality, and is a member of the Erie Mayor's LGBTQ+ Advisory Council in Erie, PA.

Working within the LGBTQ community sparked a passion in Caitlyn for "equity for all." Being a transgender woman struggling to find affirming health care, then helping others do the same, helped her to realize all the dimensions of inequity that all people face regardless of their identity, which led her to her current work in health equity.

Tom Weiss from Telford

Tom spent 20+ years in the telecommunications industry as a Product Manager with deep expertise in product definition, development and launch strategies. I've since left the corporate world to focus on life as the Chief Operating Officer at Perkiomen Valley Brewery, a family business.

Hannah Widdifield from Monongahela

Hannah Widdifield is a writer, educator, and disability activist who recently moved to the small town of Monongahela. As a lifelong wheelchair user, she's invested in improving accessibility across her community.


More information about these Fellows is available at https://states.aarp.org/pennsylvania/fellows.

Fellows will complete a series of modules covering leadership development, coalition-building, walkable community design, local public policy, and strategic planning. The instructional content includes online study materials, video-conferenced discussion forums with other Fellows, and community assignments. Each Fellow will receive one-on-one coaching from a Personal Mentor to assist them in developing a Walking Action Plan for their community.

The following Walking College Mentors have been appointed to provide individual coaching and facilitate group discussions among the Fellows:


Daniel Price, Sustainability Director for MontCo Anti-Hunger Network in Pottstown
Nicole Seahorne Hameen, Education and Engagement Specialist at Fairmount Park Conservancy in Philadelphia
Tori Baker, Public Health Administrator with Allegheny County Health Department in Pittsburgh
###

About The Walking College: The Walking College was developed in 2014 by America Walks, with funding support from the U.S. Centers for Disease Control and Prevention. The goal of the national program is to build the capacity of local walkability and pedestrian safety advocates across to improve their communities. In 2021, AARP Livable Communities partnered with America Walks to develop and implement a series of State Walking Colleges. More info. at www.americawalks.org/walkingcollege.

About America Walks: America Walks is a national education and advocacy organization devoted to increasing walking and expanding walkable communities throughout the U.S. With a network of more than 30,000 individuals and 700 partner organizations, America Walks' programs include webinar broadcasts, federal advocacy initiatives, online technical assistance, community-based workshops, the National Walking Summit, and the Walking College. More info. at www.americawalks.org.

About AARP AARP is the nation's largest nonprofit, nonpartisan organization dedicated to empowering people 50 and older to choose how they live as they age. With a nationwide presence and nearly 38 million members, AARP strengthens communities and advocates for what matters most to families: health security, financial stability and personal fulfillment. AARP also produces the nation's largest circulation publications: AARP The Magazine and AARP Bulletin. To learn more, visit www.aarp.org, www.aarp.org/espanol or follow @AARP, @AARPenEspanol and @AARPadvocates, @AliadosAdelante on social media.