Sweeping changes in Pennsylvania's election laws, including one allowing any registered voter to request a mail-in ballot without needing a reason, are making it easier to safely cast a ballot during the coronavirus pandemic:

A bipartisan law signed last year by Gov. Tom Wolf (D) gives voters more time to register and allows them to request mail-in ballots without providing a specific reason.
Pennsylvanians can now register to vote up to 15 days before an election, compared with the previous 30-day deadline. Absentee and mail-in ballots now have until 8 p.m. on Election Day to arrive at your county Board of Elections, instead of the previous deadline of 5 p.m. the Friday before.
President Donald Trump's reelection campaign — along with the Republican National Committee and four GOP Pennsylvania congressmen — is challenging the way the state collected and counted mail-in ballots for the primary, including the use of drop boxes. The move has fueled uncertainty about some voting rules for the Nov. 3 election.

The state election law changes also include creating a permanent mail-in voter list and $90 million for a statewide upgrade to more-secure voting machines.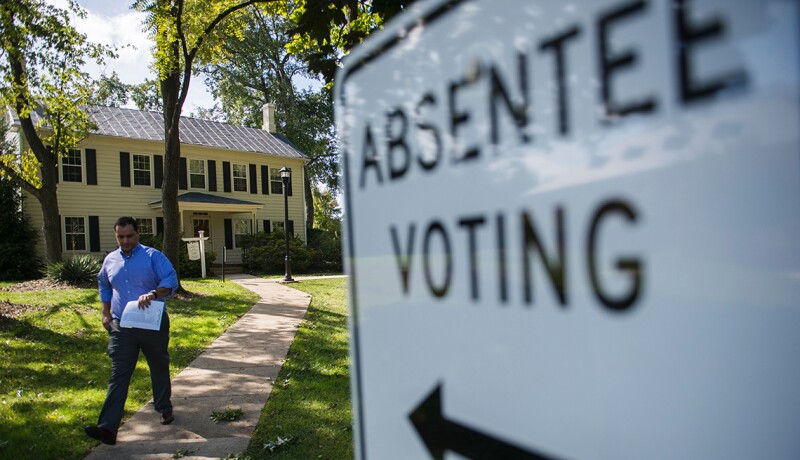 Here's what else you need to know:

How do I register to vote?

You can register online, by mail or in person. If you have a Pennsylvania driver's license or PennDOT ID card, register at VotesPA.com. If you don't have either ID, download and complete the registration form and mail it to your county Board of Elections. To vote in the Nov. 3 election, you must register by Monday, Oct. 19.

You can register in person at certain government agencies, including Pennsylvania Department of Transportation Photo License and Driver's License Centers. If you have questions about registration, call the state's Votes PA office: 877-VOTESPA (868-3772).

What are my two options to vote from home? Are there important deadlines?

You don't need an excuse or specific reason to get a mail-in ballot. You can apply online or download the application and mail it to your county Board of Elections. Applications for mail-in ballots must be received by your county election office by 5 p.m. on Tuesday, Oct. 27. Completed ballots must be received by 8 p.m. on Nov. 3.

Absentee ballots are different than mail-in ballots in Pennsylvania. Absentee ballots are available for people traveling on Election Day, those with a physical disability or illness, members of the military, people who have a religious holiday conflict and inmates who haven't been convicted of a felony. Voters should apply for a mail-in ballot if they don't want to go to the polls because of the pandemic but apply for an absentee ballot if they are away. You can apply for an absentee ballot online or download and print out an application to mail to your county Board of Elections.

How do I know my mail ballot is secure?

The state has a barcode tracking system on envelopes to prevent fraud, such as duplicate votes.

When is Election Day? When are polls open?

Tuesday, Nov. 3. Polls are open from 7 a.m. to 8 p.m.

Can I vote before Election Day?

Only by mail. There is no in-person early voting in Pennsylvania.

What form of identification do I need to vote?

You only need a photo ID the first time you vote in person. You don't need it for subsequent trips to the polls. Acceptable forms of ID include a Pennsylvania driver's license, voter registration card or U.S. passport. Find a full list here.

What is being done to make polling places safe from coronavirus?

Counties have enacted various safety measures, such as tape markers six feet apart for social distancing, hand sanitizer and personal protection equipment for election workers.

Will I be able to vote in the same place as I always have?

Not necessarily. Fewer election workers may mean combining some polling places. Find your polling place on the Pennsylvania Department of State's website before heading to the polls.

What are the key races in my state?

U.S. President
U.S. House: All 18 seats
State Executive Offices: Auditor general, attorney general and treasurer
State Senate: 25 of 50 seats
State House: All 203 seats
Voting rules and procedures may change before Election Day. We'll update this story if they do, so bookmark this page and check back.

AARP is urging older Americans to ask the candidates 5 key questions:

Just over half of all older Social Security beneficiaries rely on the program for at least 50 percent of their income. If elected, how will you ensure that current and future Social Security benefits are not cut as part of deficit reduction?
Half of the people with traditional Medicare spend at least a sixth of their income on health care. If elected, how will you protect Medicare from benefit cuts, as well as lower health care costs and ensure seniors continue receiving the affordable health care they have earned?
COVID-19 has caused death and suffering for too many older Americans who require long-term care. If elected, how will you make sure seniors can access safe and affordable long-term care at home, as well as in facilities like nursing homes and assisted living?
Also of Interest