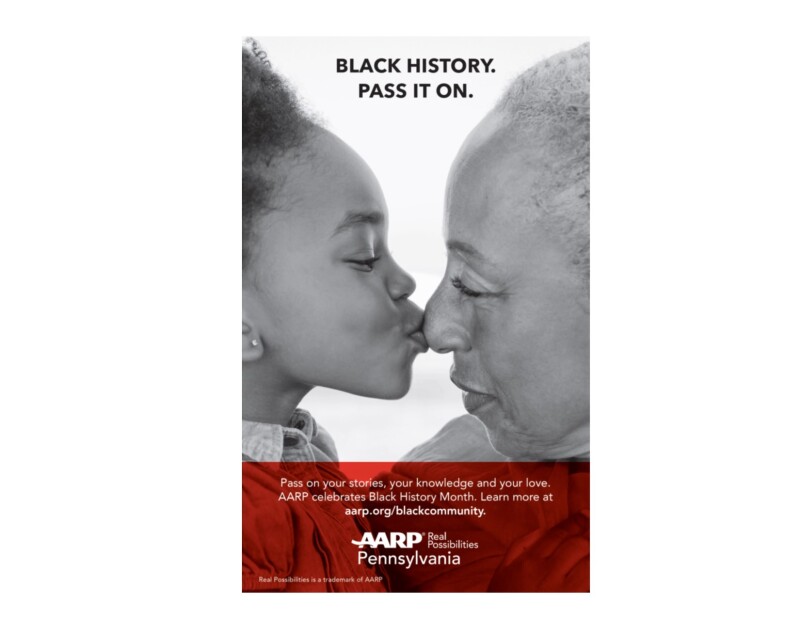 Tonight, when we tell our grandbabies a bedtime story…don't tell them a fairy tale. Instead, pass on the stories of real African American heroes…from a man who started a movement with a dream, to a woman who helped put astronauts into space. We celebrate Black History Month by celebrating the real possibilities. Learn more about your dreams and possibilities at aarp.org/blackcommunity.
Pass Black History on to future generations through stories, movies, music and events.
This Black History Month, AARP Pennsylvania is celebrating with several events throughout Philadelphia:
27th Annual African American Children's Book Fair
When: February 2, 2019
Where: Community College of Philadelphia, 1 pm – 4 pm
AARP Pennsylvania is a lead supporter of the African American Children's Book Fair, one of the oldest and largest single-day events for African American children's books in the country. This multigenerational event is attended by approximately 3,000 parents, students, caregivers, educators, authors and illustrators each year.
The African American Children's Book Fair mission is to preserve the African American legacy through books, and inspires the community and provide tools for children to read outside of their normal school course work to increase literacy.
The 1926 Foundation and Alpha Kappa Alpha Sorority, Incorporated, Omega Omega Luncheon Fashion Show
When: February 2, 2019
Where: The Drexelbrook Special Event Center
AARP Pennsylvania proudly supports the annual Luncheon Fashion Show which raises funds to empower community based organizations that support international programming.
The Omega Omega Chapter celebrates 92 years of sisterhood and service, currently boasting a roster of 510 members and serving the Philadelphia area with a variety of projects and programs.
Douglass Day
When : Feb. 14, 2019
Where: African American Museum, 4 pm – 7 pm
AARP is teaming up with the Colored Conventions Project (CCP) to commemorate Douglass Day, the birthday of Frederick Douglass. The day of events begins with a celebration at University of Delaware, with a special reception later in the afternoon at the African American History Museum in Philadelphia.
CCP has been working to research what are known as the Colored Conventions. From 1830 until the 1890s, already free Black people came together in state and national political meetings called "Colored Conventions." Before the War, they strategized about how to achieve educational, labor and legal justice at a moment when Black rights were constricting nationally and locally. After the War, their numbers swelled as they continued to mobilize to ensure that Black citizenship rights and safety, Black labor rights and land, Black education and institutions would be protected under the law.
The written notes from these meetings are transcribed by volunteers into computers to ensure they are preserved and that the story can be told for generations to come. "The Colored Conventions Project has partnered with the Smithsonian and the National Museum of African American History and Culture in DC to encourage everyone to participate in transcribing the Freedmen's Bureau archives" said Denise Burgher, a leader on the project.
The public can attend a read-a-thon in celebration of Frederick Douglass and his legacy. The readings will focus on the work of Douglass and his life, including stories of his family in context to the Colored Conventions. A reception in Philadelphia will follow the read-a-thon later in the day.
The Philadelphia Tribune's Christopher J. Perry/Carter G. Woodson Black History Awards Luncheon
When: February 14, 2019
Where: Union League, 12 pm – 3 pm
AARP Pennsylvania is a proud supporter of the 2019 Christopher J. Perry/Carter G. Woodson Black History Awards Luncheon, hosted by the Philadelphia Tribune.
The Philadelphia Tribune, founded in 1884, is the oldest daily newspaper in the country serving the African-American community. Deeply rooted in history and the local community, the Philadelphia Tribune hosts the annual luncheon to honor local African American leaders.
"History is a continuous narrative of the past that shapes the course of our future," noted Philadelphia Tribune President and CEO Robert W. Bogle during his 2018 luncheon welcome. "Together, history and culture make up a people's story…The Philadelphia Tribune has documented a great deal of that history of the African American experience in this region."