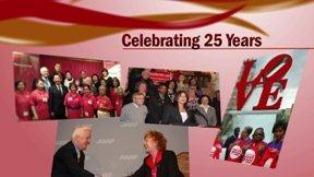 The following article commemorating AARP PA's 25th anniversary appears in the November 2012 edition of Inside AARP.

Volunteers Had Great Expectations

In one of Shirley Sharp's early "frightful days" in 1987, when she thought the job of heading AARP's first (pilot) state office was too big, she phoned for help.

In those first two months in the Harrisburg, PA., office, the new state representative—what we now call state director—was alone in the building at 225 Market Street, two blocks from the state capitol.

The help she asked for came in the form of computers, complete with WordPerfect, dBase and Lotus 1-2-3. A little later, she got an administrative assistant, then an associate state representative. That second person, David Kalinoski, is still there, as associate state director-community outreach.

Asked why she felt a bit overwhelmed, Shirley says, "The volunteers had great expectations" when an office opened up in their community. "At that time, our role was to recruit, train and support volunteers to do what they'd always done," she says. Ordering supplies became one of those supports.

One day she got a frantic phone call. A volunteer who just wanted to make sure he had enough materials for an upcoming conference panicked when a semi-trailer pulled up in front of his house. "We rescued volunteers from that type of experience," Shirley laughs.

Up Close and Personal
Part of her job was very different from what today's state offices experience: there were many walk-in visitors. Thanks to her background in an Area Office on Aging, Shirley knew how to help people who came in asking how to figure out their medical bills. One time, a victim of elder abuse showed up, and Shirley managed to work with her to get the help she needed.

There weren't many resources at that time to help such people, but now—through AARP advocacy and an improved aging network—more services are available, she says.

A Quarter-Century of Changes
While there aren't as many walk-in problems to solve today, David Kalinoski says "we're much closer to the action now."

Now, David says, the focus is on reaching out to members directly as well as through volunteers.

At the state's recent volunteer recognition event — which included an anniversary observance—Shirley encountered some of the volunteers she had recruited, still working on behalf of AARP.
Although she's not volunteering for AARP, Shirley says she's using her AARP skills working with a community development organization in her home town of Punxsutawney. She is also a trustee for the local historical society, and writes two articles each month for a local magazine, one profiling downtown businesses, the other on the coal industry.

What sets AARP apart, he adds, "is the commitment and passion that staffs have, both at the national and state level, for our social mission."

Today AARP Pennsylvania has an office in Harrisburg and Philadelphia with staff across the state, representing 1.8 million members.

Happy anniversary, Pennsylvania!