Technology has changed the way we do nearly everything. Whether you want to communicate with someone, order food, or play a game, there's an app for that. Last semester, with a grant from McLean Contributionship, Philadelphia AARP Experience Corps volunteers used iPads to deliver support to first and second grade students struggling with reading. What tutors and children alike learned was that using tech for learning can be a lot of fun.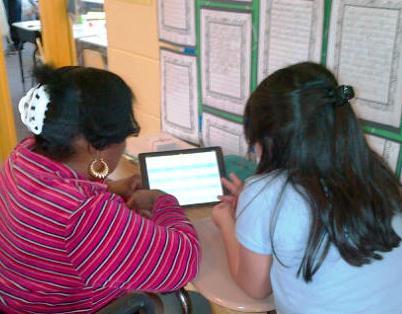 Twenty iPads were granted to four Philadelphia public schools for the pilot program. The schools were selected because their resources – including technology – were very limited. The students had very limited access to the internet and online learning software at school and at home. Their appreciation for the iPad Pilot Program was immense and they all took great care of the iPads, returning them at the end of the year in excellent condition.

Meredithe Riley has been an AARP Experience Corps volunteer tutor for nine years. She had never used an iPad before, but found the pilot program very rewarding. "The children were excited to use the iPads," she said, "Engagement soared. Students would compete to read as many stories as they could on the iPad." She was able to access Pennsylvania Common Core materials and the SRA Imagine It! Curriculum for reading and writing; both of which proved invaluable resources for working with her students.

After a student reads a story on the iPad, they take a short quiz about it to test their comprehension. This gives the tutors immediate, concrete information to relay to the teacher about the student's improvement. Riley worked with a Chinese-American student whose first language was not English. The girl was very enthusiastic about reading on the iPad, and the tutor and teacher both learned she spoke and read English very well – she was just shy about her accent. Working with Riley on the iPad improved her confidence with English in the classroom.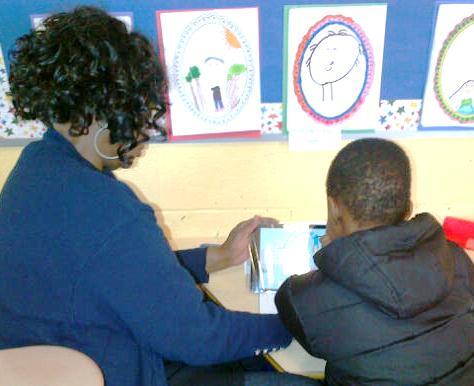 Lydia Banks, a retired elementary school teacher, has tutored first grade students with AARP Experience Corps for four years. She said the iPads changed the way she tutored altogether. "The students lit up at the iPad," she said. "In addition to reading, we played games using phonics and comprehension." Banks said students who were previously uninterested in leaving the classroom for individual tutoring were finally excited to learn.

Banks believes integrating technology into education can engage students with different learning styles. The apps on the iPad work well for hands-on and visual learners. Riley recalls a student who didn't like to sit still in the classroom who reached reading milestones on the iPad. He needed a different approach in order to shine. "He was really quite intelligent. He just needed an additional tool to keep him centered."

Though neither of the tutors had ever used an iPad before, both would love to use them with their students again. Banks is excited to see how the available apps will grow with time. "It will be nice to see more phonics and comprehension apps and more stories for the students to read," She said, "It brought their learning to a whole new level."