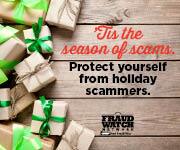 The holiday season is one of the busiest times of year for scammers. Don't put yourself at risk. Learn how to protect yourself from holiday scams.
Here are five tips for avoiding holiday scams:



Keep your eyes peeled for gift card cons. When purchasing gift cards, make sure to purchase from counter attendants or from customer service. Thieves will copy the codes on cards that are on display on a rack, then call for a card balance after the holidays. Once the card has been activated, con artists can shop online with the gift cards before the intended recipient gets a chance to.

Delivery drama. If you are expecting a package delivery, you may want to require a signature. Delivery companies are not responsible for packages left on your doorstep or another unattended area; designating a delivery time and requiring a signature ensures you will receive your package and that it won't be swiped from your front stoop.

Pay attention to false freebie offers. While everyone's ears perk up at the sound of the word "free", it is not always wise to provide sensitive information to websites or emails in exchange for free products or services. This can be the cause of malware or even identity theft. If you are shopping online, make sure the website is secure by noting the s after http in the web address.

Use credit instead of debit. If you prefer to shop with plastic instead of cash, consider using a credit card instead of debit card. You have more protections with credit cards in case of fraudulent use. But in the case of a lost or stolen debit card, there is no way to regain financial losses if someone gets into your account.

Beware of travel scams. The holidays are a time to travel – whether to escape the cold or see distant family, but some cons will tempt you with free cruises or airline tickets that require you to provide personal or financial information. Stick to credible vendors that you know instead.
At AARP Pennsylvania, we hope you enjoy this season free of holiday scams. Being cautious when taking action online or in stores this season can save you from having to deal with scammers for the rest of the year. The AARP Fraud Watch Network can also help. Sign up for Watch Dog Alerts and you can receive email alerts that will provide you with tips on how to protect yourself and your loved ones from holiday scams and many other popular scams, and connect you with members in your community for emerging scams in your area.