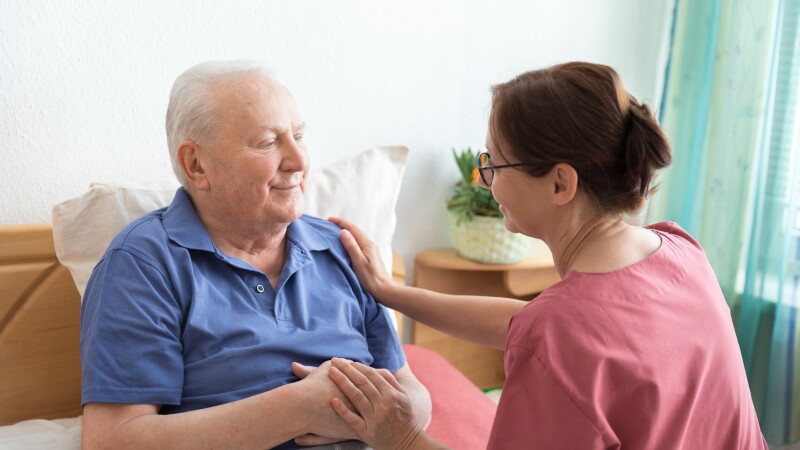 Assisted living – female caregiver helping senior man
Female caregiver helping senior man
FredFroese/Getty Images
AARP Pennsylvania State Director Bill Johnston-Walsh released the following statement in response to the Wolf Administration's proposed nursing home regulations.

"On behalf of our 1.8 million members, AARP Pennsylvania appreciates the Wolf Administration's commitment to improve nursing home care, dignity, and safety by including a minimum staffing requirement in the proposed regulatory package released today. Despite the fact that federal studies have shown that nursing home residents need at least 4.1 hours of direct care within a 24 hour period, Pennsylvania's minimum staffing requirement, which has not been updated in over two decades, is 2.7 hours.

The COVID-19 pandemic has placed a spotlight on some of the most urgent challenges facing Pennsylvania's nursing homes and the ongoing importance of safeguarding the quality of care, quality of life, health, safety, and well-being of nursing home residents and staff. It has also led to a renewed interest in Pennsylvania's nursing home regulations among the state's policymakers. With residents and staff at increased risk of infection due to the highly transmissible nature of the coronavirus, the congregate nature of facility settings, and the close contact that many workers have with residents, the time to reform and improve the state's nursing homes can no longer be delayed.

Pennsylvania residents and families deserve to know that any licensed facility they go to will have safe and adequate staffing. Pennsylvania taxpayers have the right to expect that they will get value for the billions of dollars they invest in nursing home care. As the proposed regulatory package process continues to unfold, AARP Pennsylvania urges the Wolf Administration, General Assembly, nursing home industry, and advocates to work together to address the ongoing problems that have plagued nursing homes for decades, including staffing shortages, infection control, transparency, and accountability. Following the COVID-19 related deaths of more than 13,300 nursing home and other long-term care facility residents and staff, now is the time to address these failings that jeopardize the health and safety of Pennsylvania's nursing home residents."

With today's announcement, the Pennsylvania Department of Health has submitted the first of five installments of proposed nursing home regulations to the General Assembly, the Independent Regulatory Review Commission, and the Legislative Reference Bureau. The next step is for this first package of proposed regulations to be published in the Pennsylvania Bulletin by the end of July, which starts a 30-day public comment period. AARP Pennsylvania joins the Wolf Administration in encouraging all interested stakeholders, including industry groups, resident advocates, and the general public to comment on the proposed regulations.