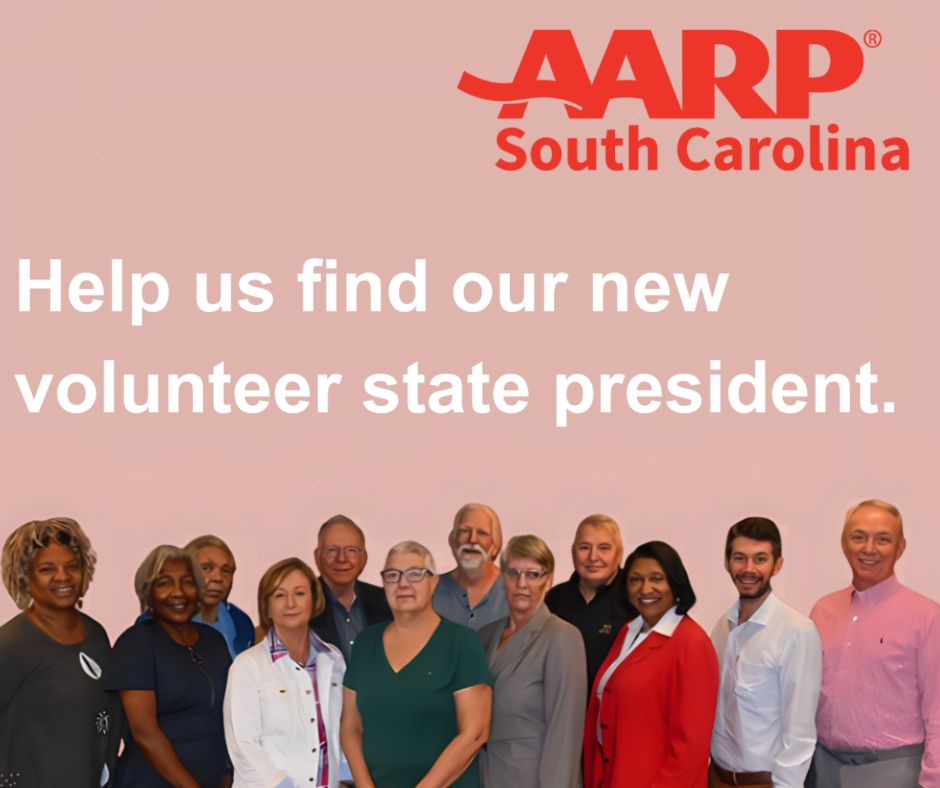 AARP South Carolina is looking for a new state president—its top volunteer role.

What's the role of the State President?
The president works in partnership and collaboration with the state director, staff members and other volunteers to position AARP strategically to advance AARP's mission of improving the lives of older Americans. The new president additionally chairs the AARP South Carolina Executive Council—a group of volunteer leaders representing each congressional district. The group will meet 2-4 times per year in-person or virtually. View the full position description here.

Term Length & Expectations
The new state president will start at the beginning of 2024 but begin a transition period this fall as the term of the current President, Emma McGraw Myers, expires December 31st. The term is two years, although it can be renewed twice. The president—appointed by the state director—will be provided an orientation and training. In addition to attending and leading 2-4 meetings of the SC Executive Council, travel throughout the state and to typically 2-3 annual meetings or trainings outside the state is required. Travel will be covered by AARP.

Eligibility Criteria
A successful candidate for the job must be an AARP member; a strategic thinker, planner, leader and team-builder; able to work with diverse populations; and possess strong interpersonal skills.

Application Process
1. Review the SC State President Job Description
2. To apply, please email a volunteer application (found here) ,resume' and references with the subject line – Volunteer Leader Selection Committee - to the AARP SC State Director – Charmaine Fuller Cooper at cfcooper@aarp.org on or before August 11th, 2023 at 11:59pm.

All applications will be reviewed. Finalists will have a one-hour virtual panel interview in late August. The new state president will be informed by September 1st. He/she will be asked to attend an AARP South Carolina Executive Council meeting in South Carolina's Lowcountry region on September 13-15th to meet current Executive Council members, to participate in a community service project with staff and volunteers, and begin his/her transition. All travel/lodging expenses are covered by AARP.

We have over 600,000 AARP members in South Carolina. While there is only one spot for the AARP South Carolina State President role, there are so many opportunities to volunteer to improve the lives of older South Carolinians and families. If you apply and are not selected as the State President, the hope is that you will continue to volunteer if already connected with AARP or if you are new to AARP that we can match you with other volunteer roles that are fulfilling.

About AARP South Carolina
Contact information and more
from your state office. Learn what we are doing to champion social change and help you live your best life.