(This is the fourth in a series of articles about Free Diabetes Self-Management Education classes in SC)
Research indicates that sugary drinks are linked to the development of type 2 diabetes. The American Diabetes Association (ADA) recommends people avoid sugar-sweetened beverages in order to help prevent diabetes. Why?
Sugar-sweetened beverages include regular soda, fruit punch, fruit drinks, energy drinks and sports drinks. They are digested quickly and absorbed rapidly into the blood stream. Four ounces of these beverages can raise the blood sugar approximately 50 points in less than 15 minutes. This affects the pancreas, which secretes insulin in an effort to bring the blood sugar back into normal range. However, in people who have abnormal blood sugar levels, this extra effort can make the pancreas less efficient over time. Prediabetes and diabetes occur when the pancreas is not working effectively and is not able to lower the blood sugar into the normal range within a reasonable amount of time.
Here's an example to help you visualize your sugar intake: (2.5 cups) of regular soda or sweetened ice tea has about 240 calories and approximately 1 cup of sugar!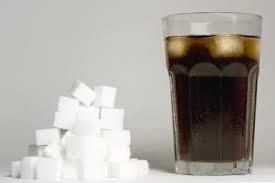 Did you know that there are a lot of hidden sugars in many otherwise healthy foods? These added sugars, while not always apparent, also make the pancreas work harder to bring the blood sugar back into the desirable range.



Check out these food labels for the same national brand of Greek yogurt:
Plain Greek Yogurt











Vanilla Greek Yogurt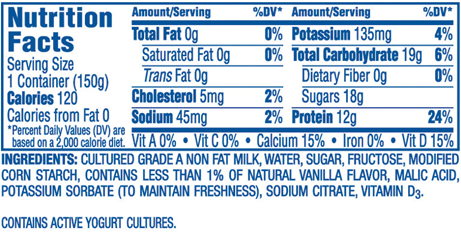 The yogurt on the top has NO added sugars. The yogurt on the bottom includes 12 grams of added sugars.
An important part of living a healthy lifestyle is reading the Nutrition Facts panel and ingredients label – which will reveal added sugars in most foods. Start with the portion size; if you are eating more than the referenced portion, the nutrition facts will need to be adjusted accordingly. Added sugars can include: honey, syrup, (all) molasses, and any word ending in –ose such as maltose, sucrose or fructose. Please note that the Percentage Daily Value (%DV) is based on eating a 2,000 calorie diet and that a %DV of 5% or less is considered "low" and a %DV of 20% or more is considered "high." Sugar does not currently have a %DV however; this will change in the next 18 months when the Nutrition Facts label is altered to include "added sugars" information. The 2015 Dietary Guidelines for Americans recommends that added sugars be limited to not more than 10% of total calories per day. That translates into less than 50 grams of added sugar for most diets.
In addition, reading the labels of the foods you eat can most often help you identify the sources of added sugars. These added sugars may be creating an abnormal blood sugar or may make controlling your diabetes more difficult. For more information, contact a Registered Dietitian or Certified Diabetes Educator for assistance.
Free Diabetes Self-Management Education is provided by The Carolinas Center for Medical Excellence (CCME). These workshops feature a series of five classes, each of which focuses on a different topic related to diabetes. Even if you have previously attended a Medicare reimbursed class, you are invited to attend these workshops at no cost.
For more information and to locate a workshop near you, please call the CCME- SC Diabetes Self-Management Hotline at: 1-800-922-3089, extension 7585
This material was prepared by the Atlantic Quality Innovation Network (AQIN), the Medicare Quality Improvement Organization for New York State, South Carolina, and the District of Columbia, under contract with the Centers for Medicare & Medicaid Services (CMS), an agency of the U.S. Department of Health and Human Services. The contents do not necessarily reflect CMS policy.11SOW-AQUINSC-TskB.2-17-02

Reference:

http://www.diabetes.org/diabetes-basics/myths/#sthash.wZQTA0Fd.
About AARP South Carolina