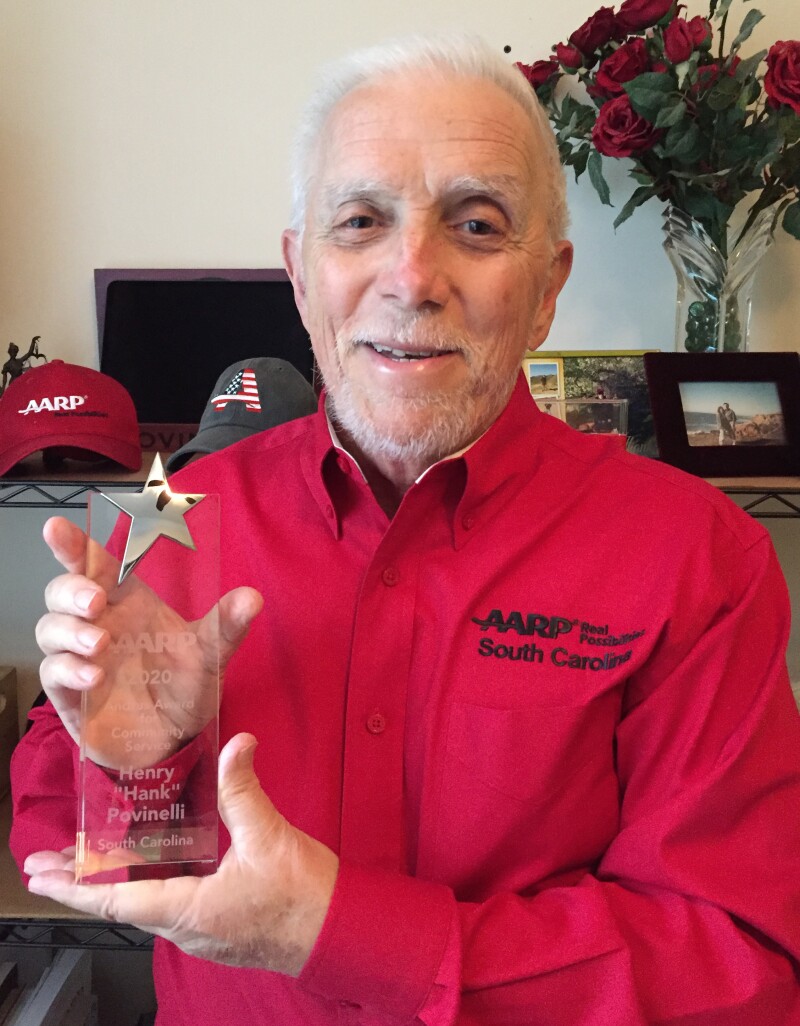 AARP South Carolina Recognizes Henry "Hank" Povinelli for his Dedication and Commitment to Community Service with its Most Prestigious Volunteer Award

Henry "Hank" Povinelli, has been selected by AARP, the nonprofit organization for people 50 and older, to receive the 2020 AARP South Carolina Andrus Award for Community Service -- the Association's most prestigious and visible state volunteer award for community service.

AARP South Carolina selected Povinelli for his remarkable service, which has greatly benefited his community, supported AARP's vision and mission, and inspired other volunteers. Throughout his years as an AARP volunteer Povinelli has stuffed food bags for the hungry, helped veterans in need, given public presentations on free AARP information and resources, moderated a gubernatorial candidate discussion, performed leadership roles at AARP at state and national levels, and much more.

Giving back after a successful career is laudable, but Povinelli's service to others goes above and beyond. Like every year before in 2020, this year he gave ceaselessly of his time and talent to help improve the lives of others. Except this year he did it with the added burden a cancer diagnosis and treatment during a pandemic that's especially deadly to those with underlying health conditions.

"Hank," as he's known, didn't let a little thing like cancer slow him down. Ever the optimist, Povinelli said he lowered his golf handicap by six during his illness while continuing his volunteer work and taking several AARP meetings every week. "I always try to stay positive and I don't believe in looking backward. I want to make things better and get things done."

Povinelli started volunteering with AARP California in 2013 shortly after retiring from a successful career in tech security consulting. He continued his volunteerism with AARP South Carolina when moved to the Palmetto State in 2015.

His outstanding service and qualities as a leader were immediately recognized and Povinelli was quickly tapped to serve in a leadership capacity as volunteer State Vice President and a member of AARP South Carolina's executive council. In these roles he works to help guide AARP legislative and volunteer priorities throughout South Carolina and personally assists in much of the work.

Despite all he's done, Povinelli says some of his most meaningful work has been done with veterans. Povinelli, a Vietnam veteran himself, is heavily involved in AARP's work with veterans, especially homeless and at risk veterans. Povinelli was instrumental in creating the national AARP Virtual Veterans Brigade, which helps disseminate available information, resources, and benefits to veterans and their families through social media channels.

"He's always my first call for help and Hank often informs me on how we could improve and expand our efforts to serve the veteran and military families community," said Joe Meyers, AARP South Carolina Associate State Director of Communications and Veterans Outreach.

Povinelli also played a key role in helping AARP South Carolina transition to all virtual offerings when the pandemic hit to help keep members, chapters and staff connected. "I always say, 'don't let people tell you you're too old for new technology,'" said an enthusiastic Povinelli.

Helping members and people connect is just what Povinelli does and is part of what he focuses on as an AARP National Facilitator serving on a national team that helps the association engage with volunteers.

"This is something to reflect on, not only because of your work, but because of the person you are." Said John Caine, AARP Regional Vice President. "This is the highest award that recognizes the great work that you do for others on behalf of an organization dedicated to serving others. And I can think of no one more deserving."

The award was formally presented to Povinelli at a private virtual ceremony on October 29, 2020. "This award acts as a symbol to the public that we can all work together for positive social change," says Teresa Arnold, AARP South Carolina State Director. "AARP has long valued the spirit of volunteerism and the important contributions volunteers make to their communities, neighbors, and the programs they serve."

"'If our founder Ethel Percy Andrus was here, she would say, 'you are exactly the kind of person this award was intended for.'" Said former AARP South Carolina Volunteer State President Liz Norris. Friends and colleagues continued to share stories and speak Povinelli's praises throughout the event.

But perhaps the most meaningful words came from his own family. "It's nice to hear all these wonderful things about my big brother," said Joe Povinelli. "But, you know what? I'm not surprised. It's what he's always done for others and for his family."

Povinelli's son David added, "He's the definition of a role model. When I think of someone who is my exemplar, who I look to when I don't know what to do, he's my go to. I try to live up to his example every day."

It's clear that Hank Povinelli has touched a lot of lives and lived a life of service to others true to the urging of AARP Founder Ethel Percy Andrus, the Award's namesake, "To serve, not to be served."

Recipients of the Andrus Award were chosen across the nation for their ability to enhance the lives of AARP members and prospective members, improve the community in or for which the work was performed, and inspire others to volunteer.


About AARP South Carolina