Overwhelming Bipartisan Support for Medicaid Expansion shown in new AARP SC Poll

AARP South Carolina released a new survey of 1,000 registered voters in South Carolina ages 50+ showing overwhelming bipartisan support for expanding Medicaid in South Carolina to those earning under $18,000 annually.

South Carolina Voters' View on Medicaid Expansion

The survey found that nearly 8 in 10—including 69% of Republicans—say they support expanding Medicaid in South Carolina and 73% saying that expanding Medicaid in South Carolina is either extremely or very important.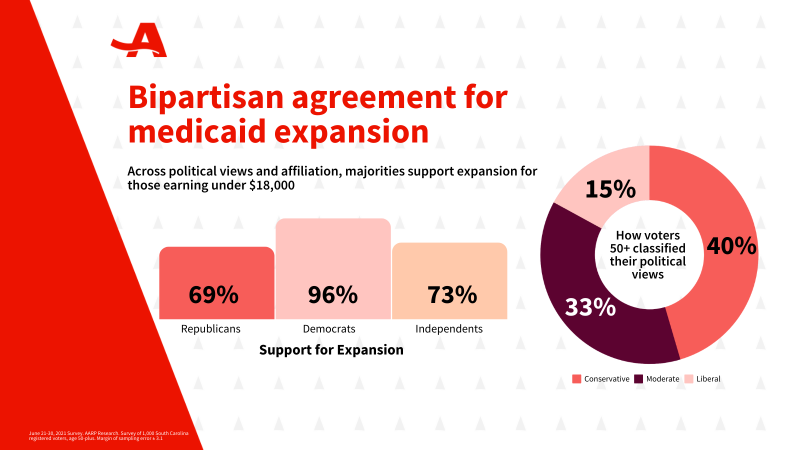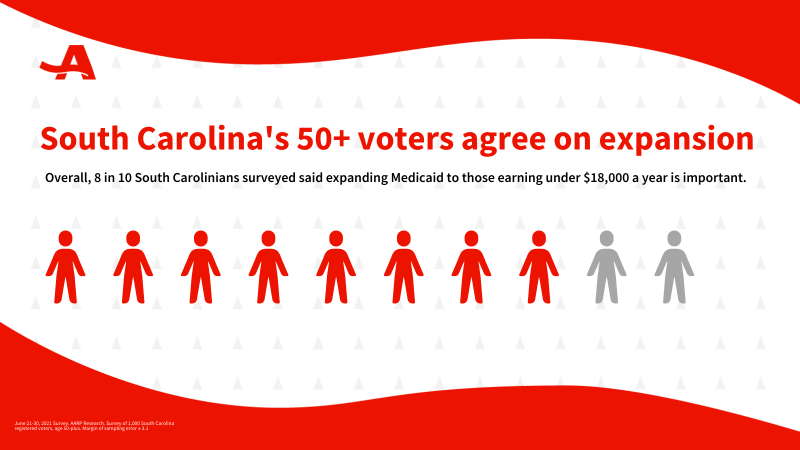 That may represent a major shift in South Carolinians 50+ thinking on Medicaid. In 2013 AARP conducted a similar survey of 800 registered voters in South Carolina ages 45+ and found that only 54% supported Medicaid expansion. Though the surveys were not identical they were similar enough and the shift was large enough to signal a real change.
The pandemic highlighted the fact that many South Carolinians are one catastrophe away from losing their jobs, and with it their access to affordable health insurance. Of those surveyed 52% said they or someone they know may be at risk of losing their healthcare coverage due to cost or job loss. There is a strong belief amongst these voters that it is important for people who lose their job to maintain access to affordable healthcare coverage with 83% of respondents saying that it is either extremely or very important.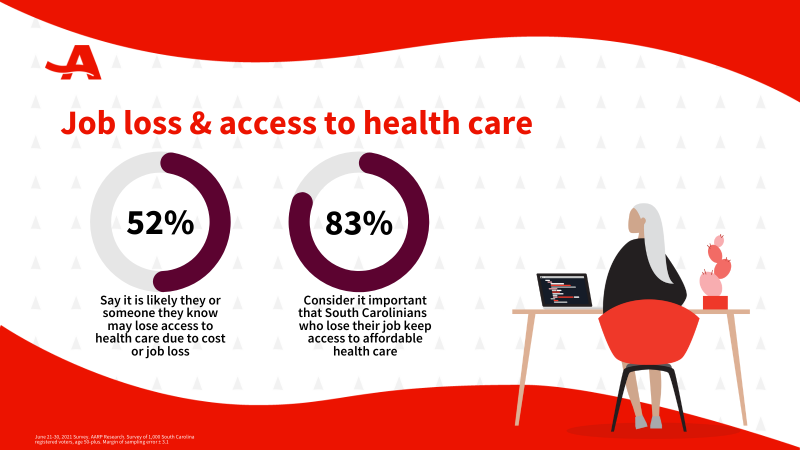 "Over the past year, South Carolina's unemployment rate jumped to more than 12% as the state's economy shed an estimated 272,000 jobs. A lot of middle and low-income households lost their livelihoods and their access to affordable health care coverage at a time when they needed it most," said Teresa Arnold AARP South Carolina State Director. "The realization that many South Carolinians are only one catastrophe away from losing their healthcare coverage."

South Carolina is one of only 12 states in the union that has yet to expand Medicaid to those earning under $18,000 annually. There are currently over 200,000 South Carolinians that could gain coverage if the state decided to expand Medicaid.

"While there are 32 different types of Medicaid in our state, there's not a Medicaid that is available to our most low income, childless, non-disabled adults," remarked Shelli Quenga, Director of Programs at the Palmetto Project. "These people are providing services to us. They are in the service industry, providing lawn care or working as nail technicians, but are not earning enough as self-employed individuals to able to qualify for insurance right now."

"During the pandemic about 99,000 South Carolinians lost their access to healthcare through no fault of their own," said Glen Fewkes, AARP Director of Health Care Access & Affordability. "States across the country from conservative to liberal to in between have realized the positive impact that healthcare coverage has on state finances and more importantly on the lives of hard-working state residents."

Normally, expanding the state's Medicaid program would allow South Carolina to get back $9 back in federal funding for every $1 spent by the state, but with recent federal stimulus legislation, South Carolina would get back an additional $600 million over the next two years. Those are tax dollars South Carolinians have already paid.

That fact may be on the minds of voters as AARP's survey found that 78% of respondents felt it very or extremely important that state lawmakers bring those tax dollars home to South Carolina.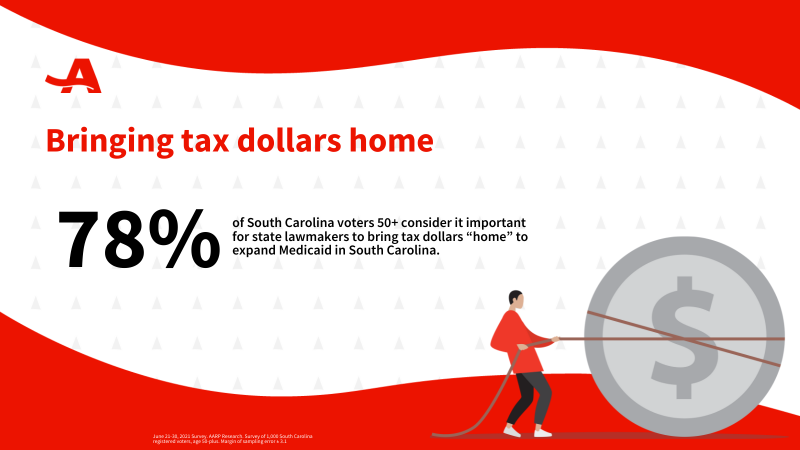 The survey also found that 77% of voters—including over two-thirds of Republicans—would be favorable toward an elected official who supported Medicaid expansion.

That might be an important factor in upcoming elections as older voters vote. Of those surveyed, 75% said they vote in every election and another 17% said they vote most of the time.

AARP South Carolina held a press conference this morning to announce the release of the AARP survey. You can watch the press conference here.
AARP South Carolina Medicaid Expansion Voter Survey Press Conference
You can find more information about AARP's survey including methodology and the questionnaire used here.
About AARP South Carolina