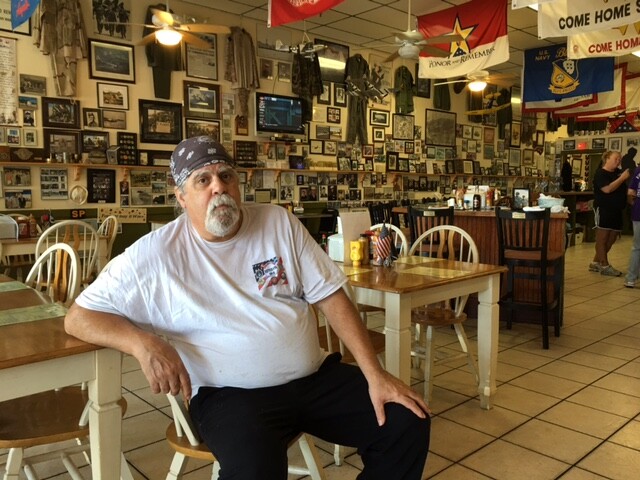 When you think of Myrtle Beach, you think of sand dunes, golf courses and well traffic. Tucked away in a small strip center of the highway 17 bypass proudly stands a "mini military museum." But not in the sense of a formal glassed in-cased, don't touch museum. You can actually eat there.

Army Veteran Lou Mashcerino and his wife, Rhonda are the proprietors of the Veteran's Café and Grille, a one-of-a-kind operation that not only honor and remembers our Veterans but will provide them a good meal even if they don't have the means to pay the tab.

The concept was the brain between Loy and his golf buddy, Dennis Hunter. Fast forward with some give and take and Lou opened the first location of the café adjacent to the Myrtle Beach VA Clinic. It was a quick stop for Vets who were being treated at the clinic to pick up a cup of coffee or a meal in between appointments.

The café moved to its present location in Northgate Shopping Center, 3544 Northgate Rd. in May of 2013. The walls are lined with military uniforms, hats, medals, and flags. You'll find items from family members of service personnel and even a quilt from a Michigan kindergarten class.
Find out more about Veterans Café and Grille here and the Myrtle Beach Stand Down.


About AARP South Carolina