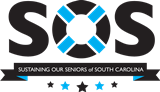 (Columbia) With the senior citizen population expected to reach 2 million in South Carolina by 2029, a mere 15 years away, a new statewide resource was announced today to coordinate assistance for them. The announcement was combined with an appeal for citizen involvement.

Sustaining Our Seniors of South Carolina will be a non-profit and non-partisan organization aimed at promoting independence, wellness and a better quality of life for seniors.

Lt. Gov. Glenn McConnell, an advocate for senior care with responsibility for the S.C. Office on Aging, was instrumental in the formation of SOS. He described a "significant need that is not fully understood by many policy makers" and said citizen involvement will be a big part of meeting the need.

"Senior citizens and vulnerable adults, their caregivers and families need a champion," said Coretta Bedsole, the president of the SOS board of directors. "That's what Sustaining Our Seniors aims to be by identifying resources, information, guidance and service options to improve their quality of life."

Officials encouraged citizen involvement through four broad areas of volunteerism available on the organization's website, www.SustainingOurSeniors.org. The site provides a form for people to express their interests in the areas of food and hunger, transportation, housing, and "adopting" a senior for a singular or ongoing way to help.

SOS of SC will serve as a clearinghouse, a way to direct interested volunteers and financial supporters to established legitimate paths for assisting seniors.

"We see and hear of these kinds of needs all across the state," said Mike Couick, SOS board member and CEO of the state association of electric cooperatives. "Electric cooperatives have the unique opportunity to serve consumers in every county, but as utilities we're not equipped to help all of our senior citizens' needs. SOS is a top-notch idea from the lieutenant governor. Instead of trying to do it all, SOS can be a source of direction to those who want to help."

Food and hunger assistance could take the form of delivering meals, picking up groceries, serving meals to seniors help at a food bank, feeding seniors' pets, growing fruits or vegetables and donating them, sponsoring a seniors community garden, or other activities for those who "have a heart for our seniors."

Transportation assistance might include driving a senior to worship or other appointments, running errands or shopping for a senior, helping as a trusted friend with such occasional needs such as getting car problems repaired.

Housing help might interest licensed contractors who wish to help or people who can volunteer to repair a home, help a senior make their home safe and habitable, perform yard work, donate gently used items, or whose organization or house of worship wants to help.

Businesses might become a corporate partner offering volunteer employee work days, financial support, donated building supplies or loaned equipment.

"Adopting" a senior might suggest singular or ongoing ways to help by health care professionals or those who wish to provide pet therapy, feeding or veterinary care. Others may wish to visit a senior on a regular basis, take regular walks with seniors, remember important dates in a senior's life or help seniors with technology.

Three organizational partners already have signed on to SOS: Home Works, a 19-year old organization that coordinates needs of low-income homeowners for safety and sanitation repairs with volunteers and donors, the Humanities Foundation, a nonprofit housing developer providing affordable housing in communities in the southern U.S. for 20 years, and the S.C. Association of Heating and Air Conditioning Contractors.

The board of directors for SOS includes Board President Coretta Bedsole, AARP South Carolina; Helen Munnerlyn, Leadership South Carolina; Patricia H. Phillips, Palmetto GBA; Stephanie Blunt, Trident Area Agency on Aging; Michael N. Couick, The Electric Cooperatives of South Carolina; Dan Jones, Time Warner Cable; Rev. Rich McLawhorn, former president, S.C. Baptist Ministries for the Aging.

Sustaining Our Seniors of S.C. is recognized by the IRS as a 501(c)3 non-profit organization and donations are tax deductible. Donations and other correspondence may be mailed to Sustaining Our Seniors, P.O. Box 12703, Columbia, SC 29211. Volunteer opportunities are available at www.SustainingOurSeniors.org.
About AARP South Carolina