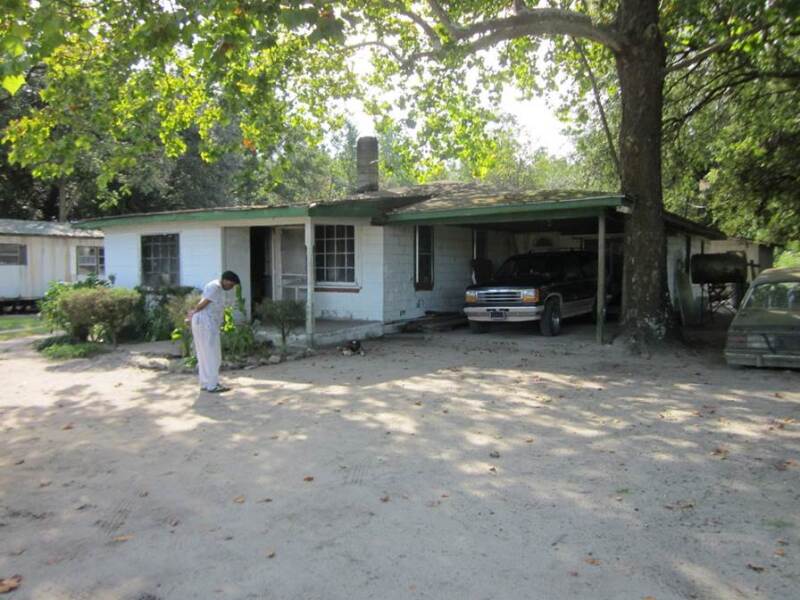 Mrs. Scott came to our attention when two of our volunteers were sent to evaluate her home by the Winyah Bay Long Term Recovery Group related to the October 2015 floods which affected a large portion of Georgetown and Williamsburg Counties. Along with the case manager from Hearts and Hands, Chris Gardner, Habitat for Humanity Georgetown's construction supervisor and Lori Hardman, a volunteer, called upon Mrs. Geraldine Scott, an 85 year old widow whose home was impacted by that storm. Mrs. Scott's home had roof damage and resultant interior damage from the extensive rains but no damage from rising water. Consequently, it was determined that she was ineligible for assistance from the FEMA program.

However, it was obvious from the condition of her home that Mrs. Scott was in dire need of assistance to repair her roof. Chris and Lori, both taken by Mrs. Scott's pleasant and humble demeanor and the deplorable condition of her home, decided that somehow, Mrs. Scott should get the sorely needed repairs to return her home to habitable condition.

Upon returning to the Habitat for Humanity Georgetown offices, they shared their story and desire to help, indicating that they were willing to do the work, solicit additional volunteers, and even share in the expense of repairing the home if necessary. Annette Perreault, Executive Director picked up the gauntlet and knew that Mrs. Scott's case was a perfect fit for the AARP South Carolina grant as well as the One SC Fund monies for assistance. Chris and Lori delivered the news to Mrs. Scott that the Habitat team would repair her home. She looked at them both and said, "You make me feel like I am somebody and that I count." There was not a dry eye in the office when they shared Mrs. Scott's reaction to the offer for help.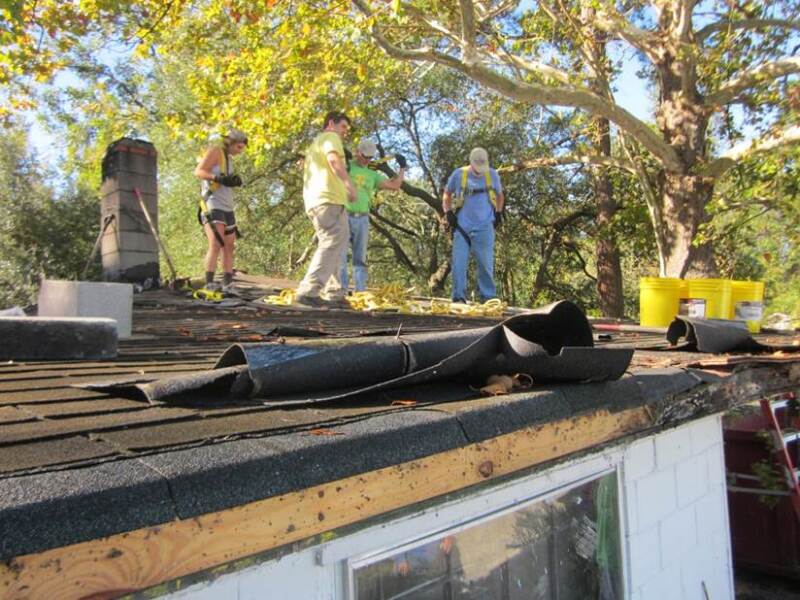 Mrs. Scott lives alone in the house. She and her husband built in 1958, shortly after their marriage. Her husband, who worked in construction and for the school district, died more than a decade ago. They raised ten children in the home, most of who have relocated out of town. Her home, a cinder block building is structurally sound but has no central heating. She relies on a wood burning stove and kerosene heaters for heat.

With skilled construction Habitat volunteers on board and willing to drive the 45 additional miles to Kingstree, further assessment of Ms. Scott's house was done. In addition to storm damage, age and use created a myriad of structural and cosmetic problems. We decided to address the most urgent of those and began work on October 18, 2016.

The roof, which was in much more serious disrepair than initially determined because of Hurricane Matthew, required removal of several layers of shingles, replacement of much sheeting and structural repair of rafters and trusses. An entire new roof was installed. Facia and soffits were totally replaced. New soffit vents were installed. A chimney cap, heretofore nonexistent, was installed. Caulking around the chimney and vents was applied.

Inside the house, the rooms in greatest need of repair were those with the highest use: the living room which had received the heaviest damage from the storms; the bath; kitchen; and middle bedroom housing the pot bellied stove Ms. Scott uses for heat.

Most electrical fixtures were dangerous due to age and were replaced. New wiring was installed in needed areas. Likewise the most critical plumbing issues were addressed. Both of these professional services were done pro bono by the contractors used by Habitat for Humanity Georgetown County.

Flooring was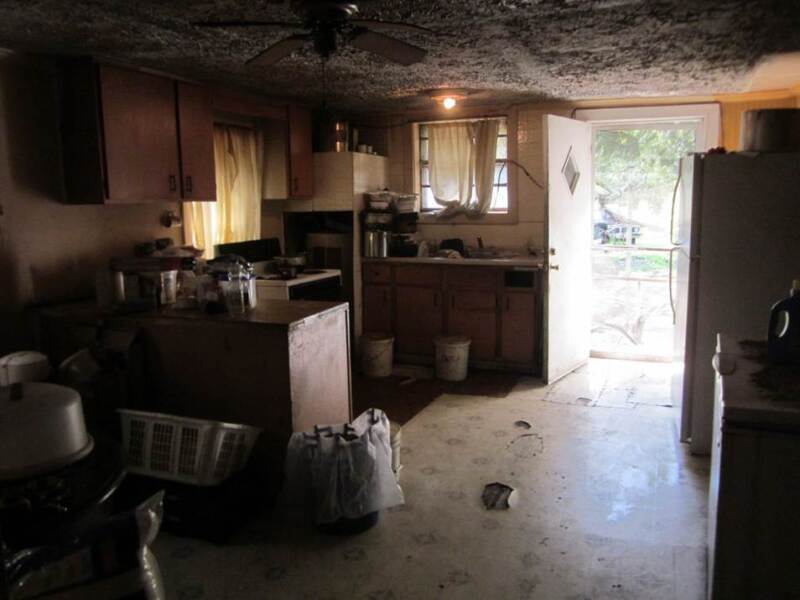 removed and replaced in the living room, kitchen and one bedroom while tile was laid in the bath. Some floor joists in the kitchen were reinforced and sub flooring replaced where necessary. One of Mrs. Scott's sons assisted with this project. Ceilings in the house were repaired and in some areas replaced completely. Walls were removed where necessary and replaced with paneling in the living room while other rooms were painted.

The kitchen was completely gutted and new cabinets, counter tops, sink, stove, range hood, freezer (
damaged by the power outages of Hurricane Matthew), light fixtures and ceiling fan were installed. A new island was designed and built by Chris and Lori.

In the bathroom the sink, vanity, commode, light fixture, exhaust fan and mirror were replaced. A new tub surround was installed and the tub and sink re-plumbed.

The area surrounding the wood burning stove, previously drywall, was replaced by cement board and the wood flooring beneath the stove replaced by cement board and tile for fire safety.

Mrs. Scott was in residence throughout the entire renovation and although severely impacted by lack of conveniences for a few weeks, continued to maintain an upbeat attitude and continually voiced her appreciation and gratitude.
About AARP South Carolina