En español | Absentee voting is encouraged in South Dakota, which is allowing all registered voters to safely cast their ballot from home during the coronavirus pandemic:

Election Day is Tuesday, Nov. 3, and polls will be open from 7 a.m. to 7 p.m. The state's voter information portal has more information about where to cast your ballot. Your polling place may be different this year, so check before you leave.
Be prepared for potentially long lines, and remember to take your mask and to follow social distancing measures at the polls. You'll also need to bring an acceptable form of ID .
With Election Day only days away, consider dropping off your completed absentee ballot in person to your county auditor's office.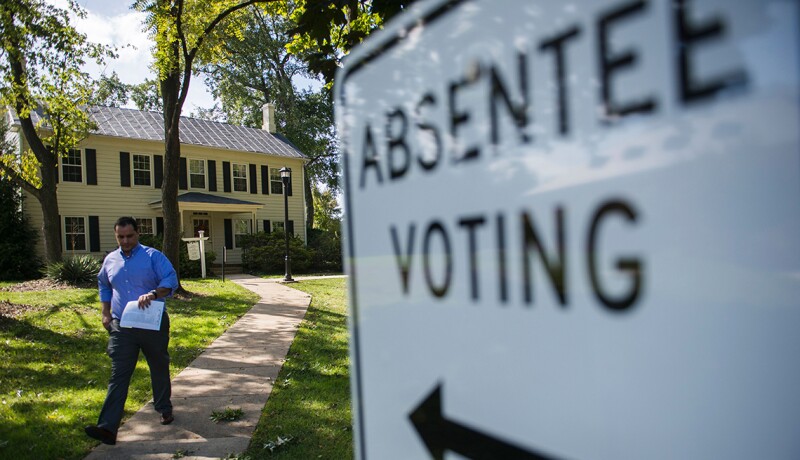 Here's what else you need to know:

How do I register to vote?

You can register by mail or in person. Download the voter registration application from the secretary of state's website and mail or hand deliver it to your county auditor's office. You can't submit the application via email or fax. You can also register in person at the auditor's office, a driver's license station, a city finance office and some other government offices during normal business hours.

Your completed registration form must be received by your county auditor by Monday, Oct. 19 to vote in the November general election. Check if you're already registered and update your registration information on the state's online Voter Information Portal.

How can I get an absentee ballot? Are there important deadlines?

You can request an absentee ballot without having to cite a specific reason. Download and print an absentee ballot application and mail or hand deliver it to your county auditor's office. The application must include a copy of an acceptable ID or be notarized. Absentee voting will begin on Sept. 18. Completed absentee ballots must include the copy of an acceptable ID or be notarized and must arrive at your county auditor by Nov. 3, Election Day, before the polls close. You can also drop ballots off at the secure drop box designated for each county, typically at the county courthouse.

Registered voters can vote absentee in-person at their county auditor's office starting Friday, Sept. 18. You'll need an acceptable photo ID, like a South Dakota driver's license, nondriver ID card or U.S. passport. Absentee ballot requests must arrive at the county auditor's office by 5 p.m. on Monday, Nov. 2, the day before Election Day.

"It's important for our members to know their rights, even while they're concerned about their health," said Leah Ganschow, AARP South Dakota associate state director. "And to know that there's a convenient way to cast their ballots."

How do I know my absentee ballot is secure?

The South Dakota Secretary of State's Voter Information Portal lets you verify the date your county auditor received your absentee ballot application; the date the auditor mailed your ballot to you; and the date they received your completed ballot.

When is Election Day? When are polls open?

Tuesday, Nov. 3. Polls are open from 7 a.m. to 7 p.m. local time. South Dakota bridges two time zones, Central and Mountain; follow the time zone for your polling place.

Can I vote before Election Day?

You can vote early by absentee ballot, either by mail or in person at your county auditor's office. Check with your auditor's office about when absentee voting begins there.

What form of identification do I need to vote?

South Dakota requires government-issued identification, such as a South Dakota driver's license or non-driver ID card, a U.S. passport or a tribal photo ID. A full list of acceptable IDs is on the secretary of state's website. If you don't have one of these IDs you can sign an affidavit pledging that you're eligible to vote in the state.

What is being done to make polling places safe from the coronavirus?

Various measures include social distancing protocols and masks, hand sanitizer and personal protective equipment (PPE) for election workers.

Will I be able to vote in the same place as I always have?

Not necessarily. Monitor the South Dakota Secretary of State's website for potential changes in polling places and logistics because of the coronavirus pandemic or other reasons.

What are the key races in my state?

U.S. president
U.S. Senate: Incumbent Mike Rounds (R) vs. Dan Ahlers (D)
U.S. House of Representatives: South Dakota's sole seat
What are the major issues?

There are three ballot measures voters will decide on in November:

Constitutional Amendment A would legalize the recreational use of marijuana.
Constitutional Amendment B would authorize the state Legislature to allow sports wagering in Deadwood.
Initiative Measure 26 would legalize marijuana for medical use.
This guide was updated on Nov. 2 with more information about voting in person. Voting rules and procedures may change before Election Day. We'll update this story if they do, so bookmark this page and check back.

AARP is urging older Americans to ask the candidates five key questions:

Just over half of all older Social Security beneficiaries rely on the program for at least 50 percent of their income. If elected, how will you ensure that current and future Social Security benefits are not cut as part of deficit reduction?
Half of the people with traditional Medicare spend at least a sixth of their income on health care. If elected, how will you protect Medicare from benefit cuts, as well as lower health care costs and ensure seniors continue receiving the affordable health care they have earned?
COVID-19 has caused death and suffering for too many older Americans who require long-term care. If elected, how will you make sure seniors can access safe and affordable long-term care at home, as well as in facilities like nursing homes and assisted living?
Also of Interest