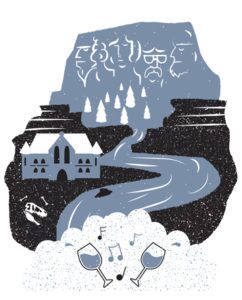 Looking for a relaxing evening of music and wine? Come to the countryside and "Experience life in slow motion."
That's the slogan of Strawbale Winery, an entertainment venue northwest of Sioux Falls that's hosting an AARP gathering on Thursday, July 11.
The special event is in conjunction with the winery's Summer Porch Series, on Thursdays, to which the public is invited.
Beginning at 5 p.m., attendees will sample wines and listen to live music in a farm setting. The AARP event's cost is $15 per person and covers parking, beverage of choice in a commemorative glass, three wine tastings, an AARP travel cooler and a half-price discount on a bottle of wine.
Regional art and local gourmet food will be for sale at the event, and there will be music.
"Enjoy local entertainment, do some wine tasting, and spend a nice evening in the country," said Erik Gaikowski, state director of AARP South Dakota.
Strawbale Winery is at 47215 257th St., in Renner.
Seating is limited at the winery, so attendees are advised to bring lawn chairs or blankets.
A local charity will also be collecting donations of school supplies.
Registration is required before the day of the event at this link or by calling 844-227-9304.
—Rob Swenson