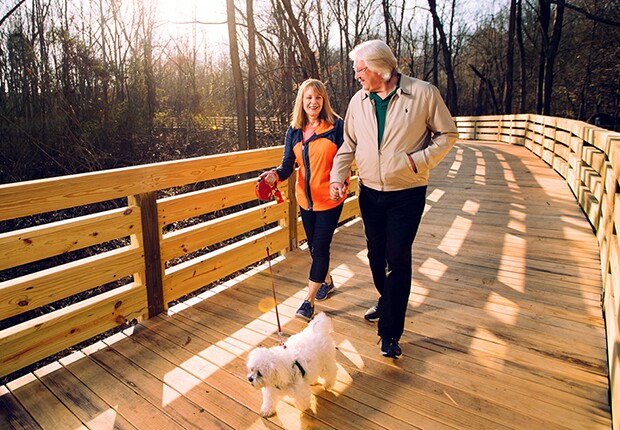 By Sheila Burke

Nearly four years ago, Claire Johnson and her husband, Wayne, packed up and moved from Seattle to retire in Kingsport.

With a population of just under 53,000, this city, nestled in the foothills of the Appalachians, couldn't have been more different from the cosmopolitan tech hub they left behind.

She was hesitant about the move at first, but Johnson says she was pleasantly surprised by how much she liked her new life in Tennessee.

The Johnsons enjoy hiking the Greenbelt, a scenic fitness trail that stretches across Kingsport, and swimming in the city-owned aquatic center. They have made friendships in their large subdivision, filled with professionals, retirees and transplants.

"We all pretty much don't act like senior citizens," Johnson, 66, said of her friends. "We go to the Y. We go to the movies together. We have concerts in our home. We never got to know that many people in Seattle the whole time we were married."

As the first Tennessee city to join the AARP Network of Age-Friendly Communities, Kingsport has made a concerted effort to get people like the Johnsons to move there.

"We are actively recruiting people to the area, and part of our focus is on retirees, because they retire young, they're still active and they're still vibrant. We have found through research that retirees and millennials are looking for the same thing," said Lea Ann Rasar, director of Move to Kingsport, part of the city's Convention and Visitors Bureau.

According to the Chamber of Commerce, 5,466 families moved into the city from 2010 to 2016, and Kingsport's population grew nearly 10 percent.

All residents want outdoor activities, a safe place to live and easy access to public spaces and shopping, she added.

To join the age-friendly network, elected officials must commit to putting steps in place to make their town or city a great place to live for people of all ages.

Variety of goals

More than 220 communities across America are part of the age-friendly network. Livable communities aim to be safe and secure, and have affordable housing, transportation options, economic opportunities and access to health care and other services, said James Foulds, a retired urban planner who chairs a statewide AARP Livability Council.

"There are many national and local surveys that indicate a high percentage of 55-plus individuals want to remain in their existing home," Foulds said. "Local communities aren't prepared to address these issues for an aging population."

AARP Tennessee has put together the Livability Council for the state with a focus on transportation and affordable housing, Foulds said. In Nashville, AARP is supporting a $5.4 billion transit plan, on the ballot May 1, which would raise taxes to build light rail and enhance bus networks.

In Kingsport, officials support additional changes to make the city more livable, including developing the waterfront, adding green space and creating an outdoor venue downtown, said Margot Seay, former president of AARP Tennessee and chair of a new neighborhood commission.

She is a fervent supporter of what cities are doing to become more livable.

"It's such a wonderful way for individual communities to build a strong infrastructure where we're working to improve the lives of everyone," she said.

For more information on the AARP Network of Age-Friendly Communities, go to aarp.org/livable.

Sheila Burke is a writer living in Nashville.