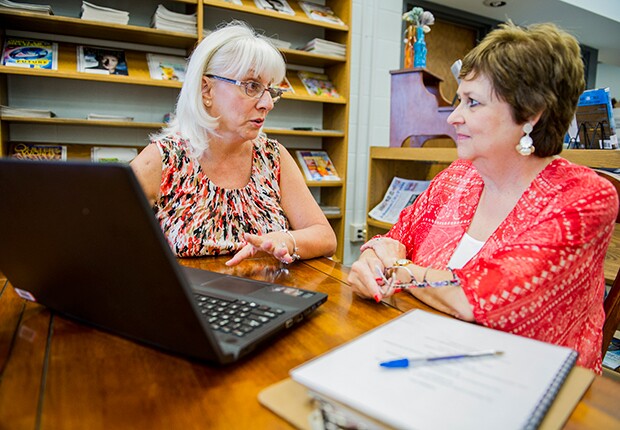 By Sheila Burke

Pam Holcombe spends a good portion of her retirement doing something most people dread: taxes. But for thousands of older residents and others who need help navigating the complex and sometimes grueling tax code, her work offers welcome relief.

As Tennessee state coordinator for the AARP Foundation Tax-Aide program, Holcombe leads a small army of volunteers who help people file their taxes. The demand for their service is large and growing.

Earlier this year, 394 volunteers in Tennessee helped people file more than 21,000 federal tax returns and nearly 1,200 state returns, Holcombe said. All those returns, she said, netted nearly $19.6 million in tax refunds. Nationwide, there are almost 35,000 Tax-Aide volunteers.

The free service is much appreciated, said Holcombe, a 59-year-old Greeneville resident who spent the bulk of her professional life in the legal field.

"The tax process is a little nerve-racking for a lot of people, and to be able to go somewhere to get help with their returns has a lot of value for folks," she said.

Volunteers working in libraries, senior centers and churches prepare the returns for people on-site, using a computer to file directly to the Internal Revenue Service. While the program is aimed at older residents, taxpayers of all ages are welcome. But tax preparers might not be able to assist with some complex returns.

The program often helps people get tax credits and refunds they didn't know they were entitled to receive, Holcombe said. One man collected a "substantial refund," she recalled, because he had been caring for a parent at home but didn't know that he could file as a head of household and list the parent as a dependent. The volunteer tax preparer was able to go back three years and amend his returns, leading to an even bigger refund.

Payment With a Hug
Taxpayers who don't get refunds still save the cost of a tax service. "We get a lot of hugs," said Tom Hendrix, 81, a retired computer analyst who has spent 23 years volunteering for Tax-Aide. "We don't turn down a hug. A lot of them want to pay us, but we don't accept money."

Volunteers were able to prepare 1,700 tax returns last year at the Blount County library alone, said Hendrix, who lives in Maryville.

He and Holcombe said the program could help many more people if there were additional tax preparers. There's a misconception that volunteers need a background in math or accounting. That's not the case.

"We've got engineers, we've got plumbers, housewives—we train them in tax law and how to use the computer," Hendrix said.
Volunteers go through the IRS self-paced online training program, which starts this month. Then they take a class and test to be certified by the agency.

Tax season runs from early February to mid-April, and volunteers can work several days a week or as little as a half day each week, Holcombe said.

Recalling several experiences, she noted that the rewards of volunteering can be gratifying.

"When you see somebody come in who is stressed out because they just lost a spouse and they've never had to deal with taxes before, and you can help them through it, and then you see the relief on their face before they leave—there's nothing like it," she said.

To learn more about Tax-Aide and becoming a volunteer, go to aarp.org/taxaide, call 888-227-7669 toll-free or email Holcombe at holcombepamela@gmail.com.

Sheila Burke is a writer living in Nashville.