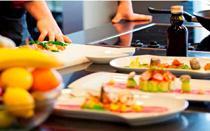 By Hollie Deese

Sara Watkins, 59, of Jackson, has always considered herself a good cook. But ever since a diabetes diagnosis, in 2005, the former track runner and team sport participant admits it's been hard to adjust her cooking to a more restrictive diet.

She knew she could make her meals healthier, but it just wasn't how she learned to cook.

Then Watkins saw a post on social media about a class called Healthy Cooking With AARP Tennessee and thought this would be a great way to pick up some new tips and recipes.

"You don't ever expect to be a diabetic, especially when you were an athlete, so it really is something you have to understand—your body and how it all works," Watkins said.

According to the American Diabetes Association, 39,000 new cases are diagnosed in Tennessee each year. Serious complications from diabetes include heart disease, stroke, amputation, end-stage kidney disease and blindness.

The idea for healthy-cooking classes came from an AARP volunteer who tried something similar at a nearby Jackson wellness center, said Andrea Neely, multicultural outreach director for AARP Tennessee.

"We're always talking about healthy lifestyles, brain health, livable communities, which are intertwined together," Neely said.

"If you're eating healthier, you're going to live longer. And if you're in a community that provides these types of educational opportunities, it's a win-win for AARP, for our members, our volunteers and potential members."

Fresh choices

AARP has partnered with the University of Tennessee Institute of Agriculture/Tennessee State University Extension in Jackson to host the healthy-cooking classes. The organization plans to expand the program at other state extension centers, which have cooking facilities.

At the first class in June, Watkins and about 30 participants went to different stations and made tuna burgers and mixed-fruit Greek-yogurt parfaits. "Everybody just seemed to really get a lot out of it," Neely said. "Some folks seemed kind of quiet at first, but they broke out of their shell once everybody got to chopping and preparing everything."

Christy Futrell, regional director of the American Heart Association (AHA) in West Tennessee, had been looking to participate in a cooking class in the community and jumped at the opportunity to partner with AARP for the hands-on initiative.

"The more we can promote good health and the power of food, the better everyone is," said Futrell, who noted that changes in lifestyle can prevent 80 percent of cardiovascular disease. Cooking classes like the one led by AARP help the AHA reinforce the important message that diet matters and it's never too late to change.

"We have so much power with the choices we make every day. So we need a strategy," Futrell said. "We need to really eat on purpose and to make these conscious decisions."

Other Healthy Cooking With AARP classes are planned for later this month in Memphis and for November in Jackson. Class size is limited, so registration is required.

For an up-to-date schedule of events, visit aarp.org/tn or call 877-926-8300.

Hollie Deese is a writer in Gallatin.