HOUSTON, TEXAS--The AARP Foundation today made a $25,000 donation to the Houston Food Bank to help fight hunger among older Texans. Amanda Fredriksen, AARP Texas advocacy director, presented the donation to Houston Food Bank President and CEO Brian Greene at city hall today. Mayor Annise Parker was also present for the occasion.

"AARP has a deep commitment to help alleviate the hunger issue in this country. This time of the year, when so many of us have so much to be thankful for, we must not forget those who struggle to put food on their tables--and to get adequate nutrition for themselves and their families," said Fredriksen.


"This is a real problem in the nation's fourth largest city. We appreciate Mayor Parker's leadership and interest in addressing the problem and the tremendous work done by the Houston Food Bank. We hope this donation will extend the food bank's work in the community."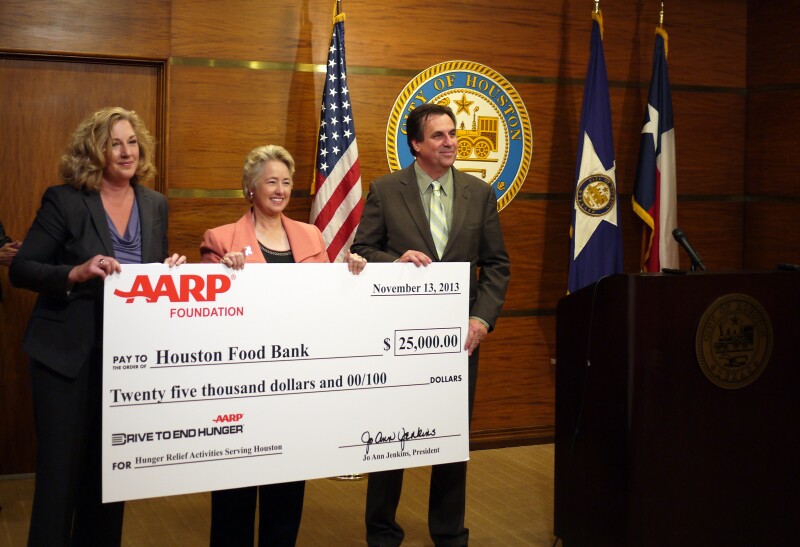 Hunger among older adults is more of a problem than ever; the number of Americans age 50+ struggling with hunger or lacking sufficient nutrition rose by almost 80 percent from 2001 through 2009. Today, nearly 9 million older Americans are at risk of hunger, including more than 66,000 people daily in the 18 Southeast Texas counties that the Houston Food Bank serves.

Today's donation is part of a AARP Foundation goal to provide 11 million meals to seniors nationwide this year.