As Texas lawmakers near the end of the 2017 legislative session, AARP Texas Director Bob Jackson issued the following statement:

"The 2017 legislative session will be memorable for its emotional fervor and theatrics. It also deserves recognition for advancing the wellbeing of older Texans and for making progress on certain issues that affect consumers of all ages.

"AARP gives high marks to members of the Texas Legislature and Governor Greg Abbott for taking seriously the concerns and needs of older Texans.

"Throughout the session, AARP volunteers and staff have been pleased to work in a cooperative, nonpartisan, and productive fashion with members and legislative leaders of both major political parties, their aides, and the governor's administration toward advancing priorities for the age-50-plus community.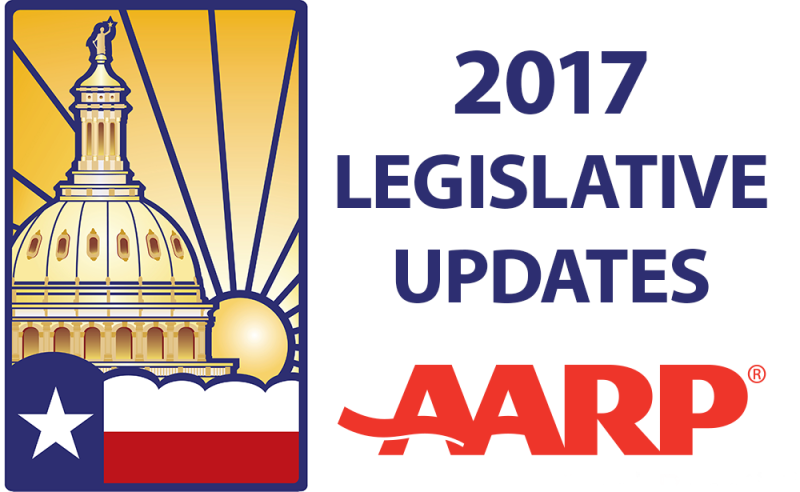 "Spending proposals and policy changes supported by AARP have been respectfully addressed, and we've seen many successes related to our legislative agenda, which included efforts to ease stress for family caregivers, protect seniors from financial exploitation, help patients combat surprise medical bills, strengthen nursing home quality, and more.

"AARP strongly believes voters should be informed on issues affecting older Texans. And on behalf of the 2.3 million AARP members in Texas, I extend my sincere appreciation to our state lawmakers for their public service and sincere efforts to help older Texans."

NOTE TO BROADCASTERS/EDITORS/REPORTERS: Upon sine die of the 85 th Texas Legislative Session, we will update these remarks with additional details about the outcome of top AARP Texas legislative priorities.

###



About AARP
AARP is the nation's largest nonprofit, nonpartisan organization dedicated to empowering Americans 50 and older to choose how they live as they age. With nearly 38 million members and offices in every state, the District of Columbia, Puerto Rico, and the U.S. Virgin Islands, AARP works to strengthen communities and advocate for what matters most to families with a focus on health security, financial stability and personal fulfillment. AARP also works for individuals in the marketplace by sparking new solutions and allowing carefully chosen, high-quality products and services to carry the AARP name. As a trusted source for news and information, AARP produces the world's largest circulation publications, AARP The Magazine and AARP Bulletin. To learn more, visit www.aarp.org or follow @AARP and @AARPadvocates on social media.