What should the future of Austin look like? How can we make the city a place where Austinites of all ages can be healthy, independent and part of a vibrant community?

On Monday, Oct. 6, at the newly renovated Alamo Drafthouse on South Lamar Blvd., we'll hear from Austin mayoral candidates on issues like safe, walkable streets, better housing and transportation options, and opportunities for residents to engage in the community life of our city.

Arnold Garcia Jr., a longtime journalist and former editorial page editor of the Austin American-Statesman, will moderate the forum, which will include participation from five mayoral contenders. The participating candidates are: Steve Adler, Sheryl Cole, Mike Martinez, David Orshalick and Randall Stephens.

This event is presented in conjunction with AustinUP, a new, local membership organization supporting our community's long-term commitment to addressing the interests of older adults in Central Texas.

"We are thrilled to partner with AustinUP in generating a dialogue about the future of Austin," said AARP Texas director Bob Jackson.


"This forum is a great opportunity for Austin residents to learn how the mayoral candidates would make Austin a place where all ages can be healthy, independent and integrated into a vibrant community life."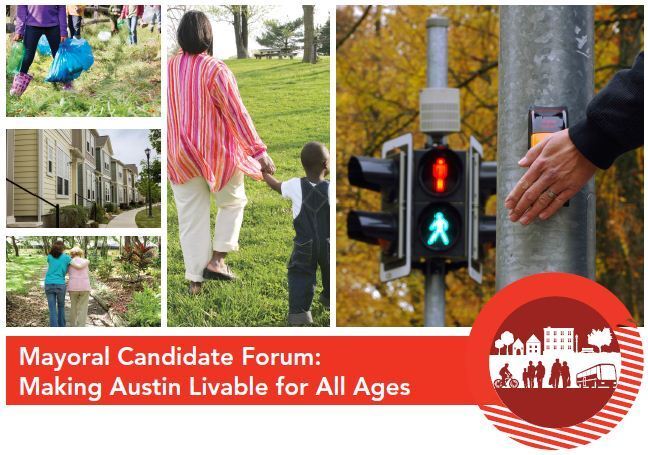 The mayoral election in November is significant as it will be the first time since 2009 that a new Mayor of Austin will be elected. Additionally, Austin has adopted a new single-member district model with the hope of increasing voter participation and community engagement in local government.

This event is free and open to the public, but seating is limited. To learn more or RSVP, call 1-877-926-8300 or visit aarp.cvent.com/TXAustinMayoralCandidateForum.