Having marked only their first 100 days in office, members of Austin's first City Council under a new "10-1" system of government are in a honeymoon phase of getting to know one another and learning the city's biggest issues.

The City Council has spent the bulk of its time in orientation sessions and policy workshops, and Council members have purposefully postponed votes on many major decisions until they feel more settled.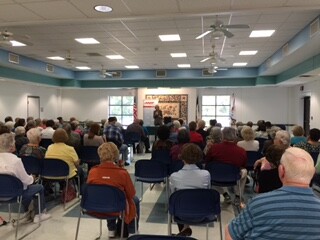 Austin's elected leaders are still testing the strength of their new system of governance – one in which there is a larger council represented by 10 geographic districts and an at-large mayor, which is considerably different than city's old system in which there were only a handful of council members elected at large.

Recognizing the challenges facing the City Council, AARP is working to help foster communication between City Council members and the public and to grow conversations about how Austin can become an even greater place to live for people of all ages.

"Meet Your Council Member" events hosted by AARP Texas are now being scheduled and will continue throughout the year. The first event of this kind took place on April 15 in south Austin and featured Austin's District 5 Council Member Ann Kitchen.

Jessica Lemann, an associate state director for AARP Texas who is working with AARP volunteers to organize the events, said these aren't like just any other public meeting for Council members. "These are intimate opportunities to discover and discuss Austin City Council members' vision for the city and how it can meet the needs of a rapidly aging population."

While several of the events are still being scheduled, Austin District 8 City Council Member Ellen Troxclair is confirmed to meet with citizens at 1:30 p.m. on Wednesday, May 20, at the South Austin Senior Activity Center. Light refreshments will be provided. Troxclair represents a mostly southwest Austin district.

Also in May, Austin Mayor Steve Adler will meet the public at an event hosted by AARP Texas and the AustinUP organization. The event is set for 10 a.m. Friday, May 29, and will be held at the ZACH Theatre, located at 202 South Lamar Street in Austin.

Lemann says all the events are free and open to the public, though in some cases seating is limited. Attendees are encouraged to RSVP by calling 1-877-926-8300.