New scorecard ranks Lone Star State in terms of long-term quality of care and quality of life

State watchdog to examine the future of agency that licenses nursing homes and long term services at June 24-25 hearing

AUSTIN, TX-- Just days before the Texas Sunset Advisory Commission examines the future of the state agency that regulates long-term care services in Texas, a national report released today by AARP ranks Texas 49th in "Quality of Care and Quality of Life", a measurement that directly impacts the safety and well-being of nursing home residents.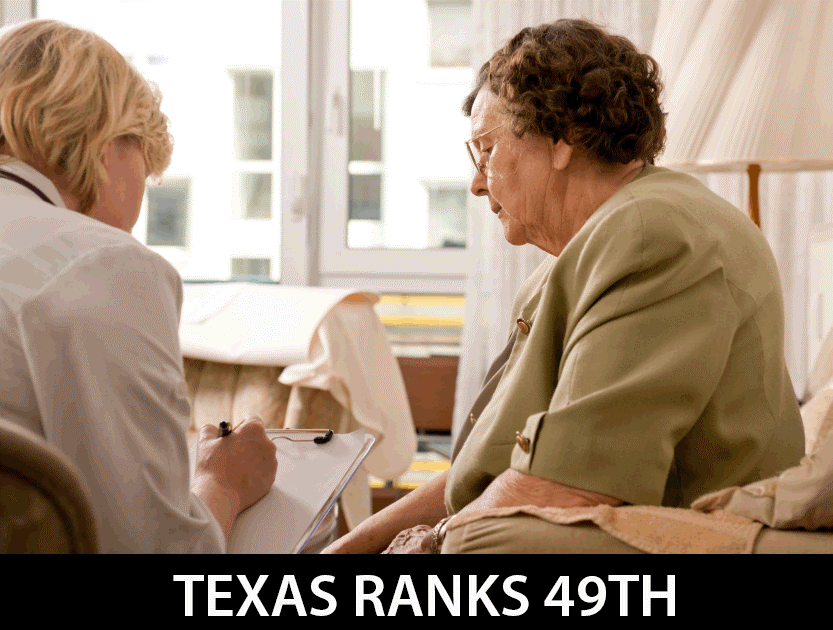 The full report -- Raising Expectations 2014: A State Scorecard on Long-Term Services and Supports for Older Adults, People with Physical Disabilities, and Family Caregivers -- is available at www.longtermscorecard.org. The new scorecard from AARP, Commonwealth Fund, and SCAN Foundation measures effects of state policy on ability to live independently: choice of setting, care quality, support for family caregivers and more.

Texas' dismal quality ranking is based on performance on several indicators, including:

39th in percentage of high-risk nursing home residents with pressure sores (rate of 6.9% compared to national median of 5.9% and a best state rate of 3.0%);

50th in nursing home staffing turnover (rate of 72% compared to national median of 38.1% and a best state rate of 15.4%); and

50th in percentage of long-stay nursing home residents administered antipsychotic medications (rate of 27.6% compared to national median of 20.2% and a best state rate of 11.9%).


"When families make the difficult decision to place a loved one in a nursing home, they do it with every expectation that they will be well cared for and safe," said Bob Jackson, AARP Texas director. "What this scorecard tells us is that for some Texas nursing homes, quality of care and safety are an issue. This is unacceptable for a proud state like Texas, not to mention dangerous."


On a brighter note, Texas ranks 16th when it comes to offering consumers a choice in setting and provider, in large part because it has more than half of Medicaid and state-funded long-term services and supports devoted to care at home and in the community (ranking 7th on this indicator).

"Texas has effectively rebalanced the funding for long-term services and supports to reflect a consumer's preference to receive care in the home and to be fiscally prudent since care at home costs the state less than half the cost of care in a nursing home," Jackson said. "Now it's time for the legislature and the governor to take the steps to ensure that those older Texans who need care in nursing homes get the care they need and remain safe."

Starting on Tuesday and Wednesday, June 24-25, the Sunset Advisory Commission -- a panel of five senators, five state representatives and two public members chaired by Senator Jane Nelson, R-Flower Mound and Vice Chair Representative Four Price, R-Amarillo -- will hold hearings on several agencies to determine if the agencies or functions should be continued, abolished, or modified. Among the agencies being reviewed is the Department of Aging and Disability Services (DADS), which regulates nursing homes and other long-term care services and supports.

The sunset staff report found that "DADS issues few sanctions for violations, including many serious and repeat violations, leaving people receiving care in nursing homes and from other licensed providers in harm's way." The staff report noted that in fiscal year 2013, DADS identified 18,735 nursing home violations that resulted in a total of just 11 enforcement actions.

The agency inspects nursing facilities to ensure the health and safety of the residents, ranging from the condition of the physical building to the quality of care provided by staff. The most serious violations are those that place the resident in immediate jeopardy or cause actual harm to a resident.

A decision hearing will follow in August, at which time the Sunset Commission will vote on whether to accept, reject or modify the staff recommendations. The recommendations can be found at the Sunset Commission's website -- https://www.sunset.texas.gov.

"In several potential life-or-death type indicators, Texas has nowhere to go but up," Jackson noted. "Fortunately, the Sunset Advisory Commission is poised to take steps to ensure those facilities with a track record of providing poor quality care are encouraged to improve or risk having a new administrator. But changes of this magnitude won't happen without a conscious, bipartisan effort by the legislature and the governor."