A letter from state director Bob Jackson to AARP Texas volunteers at the start of National Volunteer Month.

American cultural anthropologist Margaret Mead once noted, "Never doubt that a small group of committed people can change the world. Indeed, it is the only thing that ever has."

In fact, volunteers are the engine that makes AARP Texas run. How else could 21 staffers, talented as they may be, make a truly lasting impact on a state that is 1,000 miles larger than France and the entire state of California, combined? We couldn't, and we wouldn't.

As we celebrate National Volunteer Month in April, all of us at AARP Texas salute your dedication and your efforts to make the lives of age 50+ Texans better. We're blessed with more than 250 active volunteers today in Texas, as well as approximately 350 Driver Safety volunteers and 2,100 Tax-Aide volunteers. And let's not forget about the many folks actively engaged in chapters and local communities, simply serving older Texans in a variety of capacities, through churches and civic organizations.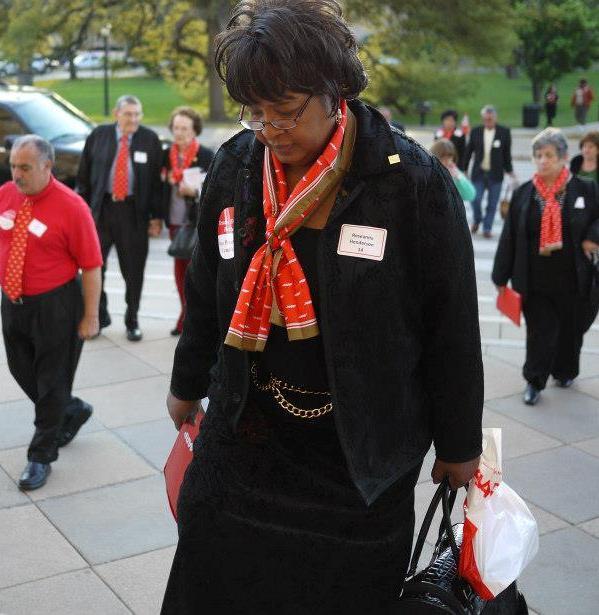 One such Texan and AARP volunteer is Ervin Rees from Alief, who we will be honoring on May 1 with our latest Andrus Award. The award is given annually to a very special volunteer in memory of our founder, Ethel Percy Andrus. Ethel herself understood very well the role of volunteerism and service to others, as illustrated by some of her memorable quotes, including "to serve, not to be served" and "the human contribution is the essential ingredient… it is only in the giving of oneself to others that we truly live."

Just three weeks ago, the power of volunteers to make a difference was amply displayed in our state capitol. Approximately 80 of you joined AARP staff in visits to your local legislators and their senior staff to advocate for payday lending reform and cost-effective community-based long-term care services. Our presence was clear and visible, particularly as we sported our bright red AARP ties and scarfs. One priceless moment occurred when we practically overwhelmed the back of a small hearing room where payday lending legislation was being debated, drawing the attention of committee members.

I am confident that all the wonderful ideas that you originated during our two-day training in Austin are now being put to good use in legislative and congressional visits throughout Texas. There's plenty of precedent for that, of course. Just a month earlier, during Lobby Week, many of you visited congressional offices all over Texas on the issue of protecting Social Security. Our volunteers covered both sides of the aisle, touching base with 11 Republicans and seven Democrats. Thanks to your tenacity, we made it clear to each of our targets that AARP opposes adopting a chained consumer price index (CPI) for Social Security.

Volunteer activity is everywhere around us. AARP's new Office of Volunteerism and Service is but one example of the value our organization places on the work you all do. As a matter of fact, two outstanding AARP Texas volunteers have recently been tapped for special assignments by this office. Mary Ragland of Austin will be participating in an in-person idea exchange with a small group of AARP chapter leaders from around the country, and Gloria Dávila of San Antonio has been invited to serve as a member of AARP's select Volunteer Leadership Institute. It's great to see Texas volunteers in such leadership roles and to have their voices to help guide the direction of volunteer support within AARP.

So we salute and honor your work during this special month and urge you to please keep these numbers and contact information handy:

Volunteer Helpline: 1-866-740-7719
For everything else, be sure to keep in close contact with your local AARP Texas staff, or call us toll free at 1-866-227-7443. Again, thanks for your many efforts and sacrifices and for being the face of AARP to the rest of Texas!


Throughout April, we're profiling some people that you need to meet in honor of National Volunteer Month. Have you met Art Garza, the veteran turned volunteer? What about Ervin Rees, our latest Andrus award winner?