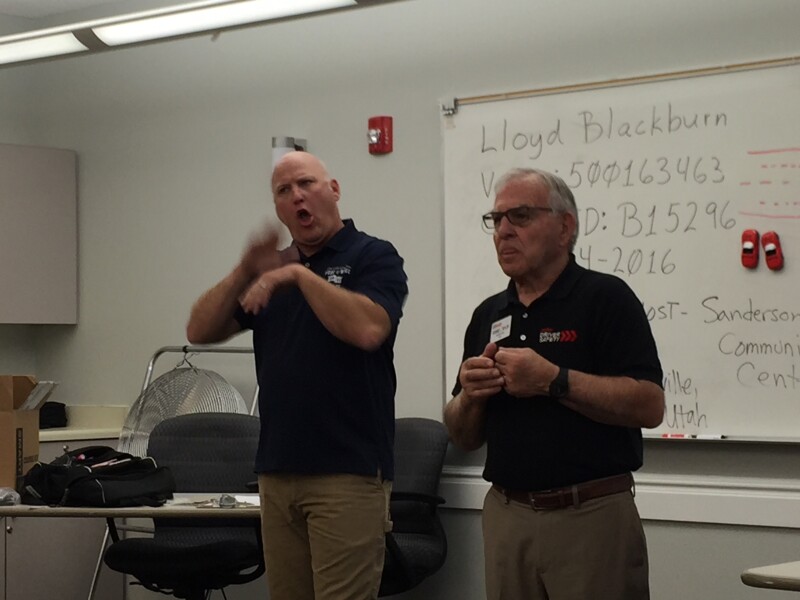 In the first of its kind in the nation, an AARP Smart Driver course was taught to deaf students at the Sanderson Center in Taylorsville, Utah on Monday, November 14. The Center reached out to AARP and requested that a class be taught there as a way to give older, deaf drivers a chance to refresh their driving skills.

Never before has a class been taught with the assistance of sign language interpreters; the national AARP Driver Safety Program has referred people with hearing disabilities to the online course as a way to reach such drivers. But the Center learned of the classroom course and wanted a way to offer it to their deaf clients.

AARP Driver Safety Program Volunteer Lloyd Blackburn said, "It was one of the best classes I've ever taught, and I've taught quite a few. They had a lot of questions and were very attentive. The Center would like to have more, and we'd be happy to oblige."

Driver Safety Program co-instructor Lonnie Taylor added, "The class was fully accepting of the material and very enthusiastic about what they learned. It gave us a chance to reach out to students who never had the class before, and it was a privilege to do so. AARP National should look at this model as a way to reach people who wouldn't otherwise be included in the classroom program." Taylor is also a former police chief and as such was able to share several important safety measures from his years on the force.

Blackburn said that the course took a few hours longer than a regular class as they spoke more slowly so they did not get ahead of the sign language interpreters. He also said he plans to put together a "lessons learned" summary from the experience for future classes, as they hope to do more at the Center, including courses for the hearing impaired.