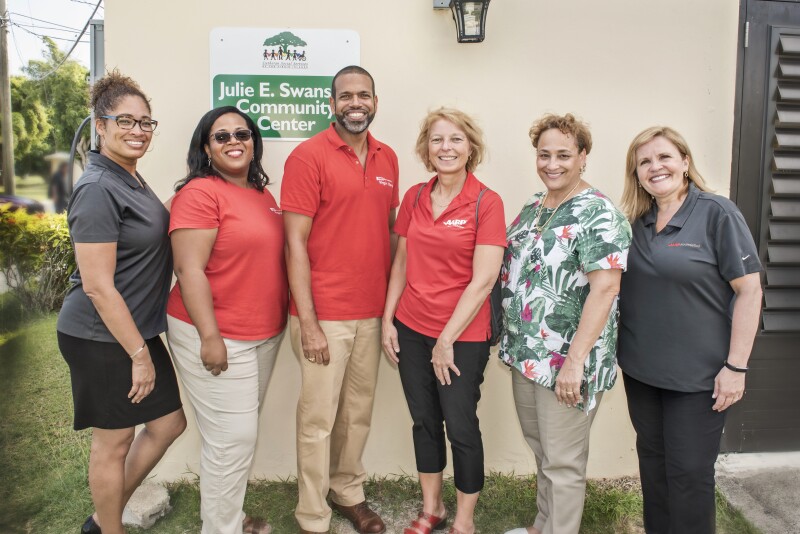 AARP CEO Jo Ann Jenkins, AARP Foundation President Lisa Marsh Ryerson, AARP Foundation Vice-President Aiyshen Padilla, and AARP Regional Vice-President Kelly Clark visited St. Croix, Virgin Islands on May 10, 2018 to meet with non-profit organizations across The Virgin Islands which have received grants from The Hurricanes Irma and Maria Relief Fund of AARP Foundation. These grants were made to nonprofits throughout The Virgin Islands participating in hurricane relief efforts.

On September 2017, AARP and AARP Foundation created a relief fund to collect donations for the victims of Hurricanes Irma and Maria. Approximately $600,000.00 was collected. Working closely with Troy de Chabert-Schuster, State Director of AARP in The Virgin Islands, non-profit organizations were selected to receive the funds which will be used to continue the hurricane recovery and restoration. The leadership of AARP and AARP Foundation visited The Virgin Islands on May 10 to learn more of the work of the grantee organizations. The leadership also made site visits with three of the organizations to engage in a volunteer hands-on experience with hurricane victims and to take part in the recovery and restoration efforts.

"AARP and AARP Foundation are grateful to our partner organizations who are helping us to rebuild the communities around the island." said Jo Ann Jenkins, CEO, AARP. "It is humbling to see the destructive power of nature, but I have been encouraged and inspired to see what we can do when we work together."

"It is deeply moving to see the resilience and the resolve of everyone who was affected by the devastation," said Lisa Marsh Ryerson, president of AARP Foundation. "We are committed to nurturing and reinforcing that resilience. We are so grateful for the outpouring of support from our donors across the nation and are proud to be a part of helping to rebuild the USVI."

AARP VI State Director Troy de Chabert-Schuster added, "I am thrilled that we have been able to contribute to the rebuilding of our community. I am honored to welcome the leadership of AARP and AARP Foundation to The Virgin Islands. AARP-VI looks forward to strengthening our partnership with the grantee organizations as we look beyond the rebuilding process to resiliency and sustainability."

Funds were granted to the following organizations:

Legal Services of the VI – $50,000. Provide disaster relief civil legal services such as civil legal assistance in the areas of family law, landlord-tenant, FEMA application assistance and appeals
St. Croix Foundation - $75,000. Supporting holistic community development including, coordination and direct support of front-line relief efforts serving vulnerable populations and residents with unmet rebuilding needs.
Women's Coalition of St. Croix - $75,000. Disaster Relief for older adults on St. Croix. This will include crisis intervention, safe housing; transportation; medical assistance, and outreach.
Lutheran Social Services of the Virgin Islands - $113,823. Providing support and relief services to the vulnerable populations of The Virgin Islands.
American Red Cross of The Virgin Islands - $113,500. Support emergency shelters and meet one-on-one with people staying there to help them plan their next steps and connect with available assistance, and assisting with plans for long-term health care for some residents who are still in shelters.
My Brother's Workshop - $75,000. Using our youth to help repair homes of senior citizens which have had damaged by Hurricanes Irma and Maria.
Catholic Charities of the Virgin Islands - $75,000. Provide counseling, outreach to the elderly to include meal delivery, minor home repairs, house cleaning, referrals to mainstream services, assistance with the FEMA and SBA processes, advocacy and emergency housing.
The grantees shared their work and needs with the leadership of AARP and AARP Foundation during a breakfast meeting on Thursday morning. Following the breakfast meeting, AARP leadership accompanied the American Red Cross to Claude O. Markoe Elementary School where they taught the students about natural disaster preparedness. The leadership then had a luncheon with AARP-Virgin Islands volunteers at the State Office. Following the luncheon, AARP leadership assisted Catholic Charities of The Virgin Islands in the cleaning The Light of Christ Retreat Center in Frederiksted which will be converted into a homeless shelter. The afternoon was concluded at Flamboyant Gardens, an assisted living community operated by Lutheran Social Services of The Virgin Islands. At Flamboyant Gardens, AARP leadership assisted the residents in affixing their important photographs on beautiful pieces of local mahogany fallen by Hurricane Maria.

AARP and AARP Foundation are proud to have been able to provide The Virgin Islands with this support. Troy de Chabert-Schuster, State Director of AARP in The Virgin Islands, is delighted to have been able to assist in the process of selecting the grantees of these funds and looks forward to continuing work with these organizations to rebuild The Virgin Islands and make it an even more beautiful and prosperous place to live.

To learn more about AARP in The Virgin Islands visit aarp.org/vi or follow on Facebook at facebook.com/aarpvi
About AARP Virgin Islands