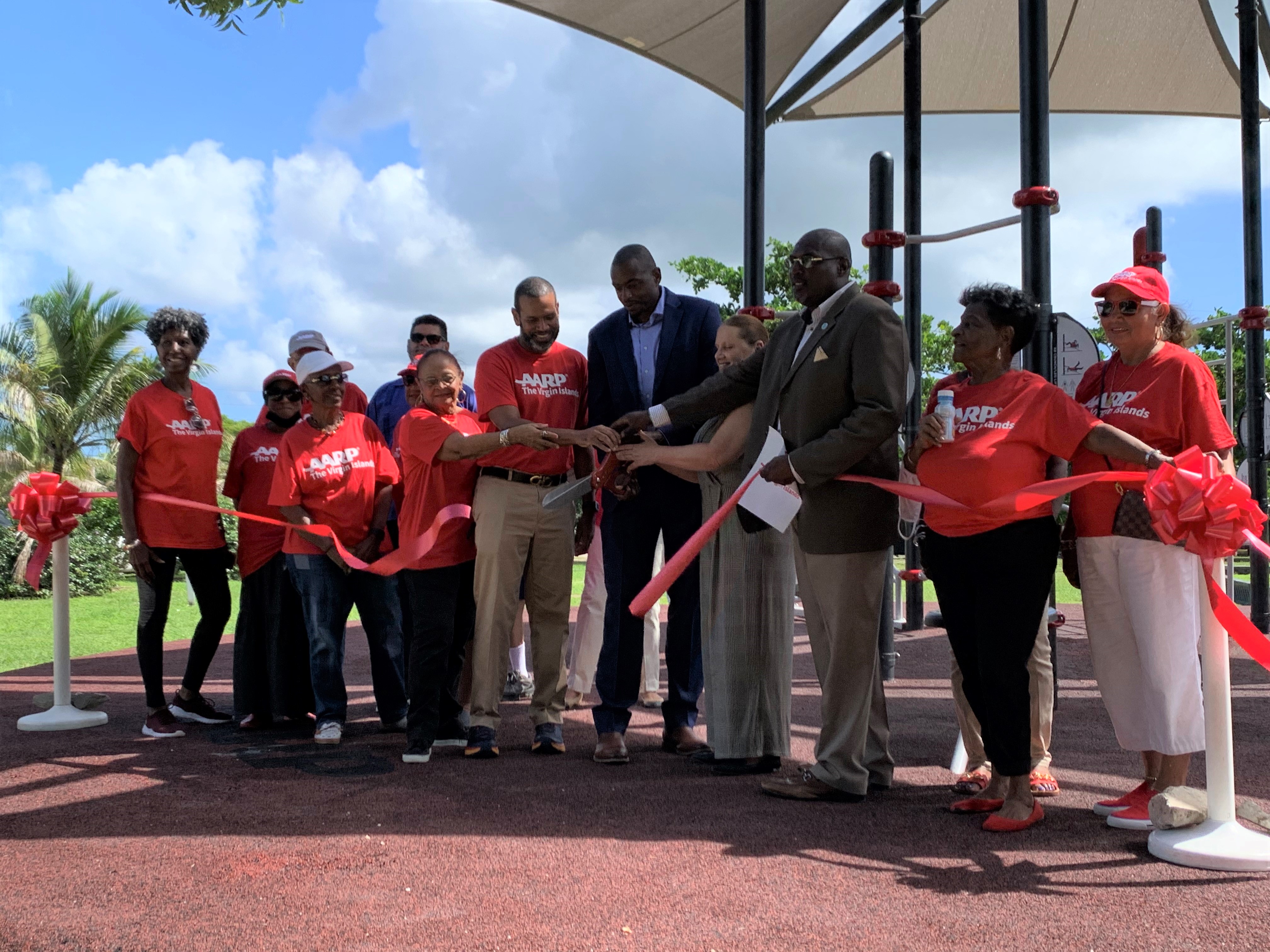 Español | On November 16, 2022, AARP State Director Troy de Chabert-Schuster opened the AARP Sponsored Outdoor Fitness Park in The Virgin Islands. The Grand Opening was held at 11:00 am at the Altona Lagoon in Christiansted, St. Croix, VI. Due to COVID-19, a soft opening was announced in 2021. With 15 parks opened in 2019 and more nationwide between 2020 and 2022, AARP sponsored a fitness park in every state, the District of Columbia, Puerto Rico, and the U.S. Virgin Islands.

AARP worked with FitLot, a 501c3 organization dedicated to helping communities find the resources they need to plan, build and program outdoor fitness parks. Each park will include FitLotTM exercise equipment and robust programming designed to meet a wide range of fitness levels and abilities.

"This AARP Sponsored Outdoor Fitness Park is a symbol of AARP's commitment to help ensure that the people of The Virgin Islands have a way to exercise and stay healthy as they age," said Troy de Chabert-Schuster, State Director of AARP in The Virgin Islands. "With the use of this park by families and older adults, residents can create connections, engage more, and create a sense of community, helping to make our communities more livable. AARP thanks the Governor of The Virgin Islands, Albert Bryan, Jr., and the VI Department of Sports, Parks, and Recreation for working with us to make this possible. We look forward to continuing to work with the Department as they provide programs and instructors for Virgin Islanders who visit and use the fitness park, made possible through AARP funding."

The opening ceremony included Members of the Office of the Governor, the 34th Legislature of the VI, the VI Departments of Sports, Parks, and Recreation, and Health, along with AARP-VI volunteers and community members. There were exercise equipment demonstrations, refreshments, and music.

"The Department of Sports, Parks, and Recreation is elated to collaborate with AARP in The Virgin Islands," said Calvert White, Commissioner of the VI Department of Sports, Parks, and Recreation. "A part of our mandate is to provide recreational activities for the community. With the opening of the AARP Sponsored Outdoor Fitness Park, we now have another avenue that can cater to our senior population. We look forward to producing programs at the park that will enhance the entire community's physical ability and quality of life. Thank you to AARP for making this a reality."

Fitness classes are scheduled from October 1 through December 23, 2022. The classes are one hour on Mondays, Wednesdays, and Fridays and are conducted by Ms. Roberta Etienne. To register, visit
FitLot Multi-Week SERIES @ Altona Lagoon Park, Christiansted Registration, Sat, October 1, 2022 at 9:00 AM | Eventbrite. For a list of open AARP Sponsored Outdoor Fitness Parks, visit: blog.aarp.org/aarp-fitness-parks.
About AARP Virgin Islands