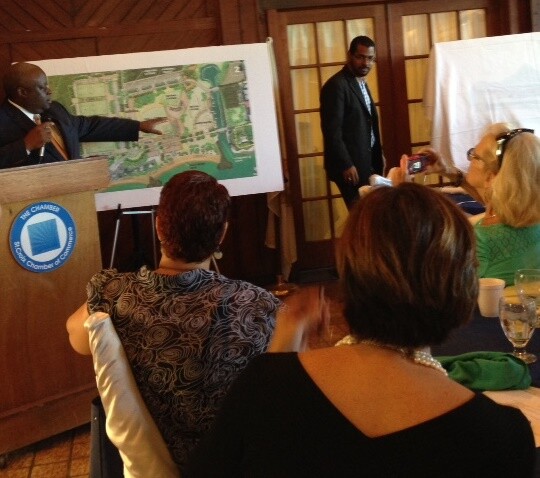 En Español Governor Kenneth E. Mapp met with the St. Croix Chamber of Commerce on Thursday, February 11 th to update business owners and interested individuals on his vision for St. Croix and to highlight some proposed projects or Christiansted and Frederiksted. The following topics were discussed:

A continued reduction in energy costs.
New tourism markets for St. Croix via a collaboration with Carl Holtz, a Disney executive and former St. Croix resident
A direct flight from New York to St. Croix
The establishment of a road maintenance department within Public Works
The importance of having a branded hotel with a loyalty program that frequent flyers and credit card bonus holders can use on St. Croix.
Sports tourism, with an emphasis on restructuring horse racing
A completely new plan for the Paul E. Joseph Stadium
Improving and expanding retail space in Christiansted including Gallows Bay and the Barracks Yard
Improving the facilities at Krammer's Park
Re-establishing the Police Cadet Program in the schools
He emphasized the new casino license for the Caravelle Hotel would not be issued until the criteria for hotel rooms, conference space and banquet areas are met.


Questions from the audience led to discussions which included the following topics:



The need for improved street lighting, road signage, and improved cell tower capacity

The need to address broadband capacity and the Governor's pledged to convene a meeting of all involved Internet Service Providers (ISP)s and VI NGN to resolve current issues.

Health tourism and the export of health care dollars from the Territory was another concern. The Governor explained that through the 2-year contract for the Commissioner of the Department of Health the emphasis would shift to Wellness and provision of services here in the Territory.

The Territory's celebration of its Centennial – The Governor indicated that the people of the Virgin Islands should and will take this Centennial opportunity not just to celebrate the 100 year mark but to negotiate with Congress on many issues that have plagued the Territory.

Medical School update – The Governor announced that UVI plans to continue work to make the medical school a reality.

Recycling – The Governor talked about a new approach for the landfill which includes mining the landfill for refuse that can be sold or exported from the island at no cost to the Government.
About AARP Virgin Islands