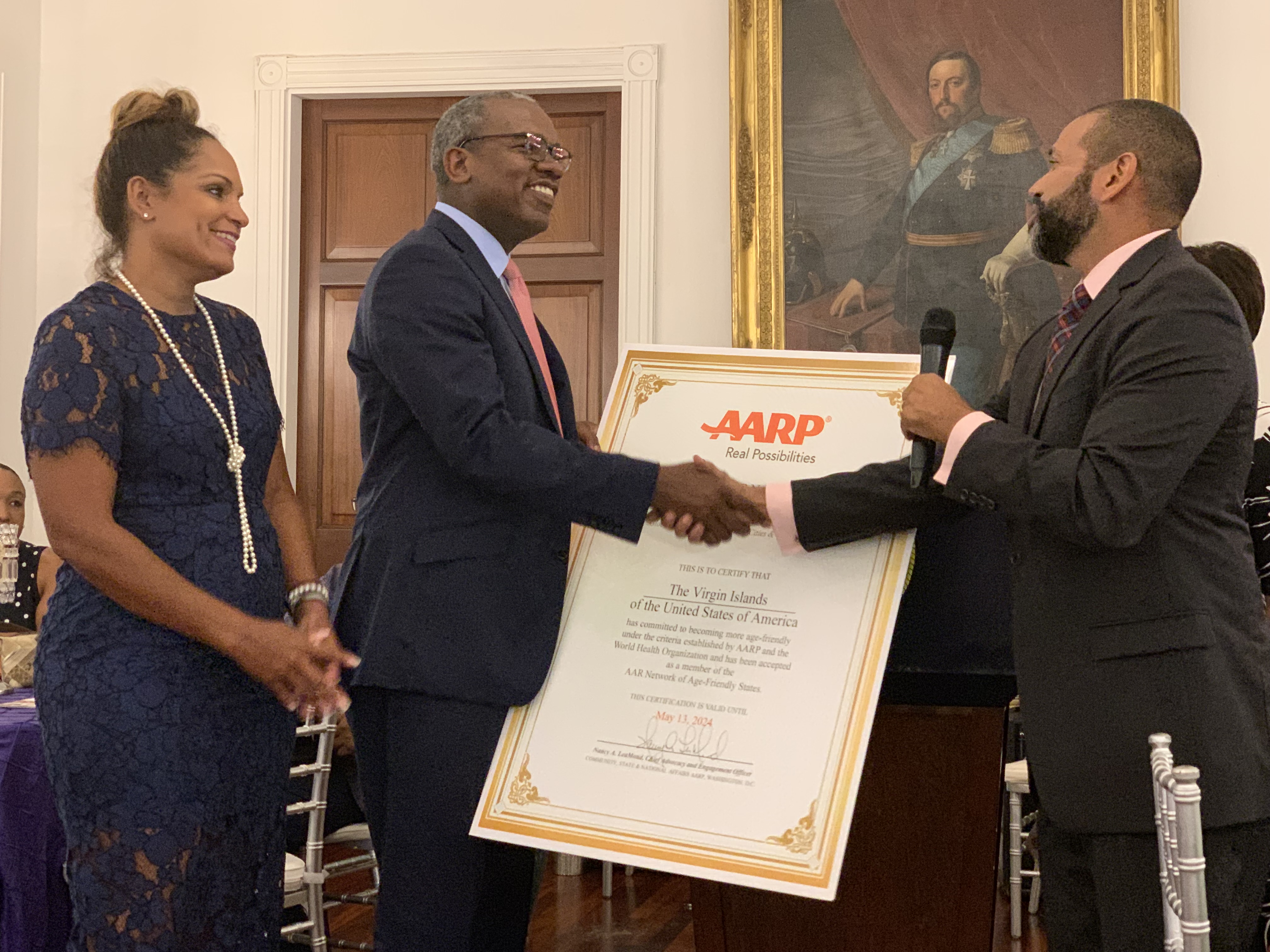 The Honorable Governor Albert Bryan Jr. made an official announcement of his signing The Virgin Islands into the AARP Network of Age-Friendly Communities. The announcement, as well as address by the Governor and other leaders of AARP in The Virgin Islands, took place during the Government Reception in celebration of Older Americans Month at Government House on St. Croix on May 29, 2019 at 5:00 pm.

The AARP Network of Age-Friendly Communities is an affiliate of the World Health Organization's Global Network of Age-Friendly Cities and Communities, an international effort launched in 2006 to help cities prepare for their own and the world's growing population of older adults and the parallel trend of urbanization.

As our population ages and people stay healthy and active longer, communities need to adapt. Well designed, livable communities help sustain economic growth and make for happier, healthier residents – of all ages. AARP's participation in the age-friendly network advances the Association's efforts to help people live easily and comfortably in their homes and communities as they age. AARP encourages older adults to take an active role in their communities' plans and ensures that their voices are heard. Related initiatives focus on areas such as housing, caregiving, community engagement, volunteering, social inclusion and combating isolation among older people.

As a non-profit, nonpartisan organization, AARP works with local officials and partner organizations around the United States to identify communities for membership in the AARP Network of Age-Friendly Communities. AARP facilitates the community's enrollment and guides it through the implementation and assessment process. As a member of the AARP Network of Age-Friendly Communities The Virgin Islands will have access to a plethora of benefits including organizational guidance from national experts, resources, access to a network of communities and best practices, access to a volunteer network of support and support and guidance from AARP.

"Combined with the resources provided by AARP the AARP Network of Age-Friendly States and Communities program supports AARP's goal of being recognized by elected officials and others as a leading resource for how to improve the livability of communities for people age 50+ and their families," says Troy de Chabert-Schuster. "By doing so, these communities are better equipped to become great places, and even lifelong homes, for people of all ages."

To learn more about the AARP Network of Age-Friendly Communities, visit aarp.org/agefriendly. To learn about the work of AARP Livable Communities, visit aarp.org/livable.
About AARP Virgin Islands