En español | The D.C. Board of Elections plans to mail a ballot to each of the city's more than 500,000 registered voters in early October and expand in-person early voting to give voters options amid the coronavirus pandemic:
Election Day is Tuesday, Nov. 3, and polls will be open from 7 a.m. to 8 p.m. The Board of Elections will use 95 of its usual 144 polling places because smaller venues cannot accommodate social distancing.
Be prepared for potentially long lines, and remember to take your mask and to follow social distancing measures at the polls.
With Election Day only days away, consider dropping off your completed absentee ballot in person. You can take your ballot to one of your ward's secure drop boxes.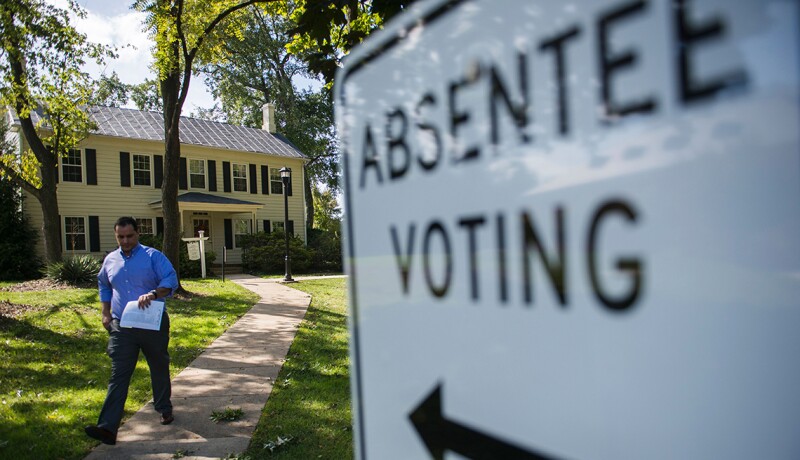 If you missed our recent voter engagement events, you can watch them here:


How do I register to vote?

You can download a registration application from the Board of Elections website and email, mail or fax it back, or deliver it in person. If you can't download the application, request one from the Board of Elections. Applications submitted online or by mail must be received by Oct. 13. But you can also register in person as late as Election Day. The D.C. Board of Elections is also mailing paperwork to registered voters to confirm their address and voter information. You need to return it only if you spot incorrect information or if you'd like your ballot sent to another address. If you return it, be sure to send the entire form to the Board of Elections.

How can I get an absentee ballot? Are there important deadlines?

All registered voters will be mailed a ballot and a postage-paid return envelope. You can also download an absentee ballot request form. Completed ballots must be postmarked by Election Day and must arrive no later than Nov. 13 — 10 days after Election Day.

How do I know my absentee ballot is secure?

Each voter's ballot has a unique bar code. The D.C. Board of Elections has been using the process successfully for 20 years. Voters can drop off a completed mail ballot in any Ballot drop box at amy time before 8 pm on Election Day, November 3, 2020. There will be at least five boxes in each Ward. Whether you mail your ballot or drop it in a drop box, you can track your ballot here. For drop boxes, please allow two days for tracking to become available.

When is Election Day? When are polls open?

Election Day is Tuesday, Nov. 3. Polls are open from 7 a.m. to 8 p.m. There will be fewer polling places open because of the coronavirus, so voters may not be able to vote at their usual polling place. Check for the polling place closest to you at the Board of Elections website, under registration status.

Can I vote in person before Election Day?

D.C. will offer early voting at 32 polling locations beginning on Oct. 27 and running through Nov. 2, the day before Election Day. Polls will be open from 8:30 a.m. to 7 p.m. Check out the district's early voting information portal to find the location of all early voting centers. You can cast your ballot at any of these locations. There will be six Super Vote Centers throughout the city that can accommodate large numbers of voters, both during early voting and on Election Day. These include:

What form of identification do I need to vote?

Registered voters do not need to show ID, unless you're voting for the first time and registered online or by mail. Then you'll need to show a valid government-issued photo ID, such as a driver's license or U.S. passport, or a recent utility bill or bank statement. See the full list of acceptable IDs.

What is being done to make polling places safe from coronavirus?

Polling places will have hand sanitizer, masks, gloves, disinfectant and social-distancing markers.

Will curbside voting be available for older adults or those with disabilities who vote in person?

Voters over the age of 65 and voters with a disability who choose to vote in person can take advantage of curbside voting at all polling locations except for Super Vote Centers.

This story was updated on Nov. 2 with more information about voting in person. Voting rules and procedures may change before Election Day. We'll update this story if they do, so bookmark this page and check back.

What are the key races in D.C.?

U.S. President
U.S. House: D.C.'s nonvoting delegate and its shadow member
U.S. Senate: D.C.'s shadow member
City Council: 6 of 13 seats
Board of Education: 5 of 9 seats
AARP is urging older Americans to ask the candidates 5 key questions:

Just over half of all older Social Security beneficiaries rely on the program for at least 50 percent of their income. If elected, how will you ensure that current and future Social Security benefits are not cut as part of deficit reduction?
Half of the people with traditional Medicare spend at least a sixth of their income on health care. If elected, how will you protect Medicare from benefit cuts, as well as lower health care costs and ensure seniors continue receiving the affordable health care they have earned?
COVID-19 has caused death and suffering for too many older Americans who require long-term care. If elected, how will you make sure seniors can access safe and affordable long-term care at home, as well as in facilities like nursing homes and assisted living?
Also of Interest