AARP Foundation Experience Corps trains volunteers, age 50 years and over, to tutor and mentor more than 30,000 Pre-K to 3 rd grade students throughout the country. The program is recruiting volunteers for the 2019-2020 academic year now.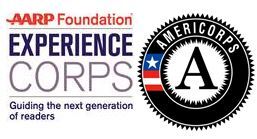 This is an excellent volunteer opportunity for adults in DC looking to get involved and make a difference in their neighborhood!
To learn more, attend an upcoming Information Session (Listed Here) or email Denise Fraction at dcexperiencecorps@aarp.org
---
Get Inspired by Ernestine's Story

When Ernestine Young heard about an exciting program that trained older adults to become reading tutors for children in Washington, D.C., she knew she had to sign up.
Young worked several years at an upscale grocery store in Georgetown. However, an unexpected knee injury forced her to retire early.

"A lot of people say they wish they didn't have to work anymore.  Not me – I need something to keep me active, keep me busy," she explained. "That is why I am so thankful for Experience Corps."

This year marks Young's third year at Experience Corps, and she couldn't be happier.
Her advice for someone who is considering volunteering with Experience Corps.


"You don't know what you are missing. Our kids are the future; this is my way of investing in the future. The children want to learn and I am excited to see them improve."