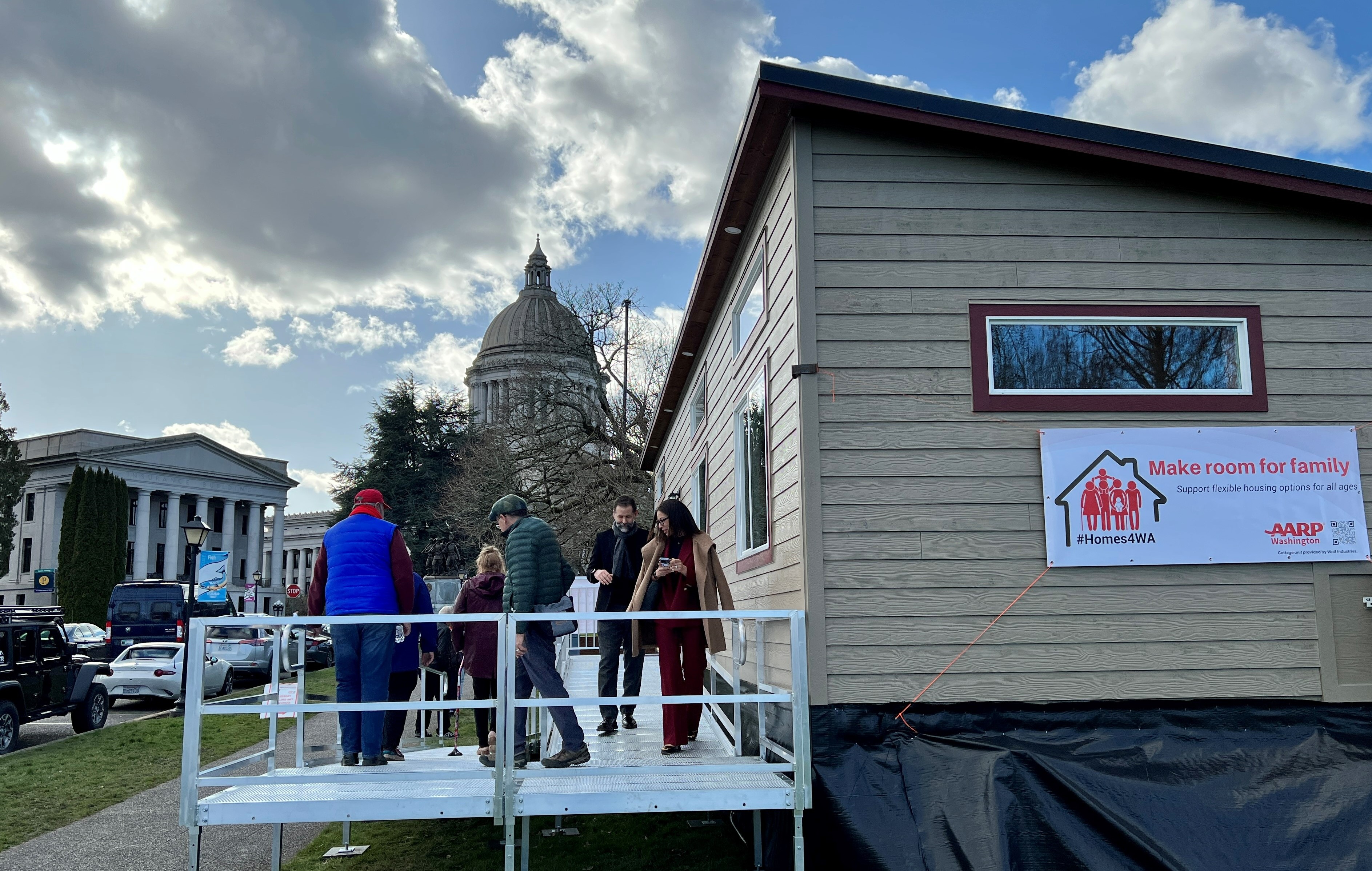 FOR IMMEDIATE RELEASE
May 5, 2023

Contacts:
Jason Erskine, 206-517-9345
Cathy MacCaul, 206-218-5915

House Bills 1337 and 1110 Create More Housing Options for an Aging Population
Legislation to increase Washington housing supply to be signed into law

Olympia, WA – Governor Jay Inslee is expected to sign into law two housing bills early next week, House Bill 1337 and House Bill 1110, making Washington the latest state to ease barriers to building more housing that will benefit our aging population.

A 2021 AARP survey found that most Americans, including older adults, prefer to live in neighborhoods that offer a mix of housing and transportation options and are close to jobs, schools, shopping, entertainment, and green spaces. These preferences — coupled with the rapid aging of the U.S. population overall, the decrease in households with children, and the national housing shortage — will boost the demand for smaller homes and affordable, quality rental housing.

"With a growing aging population, construction of a variety of housing options will become more important," said Cathy MacCaul, AARP Washington Advocacy Director. "Currently we have thousands of older adults who are house rich but cash poor. Some would like to sell their home and buy something more affordable or accessible in their community but in most cases that type of housing does not exist," she said.

Legislation to improve housing access will help older adults who may become more reliant on caregivers as they age. Unpaid family caregivers are the backbone of our long-term care system. More housing options can help family members live with or near one another to support their loved one while still having their own space or residence. This option will also help older adults have the care they need rather than being forced to spend down their assets to qualify for Medicaid.

According to AARP's survey, 70% percent of adults 65+ would consider living in an accessory dwelling unit (ADU) if they needed help with everyday activities, and 62% of older adults would consider building an ADU for their loved ones, relatives, and friends.

HB 1337, sponsored by Representative Mia Gregerson (D-SeaTac) and Representative Andrew Barkis (R-Chehalis), approaches the housing crisis by reducing regulatory barriers to building accessory dwelling units, also called granny cottages or mother-in-law apartments. ADUs can fill many roles, like providing a place for an aging parent to live instead of a nursing home. They can also be used as living quarters for a caregiver or a relative who requires care, or for an adult child who may need to return home after college. ADUs can also provide increased financial support for homeowners.

"We've been working together on this bill in one form or another since 2019 and it's great to have such a terrific teammate in Rep. Barkis," said Rep. Gregerson. "I am extremely grateful for his dedication to this issue and working side-by-side with me for so many years until we got this important bill passed."

HB 1110, sponsored by Representative Jessica Bateman (D-Olympia) and Representative Andrew Barkis (R-Chehalis), will authorize mid-sized housing in cities with a population of 25,000 or more. Housing options like duplexes, fourplexes, and cottage courts can serve a broader range of people and families.

In many cities, zoning designations jump from single-family detached units to much taller and larger apartment and condo complexes. Few allow medium-density zones that deliver small-scale buildings with multiple units on small-to-medium-sized lots.

The legislation will allow for housing that is more affordable to various income levels and is critical to achieving the state's housing goals. It is a common-sense, cost-effective approach that will make good use of existing property throughout the state while easing the housing crisis.

"We're experiencing a severe housing supply shortage and need more units," said Rep. Barkis. "These bills create a new pathway for developers to cut through the red tape and begin to build increased density primarily around public transit, schools, and parks to meet our housing needs. More housing options will increase competition and reduce both housing prices and rents, therefore helping our older population by striving to accommodate their unique needs," he said.

"Everyone needs a home. This is about creating a better future for the people in our state by making it easier, and more cost effective, to build housing of all shapes and sizes," said Rep. Bateman. "By legalizing modest middle housing options and expanding access to ADUs, we're providing our loved ones, friends, neighbors, and young people the opportunity to put down roots, build equity, and become fully part of their communities."

Both bills passed the legislature with bipartisan support, underscoring the commitment from each party to increase Washington's housing supply and expand options to build more mid-sized housing in zones designated for single-family homes.

"As home prices continue to increase, too many older adults are making the difficult decision to sell a home where they raised a family and built a community of friends because the house is no longer safe or affordable," said MacCaul. "For older adults on a fixed income simply trying to pay their property taxes or paying for costly home repairs becomes an overwhelming financial burden."

For more than a decade, AARP Washington has worked with housing advocates and legislators to reduce barriers to increase our housing supply and develop more affordable housing options. We appreciate the legislative focus on housing during the 2023 legislative session and applaud the bipartisan efforts to make it to this point in time. Today, we celebrate the culmination of several years of challenging work and compromise to help older Washingtonians and their families choose their own housing options as they age.

###

About AARP

AARP is the nation's largest nonprofit, nonpartisan organization dedicated to empowering people 50 and older to choose how they live as they age. With a nationwide presence and nearly 38 million members, AARP strengthens communities and advocates for what matters most to families: health security, financial stability, and personal fulfillment. AARP also produces the nation's largest circulation publications: AARP The Magazine and AARP Bulletin. To learn more, visit www.aarp.org, www.aarp.org/espanol or follow @AARP, @AARPenEspanol and @AARPadvocates, @AliadosAdelante on social media.