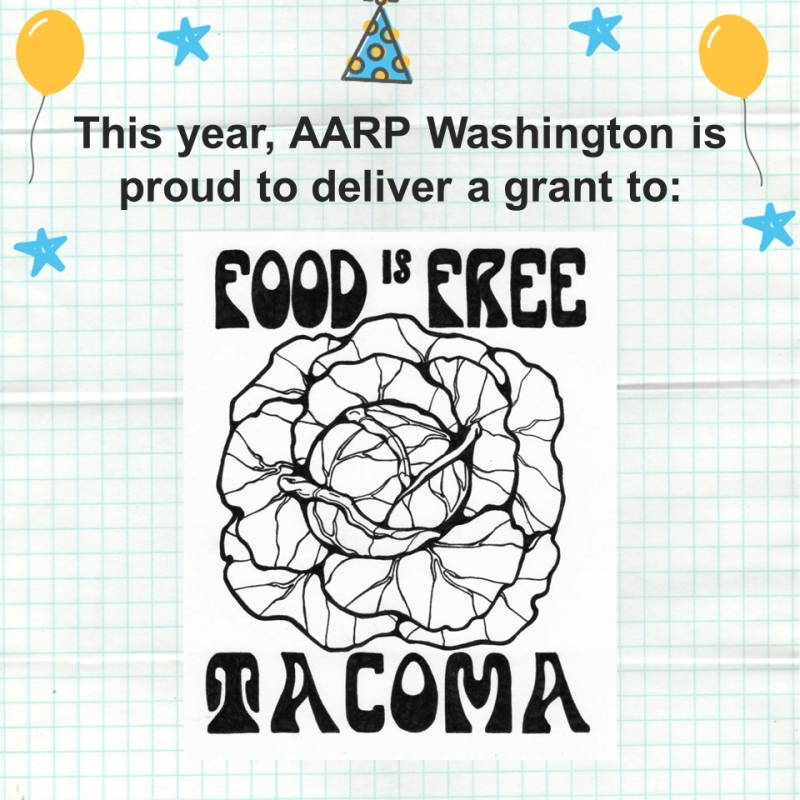 Food is Free Tacoma has been named a recipient of a 2021 AARP Community Challenge grant, one of 3 grantees selected in Washington State

The $21,000 grant will be used to build forty "Food Independence Gardens" as part of "The 20% Initiative," which seeks to have 20% of fruits and vegetables in Tacoma produced locally. The raised-bed gardens will be built at twenty different sites by the end of 2021. Produce from the gardens will be given away for free at the garden sites and local parks across the city.

Food is Free Tacoma started in 2015 and has grown to more than 80 gardens. The goal is to encourage people to build vegetable gardens and share the fruits of their labor with other neighborhood residents. Many of the gardens are built on the parkway between sidewalk and street. Food is Free builds the gardens that are then maintained by homeowners.

"The pandemic exposed how fragile our food supply chain is. With that we are launching the 20% Initiative," remarked David Thompson, founder of Food for Free Tacoma. "We want to inspire people to grow 20% of the fresh fruits and vegetables that they consume to come from home gardens, Food Independence Gardens or FIG's for short. We are launching Project FIG to build 20 FIG's with the generous support of AARP."

Tacoma City Councilwoman Lillian Hunter has been a champion for the program and has helped secure sites to distribute the abundance of produce. The work ties into Tacoma's efforts to become a more livable community and their Age-Friendly Tacoma plan.

"I am thrilled that Food is Free is being recognized with this well-deserved AARP grant," said Councilwoman Hunter. "David Thompson is an outstanding, service-focused, and passionate resident that embodies the values of Tacoma and his organization helps feed residents of all ages across the community. Kudos to David and his team for fostering this project and helping Tacoma be an age-friendly city."

This project is part of the largest group of grantees to date with $3.2 million awarded among 244 organizations nationwide. Grantees will implement quick-action projects to promote livable communities by improving housing, transportation, public spaces, civic engagement, and connection with family, friends, and neighbors with an emphasis on the needs of the 50-plus. Many of this year's awards support revitalizing communities adversely impacted by the pandemic and include a focus on diversity, inclusion, and disparities.

"We are incredibly excited to support Food is Free as they work to make immediate improvements in Tacoma, to encourage promising ideas and jumpstart long-term change," shared Amanda Frame, AARP Washington Outreach Director "Our goal at AARP Washington is to support the efforts of our communities to be great places for people of all backgrounds, ages and abilities."

Other Washington grantees include The Friends of the Snohomish Library and The City of College Place. The full list of grantees can be found at www.aarp.org/communitychallenge.

The Community Challenge grant program is part of AARP's nationwide Livable Communities initiative, which supports the efforts of cities, towns, neighborhoods and rural areas to become great places to live for people of all ages. Since 2017, AARP Washington has awarded fifteen grants and $127,760 through the program to nonprofit organizations and government entities across the state. View the full list of grantees and their project descriptions at www.aarp.org/communitychallenge and learn more about AARP's livable communities work at www.aarp.org/livable.