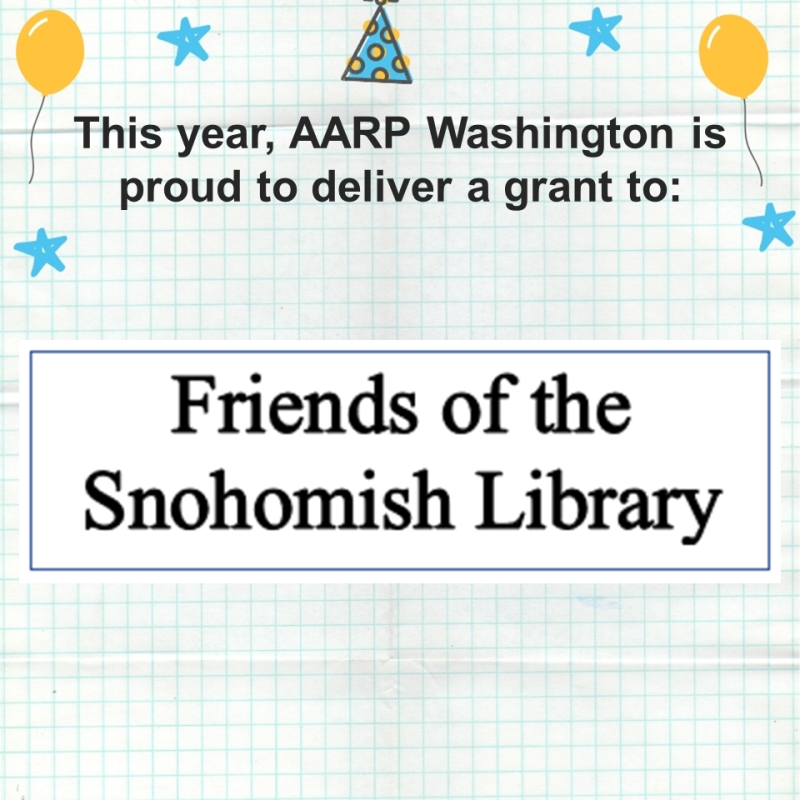 The Friends of the Snohomish Library has been named a recipient of a 2021 AARP Community Challenge grant, one of three grantees selected in Washington State.

The $2,500 grant will be used to The Snohomish Library Story Trail, an installation of 22 story stations -- each holding pages of a picture book -- placed along the Centennial Trail to encourage reading, conversation, reflection and laughter as families and friends of all ages and abilities read, walk, and play outside.

Expressing appreciation for AARP's support and recognition of the Story Trail project, Friends of the Library (FOL) president Terry Lippincott said, "FOL exists to expand library access and to spark and foster a love of reading among all segments of our community. Having our vision for this project acknowledged by AARP is gratifying. We can't wait to see and to join kiddos, parents and grandparents meandering through the story stations this fall – and far into the future."

This project is part of the largest group of grantees to date with $3.2 million awarded among 244 organizations nationwide. Grantees will implement quick-action projects to promote livable communities by improving housing, transportation, public spaces, civic engagement, and connection with family, friends, and neighbors with an emphasis on the needs of the 50-plus. Many of this year's awards support revitalizing communities adversely impacted by the pandemic and include a focus on diversity, inclusion, and disparities.

All projects are expected to be completed by November 10, 2021, and are designed to achieve one or more of the following outcomes:

Create vibrant public places by improving open spaces and parks and activating main streets.
Deliver a range of transportation and mobility options by increasing connectivity, walkability, bikeability, wayfinding, and access a wider range of transportation choices.
Encourage the availability of a range of housing by increasing accessible and affordable housing solutions.
Increase civic engagement by bringing together residents and local leaders to address challenges and facilitate a greater sense of inclusion.
Ensure a focus on diversity and inclusion while improving the built and social environment of a community.
Support local recovery from the coronavirus pandemic by emphasizing economic development, improvements to public spaces, and transportation services.
"We are incredibly excited to support The Friends of the Snohomish Library as they work to make immediate improvements in Snohomish, to encourage promising ideas and jumpstart long-term change," shared Amanda Frame, AARP Washington Outreach Director "Our goal at AARP Washington is to support the efforts of our communities to be great places for people of all backgrounds, ages and abilities."

Other Washington State grantees include Food is Free Tacoma and City of College Place. The full list of grantees can be found at www.aarp.org/communitychallenge.

The Community Challenge grant program is part of AARP's nationwide Livable Communities initiative, which supports the efforts of cities, towns, neighborhoods and rural areas to become great places to live for people of all ages. Since 2017, AARP Washington has awarded fifteen grants and $127,760 through the program to nonprofit organizations and government entities across the state. View the full list of grantees and their project descriptions at www.aarp.org/communitychallenge and learn more about AARP's livable communities work at www.aarp.org/livable.