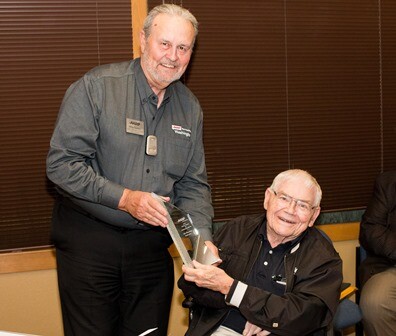 Kirkland resident, Art Mussman has been selected by AARP, the nonprofit organization for people 50 and older, to receive the 2017 AARP Washington Andrus Award for Community Service -- the Association's most prestigious and visible state volunteer award for community service.

AARP Washington selected Art for his remarkable service which has greatly benefited his community, supported AARP's vision and mission, and inspired other volunteers. Art spent nearly a quarter of a century in the Air Force serving our country. But when he retired from military service, he still continued to serve his community.

An inspiration to others, Art doesn't let his own mobility challenges keep him from actively participating in his community. In fact, he encourages others to remain active, healthy and engaged. Art has donated much of this time to help non-profit organizations with database programming. The Boeing Bluebills Heritage chapter recognized Art in 2007 with the Award for Outstanding Retiree Volunteerism for his remarkable service as software developer for the chapter.

Art is also a founding member of the Kirkland Senior Council. As an advisory group to the City Council, they advocate, support, shape and create programs and services that meet the needs of adults age 50+ in the community. Art has championed aging in place, better housing and health care at the community level and in Olympia.

On his member application to become a part of the Kirkland Senior Council, Art wrote, "I have the time for community involvement; some useful skills and experience; and I want to leave my part of the world a little better than I found it." Art has done just that.

Recipients across the nation were chosen for their ability to enhance the lives of AARP members and prospective members, improve the community in or for which the work was performed, and inspire others to volunteer.