In February, AARP Washington officially welcomed the City of Tacoma into the AARP Network of Age-Friendly States and Communities, kicking off a public commitment on behalf of the city to enhance the quality of life for people of all ages and abilities. AARP State Director Doug Shadel, presented Mayor Victoria Woodards and At-Large Council Member Lillian Hunter with an official certificate of membership to commemorate Tacoma's new age-friendly designation.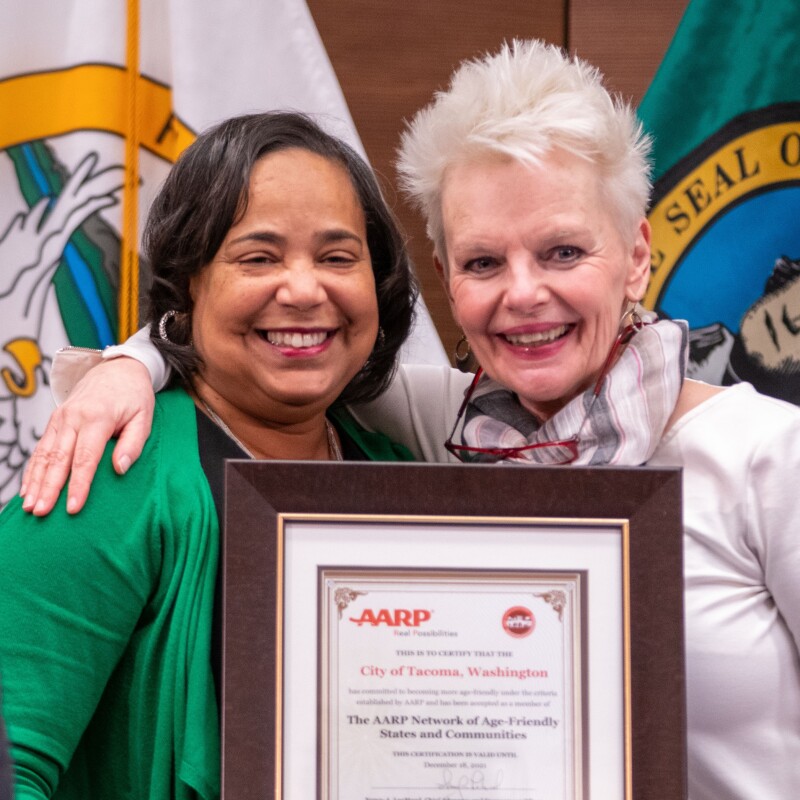 "I am so excited that we are part of the AARP Network of Age-Friendly Communities and join hundreds of Age-Friendly cities across the nation in prioritizing being a community where people can grow up and grow old with ease," said Tacoma Mayor Victoria Woodards. "As a result of At-Large Council Member Lillian Hunter's leadership, Tacoma is poised to strengthen its ability for our senior residents to age in place, allowing the whole community to continue benefitting from their many contributions."

AARP's network, an affiliate of the World Health Organization's Global Network of Age-Friendly Cities and Communities Program provides cities, towns, counties, and states with the resources to become more age-friendly by tapping into national and global research, planning models, and best practices.

"AARP welcomes the City of Tacoma to the AARP Network of Age-Friendly States and Communities," stated Shadel. "Tacoma has joined arms with communities around the world to implement innovative strategies that improve livability in the community and involve older residents in the process. Tacoma has already made strides to ensure their age-friendly efforts encompass voices from all walks of life, and we are excited for their continued work to improve livability for all."

Communities participating in the AARP Network of Age-Friendly States and Communities commit to improving their livability through an assessment of needs, development of an action plan, implementation of new projects and programs, and ongoing assessment – all in collaboration with residents and various partners. The suggested areas of focus are (1) Outdoor spaces and buildings; (2) Transportation; (3) Housing; (4) Social participation; (5) Respect and social inclusion; (6) Civic participation and employment; (7) Communication and information; and (8) Community support and health services.

"This is an exciting day for the City. I believe that as a Council, we should pursue this designation because the aging population is a group that we sometimes forget as policy-makers," remarked At-Large Council Member Lillian Hunter. This is a public commitment that the City is dedicated to helping our residents of all ages live their best lives, and we will do our part to help make that happen."

People of all ages benefit from the adoption of policies and programs that make neighborhoods walkable, feature transportation options, enable access to key services, provide opportunities to participate in community activities, and support housing that is affordable and adaptable. Well-designed, age-friendly communities foster economic growth and make for happier, healthier residents of all ages.