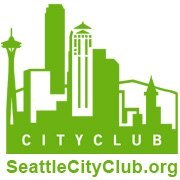 The year is winding down while the shining and new prospect of 2014 is just around the corner, and with it brings a new legislative session! Don't miss this special in-person opportunity to speak directly with top leadership from the State House and Senate at a time when leadership questions are still being solved. Pre-registration recommended.
How will seats shuffle and attitudes adjust as Mayor-elect Ed Murray takes his place in Seattle? What's new and changing or old and stagnate with public safety, transportation needs, health care, coal regulations, and preparing for the new marijuana legislation? What are the Governor's resolutions and updated priorities? Are they in line with what the Legislature hopes to accomplish?
Join CityClub on Friday, January 10, 2014 to hear about the upcoming session and let them know about your priorities for our state.
Featuring: (With more to come)
Rep. Pat Sullivan (D), 47th Legislative District
Rep. Dan Kristiansen (R), 39th Legislative District
Sen. Sharon Nelson (D), 34th Legislative District
Sen. Rodney Tom (D), 48th Legislative District
Moderator:
Austin Jenkins, Olympia Correspondent, Public Radio Northwest News Network
Essex Porter, Reporter, KIRO 7 Eyewitness News
Date: Friday, January 10, 2014
Location: Grand Hyatt Seattle | 721 Pine St. Seattle
Doors Open: 11:30 a.m. | Luncheon & Program: Noon - 1:30 p.m.
Luncheon: $45-$ 55 | Dessert & Coffee: $12-$18
Register early! Visit www.SeattleCityClub.org, or call (206) 682-7395