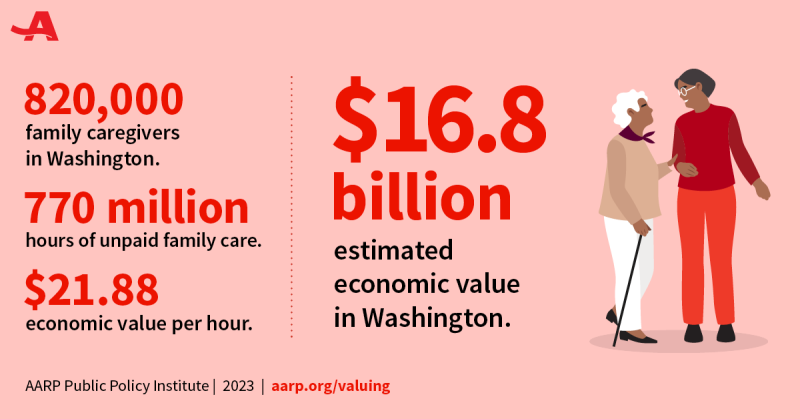 Latest AARP research attaches $16.8 billion value to the estimated 770 million hours of unpaid care that family caregivers provided in 2021.

The unpaid care provided by the 820,000 family caregivers in Washington is valued at $16.8 billion in 2021, according to new state data available in AARP's latest report in the Valuing the Invaluable series. This is a $4.8 billion increase in unpaid contributions since the last report was released in 2019.

This report highlights trends in family caregiving, explores the growing scope and complexity of family caregiving, and discusses actions needed to address the financial, social, and emotional challenges of caring for parents, spouses, and other loved ones.

By 2034, adults aged 65 and older will outnumber children under the age of 18 for the first time. The share of available family caregivers is projected to continue shrinking relative to the number of older adults who will potentially need long-term care. In addition, family caregivers will continue to face the dual demands of employment and caregiving responsibilities, which often include caring for an older adult and children simultaneously.

The COVID-19 pandemic laid bare realities of the caregiving experience. Family caregivers and their care recipients lost access to paid care support due to program closures and staff shortages, experienced isolation and loneliness, and struggled with financial losses in income, housing and food security. In addition, almost 40% of family caregivers increased the hours of care they provided. In fact, for working family caregivers, it was the equivalent of taking on a part-time job.

"Family caregivers play a vital role in Washington's health care system, whether they care for someone at home, coordinate home health care, or help care for someone who lives in a nursing home," said Marguerite Ro, AARP Washington State Director. "We want to make sure all family caregivers have the financial, emotional and social support they need, because the care they provide is invaluable both to those receiving it and to their community."

AARP Washington provides support to family caregivers and the loved ones who depend on them for care. For example, AARP Washington helped usher in the WA Cares program which provides funds to pay a family caregiver, which can help an estimated one in four workers who have left the workforce for caregiving responsibilities. Often, these unpaid caregivers are depleting their financial resources, spending up to 26% of their own money on caregiving activities.

Housing for older adults is also a priority, particularly easing barriers to build accessory dwelling units (ADU). ADUs can be used as living quarters for a caregiver or a relative who requires care and can be a place for an aging parent to live instead of a nursing home.

We also worked to pass the Caregiver Advise, Record and Enable Act which supports family caregivers when their relatives spend time in the hospital. In general, it requires hospitals to record the name and contact information for the person's family caregiver and provide instructions on any medical and nursing tasks - like medication management, injections and wound care – they are expected to perform when the patient goes home.

Read the full report for national and state-by-state data on the economic value of unpaid care by family and friends.

Resources and information on family caregiving are available at aarp.org/caregiving.

###

About AARP

AARP is the nation's largest nonprofit, nonpartisan organization dedicated to empowering people 50 and older to choose how they live as they age. With a nationwide presence and nearly 38 million members, AARP strengthens communities and advocates for what matters most to families: health security, financial stability, and personal fulfillment. AARP also produces the nation's largest circulation publications: AARP The Magazine and AARP Bulletin. To learn more, visit www.aarp.org or follow @AARP and @AARPadvocates on social media.