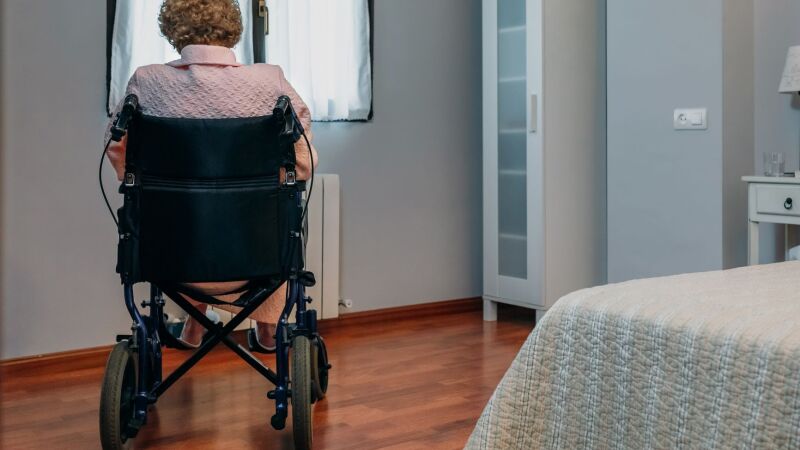 HB 1218 seeks to protect residents by implementing common-sense solutions

SEATTLE, WA - Residents in long-term care have been disproportionately impacted by the COVID 19 pandemic. In addition to the risk of infections, long-term care residents have dramatically decreased quality of life as they have been locked in and cut off from family and friends.

According to a publication from the CDC, isolation and loneliness are associated with a 50% increased risk of developing dementia, a 32% increased risk of stroke, and a nearly fourfold increased risk of death among heart failure patients.

They are, in fact, experiencing a double pandemic – outbreak and social isolation. Simple solutions like having access to a telephone should not be a debatable issue. Family members should receive timely information about a change in their loved one's care.

"We must do everything possible to keep long-term care residents connected to their loved ones during the pandemic," according to Patricia Hunter, Washington State Long-Term Care Ombuds. "If not, they suffer real consequences to their health and quality of life. It's not a trade-off and should never be an option."

The Washington State Long-Term Care Ombudsman program has identified many systemic problems and has crafted legislation to address some of the critical challenges that have emerged.

House Bill 1218, sponsored by Representatives Jessica Bateman (D-22) and Tara Simmons (D-23), will focus on critical issues facing residents and their families, including improved communications, quality of life, and residents' safety.

Specifically, the legislation would require facilities to:

Provide phone access to serve all residents and increase responsiveness to phone calls as well as returning calls and e-mails in a timely fashion.

Allow residents an essential support person, subject to reasonable limitations and following safety protocols. This person would assist with helping a resident eat, bathe and stay in contact with doctors as well as friends and family.

Ensure that residents have access to critical safety information about their facility by requiring the immediate public posting of a notice that the facility has been ordered to stop placements.

Maintain a single contact list of all residents and their emergency family contacts and decision-makers. This list must be easily accessible in case of emergencies and available to appropriate agencies when needed.

Have a written disaster plan for natural disasters such as an earthquake, flood or fire, infectious outbreak, and any other disaster that might require either extended sheltering in place or evacuations.
While some regulations are in place, they do not go far enough and are not explicit enough to respect residents' rights.

"I wrote House Bill 1218 to improve the health, safety, and quality of life for residents in long-term care facilities," said Rep. Jessica Bateman (D-Olympia). "The pandemic has been quite hard on residents and their families. This legislation will help residents in long-term care facilities and their families enjoy the quality of life guaranteed to them in state and federal law."

"We know there are facilities that are providing compassionate care. Unfortunately, there are far too many other facilities that are not," said Cathy MacCaul, AARP Washington Advocacy Director. "We can't wait for a more convenient time to work on these reasonable reforms. Residents and family members are suffering now and deserve swift action to improve communication from the facilities to which they have trusted care."

Supported by AARP, Washington State Long-Term Care Ombuds, Washington State Developmental Disabilities Council, Washington State Alliance for Retired Americans, The ARC of Washington State, National Multiple Sclerosis Society, Northwest Health Law Advocates Disability Rights of Washington, Washington Continuing Care Residents Association, Office of the Developmental Disabilities Ombuds, HB 1218 bolsters the ombudsman's ability to advocate for residents by ensuring all measures are taken to keep our loved ones cared for and connected.

About AARP

AARP is the nation's largest nonprofit, nonpartisan organization dedicated to empowering people 50 and older to choose how they live as they age. With a nationwide presence and nearly 38 million members, AARP strengthens communities and advocates for what matters most to families: health security, financial stability and personal fulfillment. AARP also produces the nation's largest circulation publications: AARP The Magazine and AARP Bulletin. To learn more, visit www.aarp.org, www.aarp.org/espanol or follow @AARP, @AARPenEspanol and @AARPadvocates, @AliadosAdelante on social media.

###