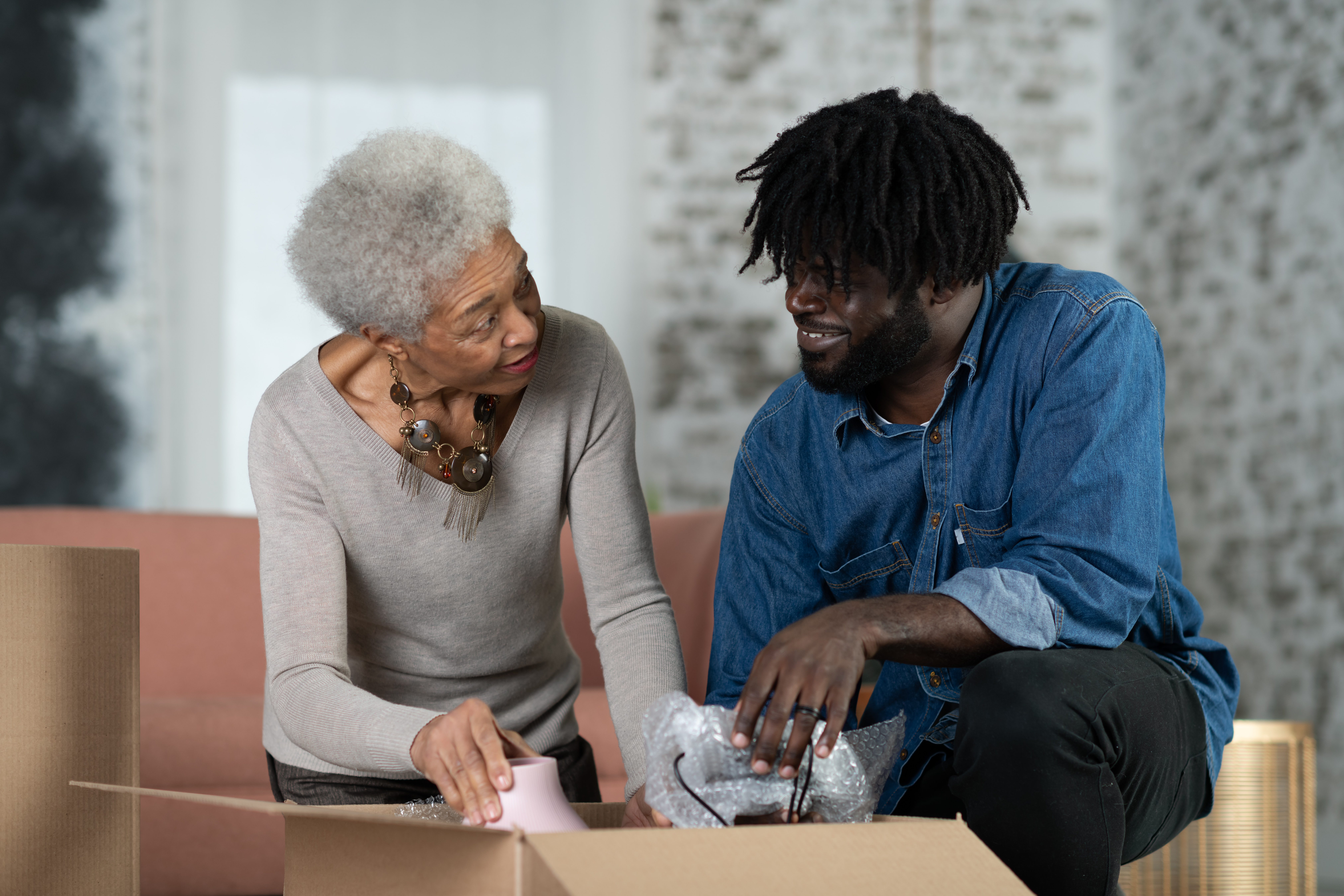 It is no secret that we face a housing supply and affordability challenge in Washington. It is an oft-repeated story in the news, and we know that Washington residents want more choices in size and price.

A 2021 AARP survey found that most Americans, including older adults, prefer to live in neighborhoods that offer a mix of housing and transportation options and are close to jobs, schools, shopping, entertainment, and green spaces. These preferences — coupled with the rapid aging of the U.S. population overall, the decrease in households with children, and the national housing shortage — will boost the demand for smaller homes and affordable, quality rental housing.

Polling results by a bipartisan team of researchers confirm this, as reported by the Seattle Times and KUOW:

71% of likely Washington state voters, across partisan lines and from cities to small towns and rural areas, support legislation that would limit single-family zoning in Washington cities and allow more homes like duplexes and small apartment buildings.

72% percent understand a shortage of housing to be a "major" cause of unaffordable rents and home prices.

68% of likely Washington state voters say they would support zoning changes in cities statewide even if it meant multi-unit housing developments in their neighborhoods.
With the number of Americans over the age of 65 expected to more than double from 40 million to 81 million by 2040, it is paramount that we work to maintain and create housing options and communities that meet the needs of older adults and facilitate aging in place.

The pandemic exposed the vulnerability of our older adults and made us realize the importance of various housing choices to provide a safe, comfortable alternative to standard single-family homes.

Up until the 1940s, small, multiunit buildings were commonly built on standard lots within neighborhoods to provide housing for moderate-income individuals and families. These midsized, often moderately priced homes are considered missing because very few have been built in the U.S. since then. The shortage is primarily due to zoning constraints and the shift to car-centric development patterns.

In many cities, zoning designations jump from single-family detached units to much taller and larger apartment and condo complexes. Few allow medium-density zones that deliver small-scale buildings with multiple units on small-to-medium-sized lots.

ADUs can fill a number of roles that you may never have needed before, like providing a place for your aging parent to live instead of a nursing home. ADUs can be used as living quarters for a caregiver or for a relative who requires care, or for an adult child who may need to return home after college, has lost a job, or for one of many life-changing moments. ADUs can also be used for additional income for someone on a fixed income.

AARP's 2021 Home and Community Preference Survey indicates that 70% of adults age 65+ would consider living in an ADU if they needed help with everyday activities, and 25% of those polled said they would create an ADU for a place for a caregiver to stay. The survey also indicated that 62% of the respondents would consider building an ADU for their loved ones, relatives, and friends.

More affordable housing choices mean older adults can downsize while staying in their preferred community, and our kids and grandkids can live in the same town where they grew up.


---
More on ADUs

A Place for Loved Ones to Live: ADUs and Caregiving
A Place for Loved Ones to Live: ADUs and Caregiving
What are Accessory Dwelling Units?
An Accessory Dwelling Unit (ADU) is a fully self-contained home with its own kitchen, bathroom(s) and sleeping area on the same lot as the main house. They're a smart match for smaller households and can be created through basement or garage conversions, additions, or new construction of back yard "tiny homes." ADUs can help keep multi-generational families together or even give homeowners a new option to rent part of their property in order to afford and maintain their primary residence.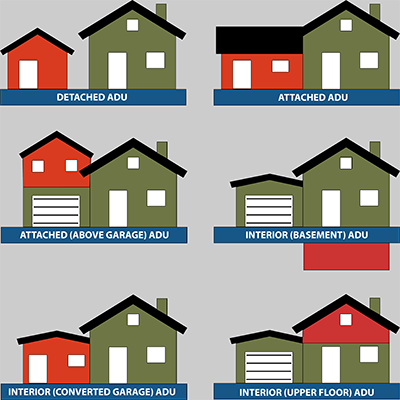 DETACHED ADU is a stand-alone home on the same lot as a larger, primary dwelling. Examples include backyard bungalows and converted outbuildings.
ATTACHED ADU connects to an existing house, typically through the construction of an addition along the home's side or rear. Such units can have a separate or shared entrance.
GARAGE ADU makes use of an attached or detached garage by converting the space into a residence. Other options involve adding a second story ADU above or beside a garage or building a new structure for both people and cars.
INTERNAL ADU is created when a portion of an existing home is partitioned off and renovated to become a separate residence. This can be a LOWER-LEVEL ADU created through the conversion of a home's existing basement (provided that height and safety conditions can be met).
Flexible & Adaptable – ADUs benefit Washington families in multiple ways.
Across the U.S. and in Canada, ADUs are taking off as a popular new/old housing type. Some reasons for this emerging trend include:

Income stream and property value. ADUs could generate cash flow and may increase the resale value of the property. Where allowed, ADUs may make good short-term rentals since the homeowner must live on-site.
Match housing needs at any age. ADUs could offer empty nesters and seniors the chance to "age in place" in the community they know and love, multi-generational families a way to live close by but not share a kitchen, and individuals and couples an entry-level housing choice.
Affordable housing. ADUs help keep housing costs down for both owners and renters. They could generate rental income to help homeowners cover mortgage payments, and may allow them to stay in their homes. Since ADUs are required to be small relative to primary dwellings, they are typically more affordable than other homes in the same neighborhood.
Versatility. Needs change over time, and the uses of ADUs can (and often do) flex for different stages of life. Although they typically provide long-term housing, ADUs can also serve as home offices, caregiver or nanny housing, art studios, short-term rentals, and lodging for visiting friends or relatives.
ADUs House People of All Ages

EMPTY NESTERS could build an ADU and consider renting out the ADU or choose to move into it.
PEOPLE looking for entry-level housing choices could rent an ADU in a neighborhood they might not otherwise be able to afford.
FAMILIES WITH YOUNG CHILDREN could use an ADU as housing for a nanny, au pair, or grandparent.
INDIVIDUALS IN NEED OF CARE could reside in an ADU to be near family members, or use the ADU to house a live-in aide. In fact, ADUs may be an affordable and more comforting alternative to an assisted-living facility or nursing home.
HOME BUYERS may be able to use the rental income from an ADU to help pay their mortgage or finance home improvements.
HOME-BASED WORKERS could use an ADU as their office or workshop.