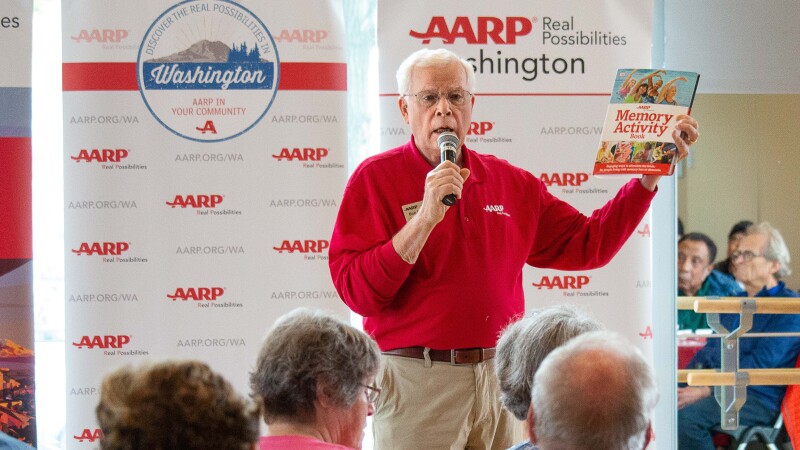 AARP has selected Redmond resident Bob DeWald as the 2020 recipient of the AARP Washington Andrus Award for Community Service -- the Association's most prestigious and visible state volunteer award for community service.

AARP Washington selected Bob for his remarkable service, which has greatly benefited the community, supported AARP's vision and mission, and inspired other volunteers.

A long-time community volunteer with several organizations, including 14 years with AARP, Bob has tirelessly devoted his time and efforts to improve the lives of others. Within the AARP community, he is a well-known and much sought after speaker, delivering hundreds of presentations across the state on everything from consumer fraud to brain health. As a lead presenter, Bob has taken many new volunteer speakers under his wing, offering mentorship and guidance, co-presenting as they become familiar with the topics, and providing presentation guidance to ensure a successful event.

For years, Bob went above and beyond as a volunteer with Washington's Statewide Health Insurance Benefits Advisors (SHIBA), counseling people of all ages and backgrounds to help them navigate the often confusing and ever-changing health care options across the state.

A veteran himself - Active and Reserve U.S. Navy from 1957 to 1963 - Bob has also continued to give back to his country and fellow veterans as a volunteer with the U.S. Department of Defense's Employer Support of the Guard and Reserves (ESGR). The Department of Defense program promotes cooperation and understanding between civilian employers and their National Guard and Reserve employees. Bob held every position within the ESGR Washington State Chapter and was awarded the Medal for Exceptional Public Service, four years in a row. His volunteer duties include briefing employers and educating the troops before and after deployments to ensure that their jobs and benefits would be immediately available when they return.

A component of the AARP Washington Andrus Award includes a $2,000 donation to the recipient's nonprofit of choice. This year, Bob has selected two organizations, the Kaiser Permanente Foundation and Unity of Bellevue - each will receive a check for $1,000 to support their mission.

"This award acts as a symbol to the public that we can all work together for positive social change," says AARP Washington State Director Doug Shadel. "AARP has long valued the spirit of volunteerism and the important contributions volunteers make to their communities, neighbors, and the programs they serve."

Andrus Award recipients across the nation were chosen for their ability to enhance the lives of AARP members and prospective members, improve the community in or for which the work was performed, and inspire others to volunteer.