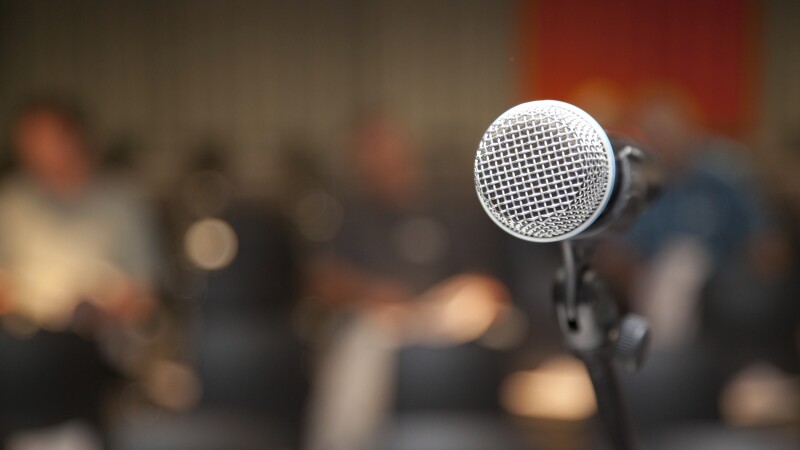 Trained AARP speakers available free of charge

At AARP, we have been promoting the health and well-being of older Americans for over 60 years. Our top priority is the health and well-being of staff, volunteers, members and the community at large. We are monitoring developments closely and have taken all precautions recommended by the Centers for Disease Control and Prevention (CDC) and local public health agencies.

In light of the coronavirus (COVID-19) pandemic, all in-person AARP events are suspended until further notice. Convening in-person events is a core part of our mission and an invaluable way to engage with our members and the community at large.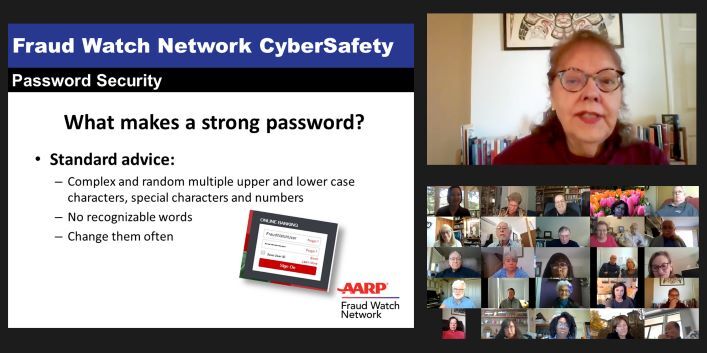 We have changed our approach to community outreach and are excited to provide virtual presentations via the video-conferencing platform Zoom. Currently, we are offering presentation topics on Brain Health, Fraud Prevention and HomeFit (descriptions of each can be found below). Participation in a Zoom virtual presentation can be accomplished from the comfort of your home using a computer, tablet, smartphone or other device.

We're working hard on the issues that matter to you and your family. With nearly one-million members in the state, and 38-million members nationwide, we're committed to strengthening communities and advocating for what matters most to families: health security, financial stability and personal fulfillment.

Trained AARP volunteer speakers are free and available now. We invite groups of 10 or more to schedule an event with us. Speakers are currently available to present on the following:

HomeFit
The goal of the AARP HomeFit program is to empower and equip individuals with information to safely remain in their home as they age. The workshop leads participants through the process of thinking about each area of their current home and whether it will meet their needs as they age, from an accessibility and livability viewpoint. In an AARP survey, eight-out-of-ten people age 45 and older say they want to remain in their homes and communities for as long as possible. The workshop offers ideas and inspiration on making modifications, ranging from simple do-it-yourself fixes to more complex solutions, depending on the individuals needs and desires. Join us at a HomeFit workshop to learn how to live comfortably, independently, and injury-free at home.
Length of Workshop: 60 minutes

Five Pillars of Brain Health
It's never too late to take charge of your brain health! In this hour-long, interactive session you will learn about the five pillars of brain health. Discover how living an active life – by learning more, being social, staying fit, eating right and managing stress – is our best bet for maintaining our brain health. Share your brain-boosting tips and be inspired by others.
Length of Workshop: 60 minutes

Protect Yourself from Fraud and Identity Theft
Con artists don't care how hard you've worked, they steal billions from Americans like you every year. AARP is arming Americans with the tools they need to spot and avoid fraud and scams so they can protect themselves and their families. Our trained speakers are ready to discuss fraud and identity theft with community groups & clubs, professional organizations, and at conferences free of charge. We'll share an inside look at how scammers think, how to safeguard against identity theft and fraud, hear first-hand accounts from victims, and what to do if you or someone you know has been a victim.
Length of Workshop: 60 minutes

Vigilance Against Cyber Crime
Identity theft and other forms of online fraud pose a serious and growing threat throughout the nation. The internet is a goldmine for scam artists. Learn how con artists are using a variety of scams to defraud Internet users, how to help safeguard yourself against online fraud and cyber scams, and what to do if you or someone you know has been a victim.
Length of Workshop: 60 minutes

-------------------------------------------------------------------------------------------------------

If you are looking for a speaker for an upcoming virtual event, meeting, or conference, the AARP Volunteer Speakers Bureau is a resource for you. It's a free service offered to the community. Click here to make your request today. Presentations are scheduled pending the availability of our trained volunteer speakers. Please allow 7 business days for our reply.

Virtual presentations by trained AARP volunteer speakers are available statewide. Speakers are also available to deliver presentations in Spanish, Cantonese and Mandarin. Please contact us for additional information at aarpwa@aarp.org.

We are working towards expanding this volunteer-led team of speakers to other areas of the state. If you are interested in joining our volunteer Speakers Bureau, we'd love to have you! Please send us a message at aarpwa@aarp.org.