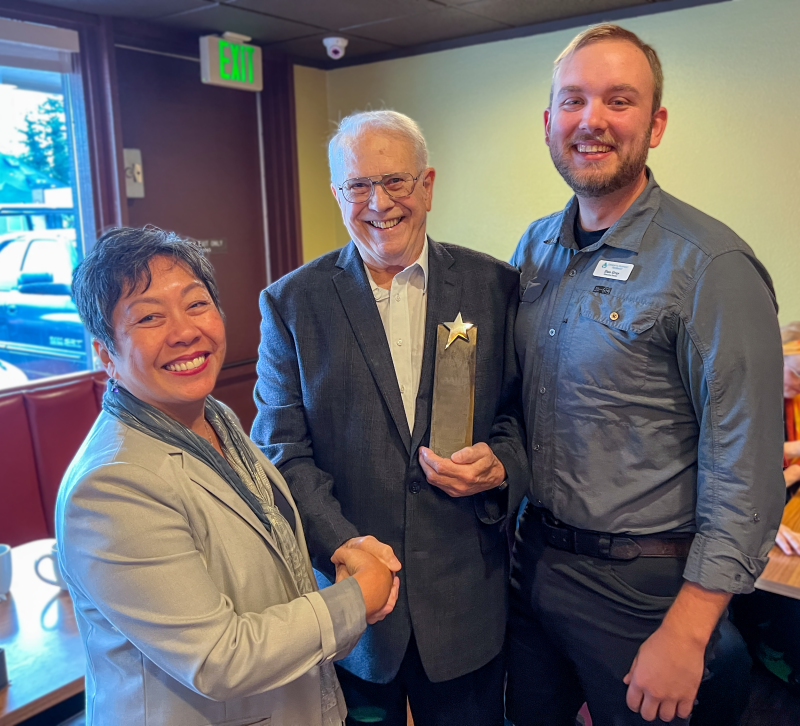 Tom Oliver of Bellingham is literally saving lives in his community. Oliver serves as the lead "Project Lifesaver" volunteer for Dementia Support Northwest. Project Lifesaver provides ankle tracking devices for those with dementia, enabling them to be quickly found if they wander away from home by search and rescue teams.The program works with the Whatcom County Sheriff's Department to bring peace of mind to family caregivers of dementia patients.

In recognition of his service and dedication, Tom has been selected to receive the 2022 Washington Andrus Award for Community Service -- the AARP's most prestigious and visible state volunteer award.

"Tom brings a compassionate, patient and jovial presence to those living with dementia", said Daniel Gray, Executive Director of Dementia Support Northwest in Bellingham, who nominated Oliver for the Andrus Award. "He again and again surpasses all expectations and is constantly promoting the safety and well-being of some of our most vulnerable seniors."

"For dementia caregivers, particularly a spouse, anything we can do to ease their burden is worthwhile," says Tom. "This program gives us the ability to find the missing person very quickly. It's half an hour instead of 12 to 16 hours."

Serving as a caregiver for someone with dementia requires constant vigilance and program members describe the reassurance they feel knowing a friendly face is just a phone call away. Last year, he travelled over 3,000 miles to provide devices and maintenance and make those living with dementia comfortable with the service.

"Tom provides a rare opportunity for independence in the world of cognitive decline," said Marguerite Ro, AARP Washington State Director. "Tom is a remarkable individual and at the heart of our communities of older adults and the families that are taking care of their loved ones."

"The Andrus Award is really about volunteerism and providing service back to our communities," says Ro. "Tom is an exceptional volunteer and a role model for what can be accomplished."

Recipients in each state across the nation were chosen for their ability to enhance the lives of AARP members and prospective members, improve the community in or for which the work was performed and inspire others to volunteer.