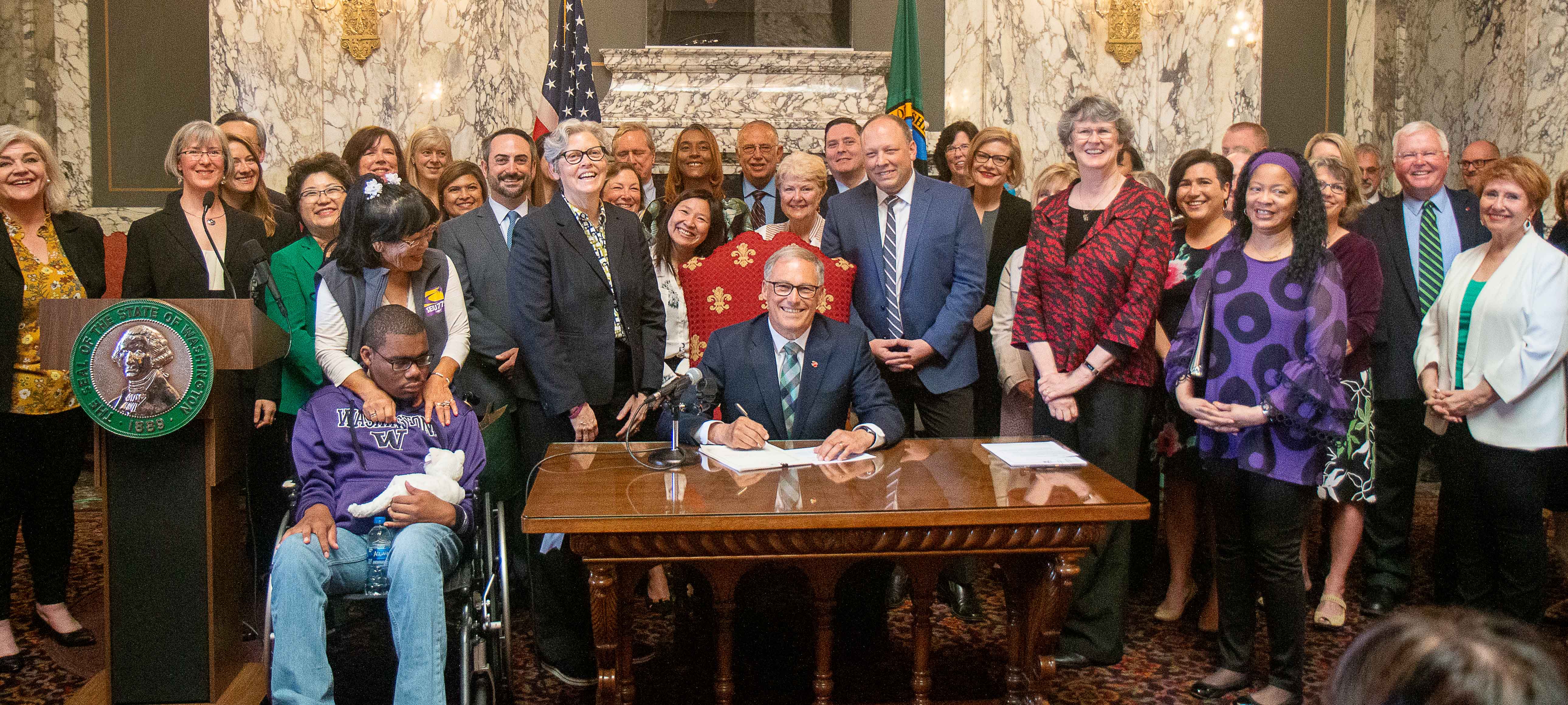 With Governor Jay Inslee's signature on House Bill 1087 on Monday, May 13, Washington State is set to pioneer an innovative new solution aimed at addressing our growing long-term care funding crisis. The "Long-Term Care Trust Act" (LTCTA) will create a public long-term care program, helping Washingtonians better financially prepare for a long-term illness, injury or disability.

Seventy-percent of Washingtonians 65 and older will require some type of assistance to live independently. Unfortunately, most Washingtonians are unprepared to meet their long-term care needs. The median retirement savings for people over 65 is just $148,000, while the lifetime cost of care averages $266,000. The long-term care insurance market is broken, and policies are too expensive and out of reach for more than 90% of us. For many others, the need to save for their long-term care is coming as a costly surprise. Many mistakenly believe Medicare will be there with the onset of a chronic illness or injury, but Medicare covers only limited long-term care for skilled nursing care or rehabilitation, leaving most people uninsured for their long-term care needs.

The LTCTA will create a public long-term care program, providing Washingtonians with flexible and meaningful benefits, ensuring families can choose the care setting and services that best meet their loved one's needs. Based on a modest payroll premium of just over one half of one percent (.58%), vested and eligible workers would receive a lifetime benefit of $36,500, indexed to inflation. The payroll premium will be collected starting in 2022 and the trust will pay benefits starting in 2025.

"Washington State is proud to lead the way on this important issue," says Governor Jay Inslee. "We must continue to find ways for people to age successfully and with dignity. For a small premium, the Long-Term Care Trust Act will provide modest but very important coverage to help Washingtonians meet their long-term care needs."

"The program will help prevent countless middle-class families from being forced to spend down their life savings to pay for care, and would also alleviate some of the growing stress on the state's Medicaid budget," says Representative Laurie Jinkins (D-27), the measure's primary legislative sponsor. "By helping people pay for care before they impoverish themselves to receive Medicaid, the Act is projected to save Washington taxpayers $19 million in the first year of operation (2022), with a net savings of nearly $4 billion by 2052."

"A broad coalition of stakeholders has been working on this legislation for some time, and we're pleased with the many improvements we've made including the bill's focus on consumer choice and the treatment of family caregivers," said Jinkins. "Washingtonians deserve flexible and meaningful options so that when the time comes, we can choose the living environment or services that best meets our needs." The Long-Term Care Trust Act benefit focuses on consumer flexibility by providing an array of choices, including in-home care aides, adult family homes, assisted living, skilled nursing facilities, and others. The benefit can also be used to pay for medical equipment like emergency alert devices, and services including but not limited to home modification, transportation or meal preparation.

"The LTCTA also values the important role family caregivers play in caring for their loved ones," says AARP Advocacy Director Cathy MacCaul. "Families are the backbone of Washington's care system, and at some point in our lives each of us will likely take care of somebody we are close to who needs help with everyday activities." Family caregivers take on big responsibilities to care for their loved ones. On average they spend about 20-percent of their income on out-of-pocket costs related to caregiving. To provide this care, many caregivers quit or reduce time at their jobs and lose income, social security credits or other benefits like health insurance. The LTCTA will provide the opportunity for family caregivers to be compensated under the Long-Term Care Trust Act with a limited amount of training. The benefit can also be used for respite care, providing family caregivers with short-term relief and a much needed break.

"Washingtonians spoke out and our elected leaders listened," said MacCaul. An August 2018 AARP poll of registered voters in the state showed that more than seven-in-ten (73%) supported the concept of Washington State creating a long-term care trust that would help Washingtonians pay for help with activities of daily living as they age. "And it might surprise some to know that support is even higher among younger voters," says MacCaul. According to AARP's poll, 83% of voters age 18-34 say they supported the concept of the long-term care trust act. "Given today's economic uncertainty, younger adults are desperate for help in better preparing for their future financial security. Many are also helping their parents or loved ones with their long-term care needs and seeing firsthand how difficult it can be if you're not financially prepared," she said.

"AARP commends the Legislature and the Governor for tackling the state's long-term care coverage crisis head-on. We are especially grateful for the leadership and support of primary bill sponsors Representative Laurie Jinkins (D-27) and Senator Guy Palumbo (D-1)," said MacCaul.