En español | West Virginia's Nov. 8 general election includes races for the U.S. House of Representatives, the State Senate and House of Delegates, and other state, county and municipal offices. The state's primary took place on May 10.


What is new this year?
The state's redistricting plan has redrawn boundaries for U.S. House districts and created new single-delegate districts for the 100-member House of Delegates.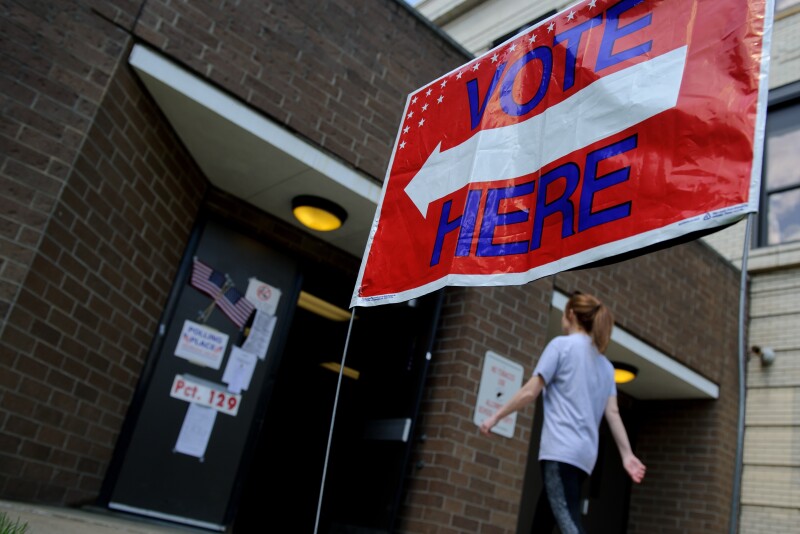 Essential info:
Absentee voting: Registered voters who are ill, disabled, or traveling or studying outside of their home counties or who meet other criteria can vote absentee. Absentee ballots will be approved for voters confined to home or to a health facility due to COVID-19 exposure or who have COVID-19 symptoms. Contact your county clerk for more information.
Early in-person voting: Cast your ballot early and in person from Oct. 26 to Nov. 5. Check your local county clerk's office for locations.
In-person voting on Election Day: The general election takes place Tuesday, Nov. 8. Polls are open from 6:30 a.m. to 7:30 p.m. Find your polling place online.

How do I register to vote?
Online: Use the state's online portal to register, update your registration, check your status or change your party affiliation. To submit your registration form online, you must include your driver's license number or an approved ID card number along with the last four digits of your Social Security number. A list of acceptable IDs is available on the state elections website.
By mail or in person: Go to the elections website to fill out a voter registration application that you can print, sign and deliver to your county clerk by mail or in person. Registration forms are also available at county clerk's offices, public libraries, colleges and universities, and senior community centers. You may also call the state elections office at 304-558-6000 (or toll-free at 866-767-8683) and ask to have a registration form mailed to you.
West Virginians who obtain or renew a driver's license in person at the Department of Motor Vehicles will be automatically registered to vote unless they opt out. The deadline to register is Oct. 18 for the general election. West Virginia does not permit voters to register on Election Day.


How can I get a mail-in or absentee ballot? Are there important deadlines?
Online: You can request an absentee ballot by downloading an application from GoVoteWV.com and mailing or hand-delivering it to your county clerk's office. You cannot submit a completed absentee ballot application online. The state's absentee ballot application period runs from Aug. 16 to Nov. 2.
Phone: Call the state elections office at 304-558-6000 (or toll-free at 866-767-8683) to have an absentee ballot application mailed to you. Fill it out and return it via mail or in person to your county clerk's office by Nov. 2.
Your completed absentee ballot must be mailed and postmarked by Election Day. Hand-delivered absentee ballots must be taken to your county clerk's office 24 hours before Election Day. Voters do not have to personally return their completed absentee ballots, but no one person may deliver more than two voters' absentee ballots.


Can I track my absentee ballot?
Yes. You can track your absentee ballot using West Virginia's online tracking tool.


Can I vote in person before Election Day?
Early in-person voting runs from Oct. 26 to Nov. 5. For locations and hours, check with your county clerk's office. West Virginia does not provide drop boxes for early voters.


When is Election Day? When are the polls open?
The general election is Tuesday, Nov. 8. Polls are open from 6:30 a.m. to 7:30 p.m. for both.


Do I need identification to vote?
Yes. All forms of acceptable ID, such as a driver's license, U.S. passport, birth certificate or voter registration card, must be current — not expired. You won't need ID if you're voting absentee or if you fall under the three categories of exempt voters, including residents of state-run long-term care facilities.

First-time voters who haven't provided ID when registering to vote must provide a state-approved ID. If you are a registered voter and cannot get an approved ID, you may apply for a free voter ID card at your county clerk's office. Applications must be submitted in person.


What races are on the ballot?
U.S. House: Two seats. West Virginia lost a seat in the House, as determined by population decline in the 2020 census.
State Senate: 17 of 34 seats
State House of Delegates: All 100 seats
Board of Education
Other state and municipal seats
Editor's note: This guide was updated on May 11 with information about how to vote in the 2022 elections. The guide was first published on Aug. 5, 2020.


Also of Interest