En Espanol | West Virginia has several options for safer voting amid the coronavirus pandemic — including absentee balloting that allows sheltering from COVID-19 as a valid excuse for all voters and early in-person voting:

Election Day is Tuesday, Nov. 3, and polls will be open from 6:30 a.m. to 7:30 p.m. You can find your polling place online. Your polling place may be different this year, so check before you leave.
Be prepared for potentially long lines, and remember to take your mask and to follow social distancing measures at the polls. You'll also need to bring an approved form of ID.
A new program allows people with disabilities to vote by electronic ballot if they can't get to the polls or file a paper ballot without assistance.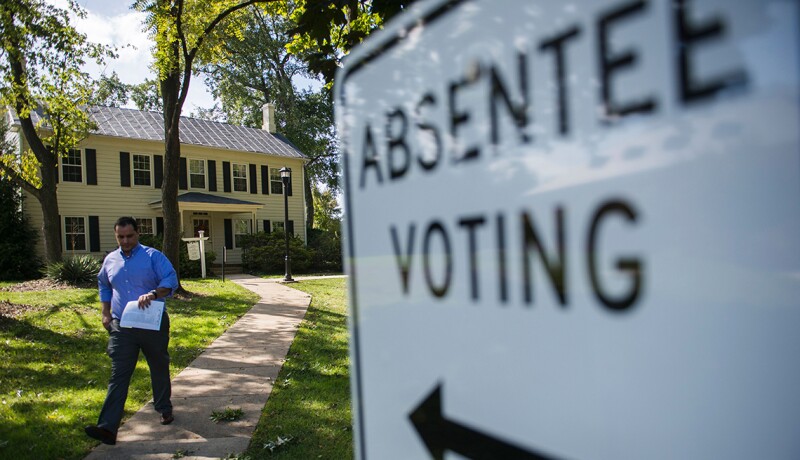 Here's what else you need to know:

How do I register to vote?

You can register online, by mail or in person. If you have a West Virginia driver's license or ID card number, you can register online at the secretary of state's website. If you don't have one of those IDs you can download the voter registration application and mail or hand deliver it to your county clerk.

You can also register in person at your county clerk's office, the secretary of state's office, the Division of Motor Vehicles, public assistance offices, agencies that serve people with disabilities, marriage license offices or military recruiting offices. Contact the secretary of state's office with questions at 304-558-6000 or toll-free at 866-767-8683 or by email: elections@wvsos.gov.

The registration deadline for the general election in November is Oct. 13. You can check to see if you're registered online and update your registration information by using the same online or printout form as for voter registration.

How can I get an absentee ballot? Are there important deadlines?

All eligible voters can vote absentee in the general election.

Currently, West Virginia is under a "safer-at-home order" because of concerns over COVID-19. The governor's order recommends residents stay home except to engage in certain essential activities. All voters sheltering because of COVID-19 concerns may request an absentee ballot by checking the box for "Illness, injury or other medical reason which keeps me confined."

To apply for an absentee ballot, contact your county clerk or use the new absentee ballot application portal at GoVoteWV.com. If you don't use the online portal, your county clerk's office must receive your ballot application via email, mail, fax or in-person by Oct. 28.

Your completed absentee ballot must be postmarked by Election Day, Nov. 3, and received by your county clerk by Nov. 9, or delivered to the clerk's office in person by Nov. 2.

A new program allows people with disabilities to vote by electronic ballot if they can't get to the polls or file a paper ballot without assistance. Download the application for an electronic absentee ballot online or call your county clerk to request an application be sent to you. Make sure to check the box to vote electronically (4B) and provide an email address when filling out the application. If the application is approved, the voter will receive an email with a secure web portal address to fill out a ballot online.

How do I know my absentee ballot is secure?

The secretary of state has partnered with West Virginia's U.S. attorneys to create an Election Crimes Task Force, comprised of state and local agencies and local prosecutors. The secretary of state is also working with the West Virginia Attorney General to find and investigate election fraud.

When is Election Day? When are polls open?

Tuesday, Nov. 3. Polls are open from 6:30 a.m. to 7:30 p.m. You can find your polling place online.

Can I vote before Election Day?

Early voting is available to all registered voters from Oct. 21 to 31. Early voting locations and hours will be posted at GoVoteWV.com ahead of the early voting period.

What form of identification do I need to vote?

All voters must show an approved, current form of identification during early voting and on Election Day. This can include a driver's license, Social Security card, state hunting or fishing license or a recent utility bill. A full list of acceptable IDs is on the secretary of state's website.

Voters who live in licensed state care facilities do not need an ID if the resident's polling place is located at the care facility.

What is being done to make polling places safe from coronavirus?

Supplies will be on hand to sanitize surfaces and voting machines at the polls. Social distancing best practices will also be implemented.

Will I be able to vote in the same place as I always have?

Not necessarily. Some polling places were consolidated during the 2020 primary election. Check your polling place at GoVoteWV.com.

What are the key races in my state?

U.S. President
U.S. Senate: Incumbent Sen. Shelley Moore Capito (R) vs. Paula Jean Swearengin (D)
U.S. House: All 3 seats
Governor: Incumbent Gov. Jim Justice (R) vs. Ben Salango (D)
Statewide offices: Attorney General, Secretary of State, Treasurer, Auditor and Commissioner of Agriculture.
State Senate: 17 of 34 seats
State House of Delegates: All 100 members
This guide was updated on Nov. 2 with more information about voting in person. Voting rules and procedures may change before Election Day. We'll update this story if they do, so bookmark this page and check back.

AARP is urging older Americans to ask the candidates 5 key questions:

Just over half of all older Social Security beneficiaries rely on the program for at least 50 percent of their income. If elected, how will you ensure that current and future Social Security benefits are not cut as part of deficit reduction?
Half of the people with traditional Medicare spend at least a sixth of their income on health care. If elected, how will you protect Medicare from benefit cuts, as well as lower health care costs and ensure seniors continue receiving the affordable health care they have earned?
COVID-19 has caused death and suffering for too many older Americans who require long-term care. If elected, how will you make sure seniors can access safe and affordable long-term care at home, as well as in facilities like nursing homes and assisted living?
Also of Interest